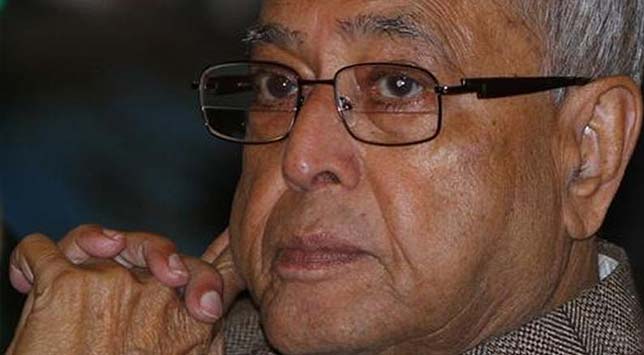 New Delhi: When the time comes, we have to bite the bullet on controlling subsidies, Prime Minister Manmohan Singh said after his finance minister Pranab Mukherjee presented the Union Budget 2012-13, his seventh.



At the very beginning of his speech Mr Mukherjee said that a "year of recovery interrupted" meant that it was time to take tough decisions. The idea ahead of the budget was that fiscal deficit needed to be controlled by cutting subsidies and raising taxes. The finance minister has raised taxes and promised cuts in subsidies.



The stock market has stayed virtually unmoved through the Budget speech. At 3:00 p.m., the BSE Sensex fell 0.9 per cent, or 158 points. .



The reason for this is the past performance of the government does not really say much on this front.



Last year's budget estimates said the subsidies bill would be Rs 1,34,209 crore. The revised estimates say it would be Rs 2,08,502 crore, way beyond the target set.



The finance minister has set the target for this year at Rs 1,79,554 crore.



Government borrowing too is expected to be Rs 4,80,000 crore against the market expectation of Rs 4,30,000 crore. According to bankers like Uday Kotak, this does not leave any significant room for interest rate cuts. "Rate cuts would not be too many as many expect," he said.



Pranab Mukherjee has also chosen to not make any tall promises. The government missed its disinvestment target and also did not meet the deadline for implementation of tax reforms like direct tax code and goods and services tax or GST.



The government plans to raise Rs 30,000 crore through disinvestment, assuring the House that at least 51 per cent control remains with the government. He has not made any significant announcement on the implementation schedule of both DTC and GST. The idea of introducing the two was to widen the tax base and boost growth.



Even on black money, the government has not been able to unearth any significant wealth. Mukherjee promised a white paper on black money, an irony of sorts.



For the 'aam aadmi', the virtual UPA mascot, there is relief. Although prices of certain goods and services could increase marginally as a result of hike in excise duty rate and service tax rate to 12 per cent, tax reliefs leave some cash in hand.



Mukherjee has raised the income tax exemption limit to Rs 2 lakhs for all individual tax payers. Also, the upper limit for the 20% tax slab has been raised - from incomes up to 8 lakhs to incomes up to 10 lakhs.



The tax slabs proposed by Mr Mukherjee today are:



• Income up to Rs 2 lakh-- nil
• Income between Rs 2 lakh to Rs 5 lakh - 10%
• Rs 5-10 lakh - 20%
• Above Rs 10 lakh - 30%



Also interest of up to Rs 10,000 from saving accounts will be tax-deductible. And deduction of up to Rs 5,000 has been allowed for health checkups.



Today's Budget was one of the biggest challenges of his long, political career, and the Finance Minister set the tone for it when he described the year gone by as a "year of recovery interrupted." He began with listing grim ground realities – the global economic scenario that resulted in a two-year slowdown, India's battle with double digit inflation, a disappointing performance this year and said it was time for tough decisions.



All economic indicators have been crying for that "tough budget" from the Finance Minister. On Thursday, the economic survey tabled in Parliament and the credit policy announcement of the Reserve Bank of India together called in one voice for "fiscal consolidation".



The finance minister has said that fiscal consolidation calls for big efforts. He said high growth needs to sustain over the medium-term and India needs to accelerate its pace of reforms.



The Finance Minister has pegged GDP growth for the next year at 7.6%; he says he foresees lower inflation has said that central subsidies will be kept under 2% of the GDP in the next financial year. Having said that he said some subsidy was inevitable, like food, but "better, leakage-proof delivery of subsidies would be implemented". The Food Security Act would be fully provided for, the minister said.


There has so far been little levity in this year's Budget speech . The only laughs came when the FM was asked by some MP's to read again what he had just said. "Rollback of Budget speech," quipped Mr Mukherjee. And then when he quoted Shakespeare to indicate the thankless nature of his job. "I must be cruel, only to be kind," said Mr Mukherjee quoting Hamlet to illustrate the dilemmas of his job. And then, "Life of a finance minister is not easy," leading to laughter in the house.



Investment sentiment is at an all-time low and industry is clear that is looking to the finance minister for a pro-growth Budget. Coalition politics of the fragile nature that the UPA government has on its hands now demands exactly the opposite – doles, freebies, populist measures, no reforms.



Experts of all hue have called on the finance minister to act in the interest of the nation. Dinesh Trivedi, the railway minister, is on the verge of losing his job for having done that – he raised train fares after nine years, a bold move hailed universally, and now his own party the Trinamool Congress wants him axed. Today, insists Mamata Banerjee.