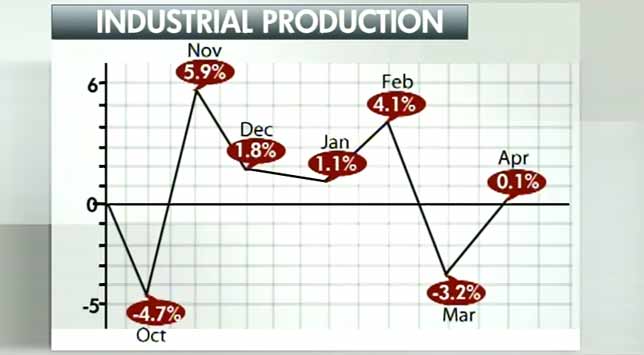 New Delhi
:
India's index of industrial output (IIP), the key measure of industrial output, grew at 0.1 per cent in April 2012 from the same period in the past fiscal. This is against an expectation of 1.7 per cent. The industrial output fell 3.5 per cent in March 2012.
A Thomson Reuters poll had indicated that India's industrial output likely saw only a small rise, suggesting little pick-up in the economy after a slump in growth at the start of the year. India's economy in the first three months of calendar 2012 saw GDP growth fall 5.3 per cent, its lowest in nine years.
The BSE Sensex swung into positive territory soon after the announcement but remained flat over the previous close. Traders said that the street prepared for a worse-case scenario of a second successive month fall in the industrial output. While overall manufacturing declined, consumer goods sectors showed a jump indicating a revival in demand for goods.
See experts reactions here.
The data released by the government on Tuesday showed that manufacturing – which accounts for about 76 per cent of industrial output, inched up 0.1 per cent and electricity at 4.6 per cent over the corresponding period in the previous year. Mining registered a fall of 3.6 per cent. The mining sector has been hit by a series of bans in various states after scandals involving illegal extractions were uncovered.
Capital goods, which are used in manufacturing and projects, recorded a slump of 16.3 per cent.
The consumer goods sector grew 5.2 per cent. Within the consumer goods segment, durables grew at 5 per cent from the corresponding period last year, suggesting a demand growth. The consumer non-durables sector registered a 5.4 per cent growth.
The core sector growth, a leading indicator of factory output, grew at 2.2 per cent in April, only marginally higher than the 2 per cent in March.

The core sector – which

comprises the key infrastructure industries of coal, crude oil, natural gas, refinery products, fertilisers, steel, cement and electricity

– accounts for about 38 per cent of overall industrial output and trends in infrastructure data are typically reflected in the headline number.
A purchasing managers' survey showed that India

's

factory sector picked up in April after two consecutive months of slowing growth. The HSBC India Manufacturing Purchasing Managers' Index (PMI), compiled by Markit, rose to 54.9 in April from 54.7 in March. The index has remained above the 50-mark that divides growth from contraction for more than three years.
A growth in capital goods, such as machinery and equipment, that are key inputs for industry and eventually translate into consumer goods or services, suggests investment by industry and is an important measure of confidence in the economy.
The slowdown in consumer durables, however, suggests a weakening demand side, and that consumers are still not confident about future growth or earnings to invest in big-ticket items.
Growth in exports also moderated in February when compared to January, on the back of sluggish demand for Indian goods in key markets such as the United States and Europe.
India's exports grew an annual 4.3 per cent to $24.6 billion in February, while imports rose 20.7 per cent to $39.8 billion.
Similarly, the slowdown in consumer durables – usually big ticket, one-time purchases that household make and are typically lifestyle choices – shows demand on the part of consumers who are also likely holding on to their capital. Additionally, rising inflation at the retail level has meant that there is less money left over for expensive buys, especially at the beginning of the year when prices have returned to a full level.
The Year So Far: IIP in calendar 2012
April 0.1
March (3.5)
February 4.1
January 2012 (revised) 1.1
(With inputs from Thomson Reuters 2012)