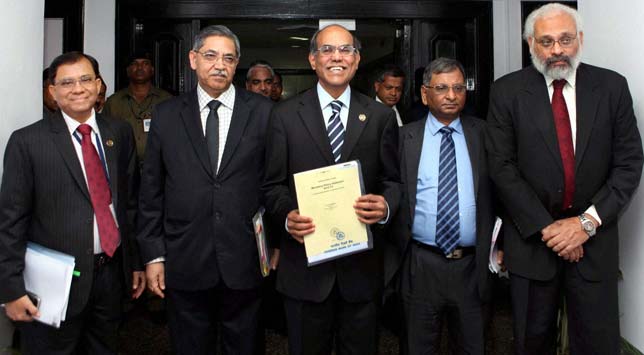 Mumbai: Dr. Duvvuri Subbarao is a mild-mannered man. He speaks softly, listens carefully and acts in measured steps. Until now, that is. The RBI governor's decision earlier this week to keep interest rates on hold in the face of growing clamour for a rate cut tells us that underneath the soft exterior hides a tough central banker.


At a time when annual economic growth has slipped precariously, investor sentiment is in the dumps, and the government seems to be in disarray, cutting interest rates by a marginal 25 basis points would have been the easier decision to make. North Block would have been happy, corporates might have stopped complaining, at least for a day, and the markets would have continued to obsess about Greece and Spain.



But keeping stakeholders happy is not part of the job description for the Governor of the Reserve Bank of India. Doing what is right for the economy is. And that is exactly what Subbarao has done.


India is facing a peculiar economic climate that has left the central bank in a tight spot.


Growth has come down steeply, yet inflation refuses to ease. Consumer Price Inflation, that reflects prices at the retail level, is back in double digits, while Wholesale Price Inflation remains high at 7.5 per cent. The only positive indicator on the price front has been so-called 'core inflation', which measures demand-led inflation, that has stayed under 5 per cent. While demand-led inflation has been in check, no other indicator of prices in the economy has given comfort until now.


The general expectation was that the RBI would focus on this decline in core inflation, accept the limitations of monetary policy in tackling food inflation and focus on growth instead.


The central bank did exactly the opposite.


It tried to communicate that there are limits to which monetary policy can reverse the current slowdown and, more importantly, that there is a limit to which monetary policy can clean up the mess created by poor fiscal policies.


The stance seems to be justified. As the RBI explained, high rates have played only a small role in the current slowdown and hence can only help revive growth on the margin. Lower rates will not solve land acquisition issues being faced by companies looking to set-up greenfield projects. They will not help improve fuel linkages for the power sector. And lower rates will not help cut through the layers of government red tape. All issues that have played a crucial role in the current slowdown.


What, then, would have lower rates achieved? They may have helped corporate profitability to a certain extent by making loans cheaper and they would certainly have helped boost consumption. But higher consumption is not what the economy needs right now. In fact a consumption push would have only fanned inflation further and could likely have even forced the RBI to raise rates in the months ahead.


In fact, many now fear that India is facing a stagflation-like situation and that cutting interest rates is not the solution. The RBI seems to recognise this even though they strongly deny analysis suggesting that we are in a stagflationary environment.


But the RBI governor has done more than just manage a tough economic situation by keeping rates on hold. He has also sent out a clear message to the government that the RBI cannot and will not clean up the fiscal mess created by New Delhi.


Budget promises of cutting subsidies and deficits have not been kept so far. Supply side constraints have not been eased. Governance issues have not been resolved. In that scenario, expecting the RBI to come to the rescue of the economy is simply unfair and completely untenable.


As Aditya Puri, managing director of HDFC Bank, said bluntly in a recent interview: "Monetary policy is not a substitute for an action. It can aid proper policy, it can't lead it."


And that is exactly the message that the RBI seems to be sending out through its normally uneventful mid-quarterly policy review. The RBI wants to see action from the government. As do the rest of us.