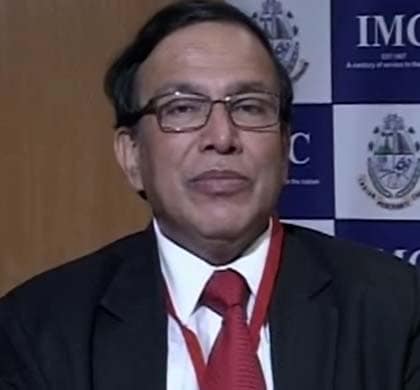 Mumbai
: The Reserve Bank of India (RBI) will announce its annual monetary policy on April 17. It may cut interest rates sharply to bring inflation down and stimulate growth.
Pratip Chaudhuri, chairman of State Bank of India (SBI), the country's top lender and largest bank by assets, told NDTV Profit that a cut in the cash reserve ratio (CRR), the amount of deposits that banks must keep with RBI, will be more effective. "We expect the central bank to slash CRR by 0.75 percentage points or 75 basis points," he said.
After a customary meeting of bankers with central bank officials last week, ahead of the policy review on April 17, Chaudhuri had said that SBI may cut rates for loans above 13 per cent interest rate if the central bank cuts CRR or the repo rate (the rate at which the RBI lends money to the banks). "We may also cut rate on loans for small and medium enterprises (SMEs) by 1 to 2 per cent from April 15," he added.
Below is the complete interview. Also watch the accompanying video here.
What was the takeaway from the bankers' meet last week, and do you expect the RBI to act on the repo rate at all?


The RBI heard us; they heard the ground reality and we basically told them that they have two choices. Both are difficult - fighting inflation and moderation in growth. So inflation is significantly better, it is 2 per cent, or 200 bps (basis points), lower at this time than it was in the corresponding period in the last year. However, growth moderation is something that we all need to worry about.

There are two simple and effective instruments (that can be implemented). One is to reduce the CRR and the other is to consider the reduction of the repo rate. Bankers had different views, but I'm personally of the view that CRR cut is a more effective instrument for moderating the interest rate and generating growth than repo rate cut is, so i recommended like wise.
How much of the CRR cut are you expecting and how much of the benefit will SBI get?


I am expecting a 0.75 percentage points or 75 bps CRR cut which means the current CRR, which is 4.75 per cent, would come down to 4 per cent and with this, we will be able to free up about Rs 7,500 crore and because that money is not earning any interest, the money would go and earn interest and we will definitely pass on to our customers.
Will we see banks' base rates come down any time in the first quarter of fiscal year 2013?


Base rate is a mechanism linked to the deposit rate cost and the return on capital and none of that has changed. So, it is difficult to argue for a cut in the base rate but definitely the spreads will come down. Secondly, how does it matter to the customers whether it is a cut in base rate or cut in spread at the end of the day? They will get a lower rate of interest, which is important.
What is the credit, deposit growth outlook for SBI in FY13 and what kind projections are you talking about?


We are talking about 9 to 10 per cent increase both in deposits and in lending as well.
We understand that for SBI, fourth quarter (Q4) restructured loans would be higher but are the recoveries looking better in terms of overall asset quality?


It is too early since the accounts are still coming in; they are to be audited but we are likely to see some break from the past, some consolidation, some drafts in the level of non-performing assets (NPAs) in this quarter, the initial number suggest that.
What about the net interest margins (NIMs), will you be able to hold the all-time high levels that we saw last quarter from the bank?


No. Every time we have given guidance, we have outperformed the guidance and even the current guidance is 3.85 per cent we are holding on to that.
The bank has got Rs 7,900 crore capital infusion. What's the update with rating agencies; you had earlier said you would ask them to revisit their rating on SBI?


It doesn't particularly depend on the kind of growth but as of now it looks that we will have a capital adequacy.
What about the aviation sector in particular, what's the update on Kingfisher? Is the bank looking to extend any further funding and what's the update with SBI Capital's report on its viability?


We are struggling with a difficult situation as far as Kingfisher is concerned but we have not lent the extra funds. We are encouraging Kingfisher to go in for an equity issue and hopefully, they will succeed in that.
Which segments have seen most upgradation or recoveries in terms of bad loans this quarter?


For retail segment, the improvement in the NPA performance has been most spectacular. In agriculture, they brought back the zonal office structure that is definably helping in stepping up our recovery efforts and so far the initial data that has coming in, is very positive.
One other issue for PSU banks this year will be the pension revisions which will happen sometime in November this calendar year. After the experience of Q4 last year, will the bank make accelerated provisioning beforehand?


Pension revision by itself will not be hit but we're aware that the pension revision if it were to happen, would happen from November 2012, so what is important is you start building up reserves from then on and avoid wait for four years to give effect to that. Even in the last pension revision we provided for salary in 2007, worked out fine. Had we started building up on pension provision from the year 2007 itself, this situation of having to provide for a bulk amount wouldn't have arisen. We've taken appropriate lessons and we would work closely with out actuaries and make some realistic projections and provisions for pension.