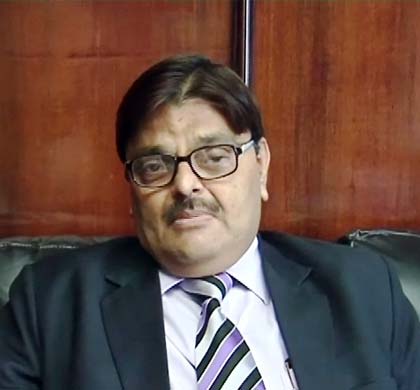 In an exclusive interview to NDTV Profit, C.S. Verma, Chairman, Steel Authority of India, said that a decision to divest a 10 per cent stake has been made and it is now up to the government to decide on the timing. He also said that SAIL has the cash and ability to raise funds for its large expansion programme.
Below is the complete transcript. Watch the accompanying video here.
Q: There has been lot of talk about SAIL's expansion. It is not taking place in time and is facing criticism. What do you have to say about it?

A: Presently, our capacity is 14 million tonnes (MT) an year. We are escalating it to 23 MT an year, that is our hot metal capacity. We had taken up a massive expansion-cum-modernisation programme three years back, the total cost of that is Rs 62,000 crore. Against this, we have already placed orders worth Rs 56,000 crore. We have already incurred expenditure worth Rs 37,000 crore.

It is wrong to say that the expansion program is not taking place and is not on schedule. All the plants are undergoing various schemes of expansion and modernisation. So, lot of things are happening in all the plants. Many schemes have already started and many are in the pipeline. The total numbers of schemes is more than 400. 400 schemes cannot be started in one day or one point in time. There has to be phasing.

All the schemes are at different levels of implementation. There have been some delays here and there. But by and large, expect for Burnpur, everything is as per schedule.
Q: What about the Bhilai Steel Plant? Because of security related problems, Raoghat mine was not started. The Central Industrial Security Force (CISF) has given assurance of security. When can we see the iron ore mining starting there and you getting the mines?

A: All our approvals regarding Raoghat mines are in place since 2009. There have been issues of security. As it is a Naxal-infested area, we wanted it to have deployment of CISF. There was a meeting called by Home secretary and now it has been decided in principle to deploy some battalions of CISF or CRPF or may be a mix of security forces. I think it should happen in the coming months. We will then be in a position to restart tree-felling and then the construction of railway line will again be taken up. We hope that in the coming years we will be able to start operations in Raoghat mines.
Q: What about Chiria mines? What is happening there?

A: We had received Stage One approval a year back. There were number of conditions attached to Stage Two and once we have complied with those conditions, we can go ahead with the investment and start operations. We are prepared to apply for Stage Two approval.
Q: Once you start mining in Chiria and Raoghat, how much iron ore reserves you have at your disposal?

A: We have iron ore mines only for captive steel making. We are not allowed to sell it in the market, nor are we buying any iron ore from the market. Our requirement is 24 MT per annum. We are producing 24 MT of iron. Post expansion, our requirement will be 42 MT. We are fully geared up to produce the amount. Total reserves of iron ore available with SAIL is roughly about 2.3-2.5 billion tonnes (BT).
Q: What about the coking coal? That is the second raw material that is causing problems. You formed ICVL (International Coal Ventures Ltd), but that is facing criticism. You are chairing the board. What is happening on that front?

A: There has been a very high degree of volatility in coking coal prices. Coking coal prices which was $ 125 a tonne in April 2010 has gone up to $ 350 tonne. Now, again, coking coal prices having started tapering. Now prices are hovering around $ 220 per tonne in Australia and $ 170 a tonne in the US.

As far as ICVL is concerned, the company is two-and-a-half years old. Many projects have been taken up for due diligence. We signed a Memorandum of Understanding (MoU) with government of Indonesia for a government-to-government allocation of coking coal mine. Since there has been a high degree of volatility in price, carrying out the due diligence and finding the optimistic valuation was a Herculean task.

Nevertheless, four-five proposals are in different levels of due diligence. The market capitalisation of coal companies which was at a peak six months back is tapering. I think it's a blessing in disguise now that markets have cooled off. I think it's the time to buy. We are on the job. We are carrying out due diligence. If everything goes well, we should be in the position to strike some deal in future.
Q: How much funds you require? Anything you have heard from the government on the disinvestment of SAIL?

A: We have already incurred Rs 36,000 crore on the on-going expansion and modernisation scheme. This year our capex (capital expenditure) is Rs 12,000 crores.50 per cent of the funds required will be borrowed from the market and the rest will be met through our internal sources. Today, our net worth is Rs 39,000 crores. On a 2:1 debt equity ratio, our borrowing capacity is Rs 78,000-80,000 crore. Our borrowing is only about Rs 20,000-21,000 crore. We have a very strong balance sheet. There is great potential to borrow to fund our on-going expansion and modernisation programme and our other ambitious programmes. As far as our cash balance is concerned, we are feeling very comfortable.
Q: How much is your cash balance?

A: We are a profit making company. We have adequate cash resources.
Q: Will you dilute your stake?

A: Decision has already been taken on dilution of stake. Government will be diluting 10 per cent. It is for the government to decide the timing. Government will have to take a view.
Q: Will you do your equity divestment in one-two years' time?

A: As of now, we have not taken a view on the additional equity issue.
Q: Pricing of steel is not remunerative right now in the world market. Where do you see the pricing going in the next six months?

A: If you see the global data, in 2011, the global production has been 1.5 billion tonnes per annum. Growth has been little over 6 per cent, which is satisfactory. If you see the India scenario, growth has been 6.8 per cent in 2011. I am talking about growth in real consumption terms. If you see the data during April-June 2012, growth in real consumption in India has been 8.8 per cent. I think it is satisfactory growth.

Pricing has been more or less stable. The pricing for flat products in India has been Rs 36,000-37,000 a tonne. In the last few months, we have not seen any ups and downs. As far as long products and TMT (Thermo Mechanically Treated) steel is concerned, it is roughly around Rs 47,000 a tonne. I see a more stable regimen in near future also. I don't see any violent fluctuations in pricing in near future.
Q: What about your international venture? You signed MoU with Kobe Steel recently. Also tell us what is happening at your Sindri Plant?

A: We already signed all the necessary documents with Kobe Steel. We will be setting up a 0.5 million tonne capacity in iron ore nugget plant in Durgapur. This will have a total investment outlay of Rs 1,500 crore. This is a 50:50 joint venture (JV) between Kobe Steel and SAIL. Gestation period is about 24 months. You know this is a unique and technology developed and patented by Kobe Steel. Only one plant of its kind is operational in Minnesota, USA. This plant will produce iron ore nuggets that will have a FE ratio of 99 per cent.

As far as Sindri Plant is concerned, the government is yet to give us the possession of assets. We have already formed a subsidiary company. A Special Purpose Vehicle will take over the assets of the unit. Once the unit gets clearance from BIFR (Board for Industrial and Financial Reconstruction), there will be handing over of the position of the assets.
Q: Is the POSCO JV on the backburner now?

A: I will only say that we are still talking on a positive path.
(Md. Shakil contributed to this story)