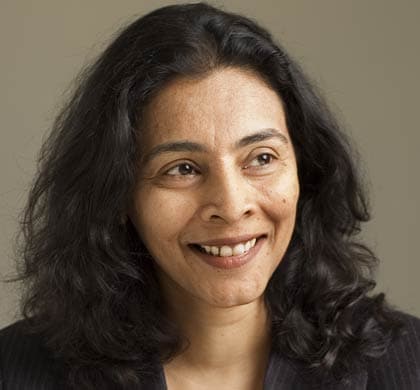 Mumbai
:
The Indian IT industry may no longer see 30-35 per cent growth rates, Aruna Jayanthi, chief executive, Capgemini India, told NDTV Profit in an interview. She adds that Europe has largely remained an untapped market and is likely to emerge as the new hub for driving growth for the sector.
Here is the edited transcript of the interview.
Will the current European crisis throw up more IT offshoring work to India?

We see growth in a few areas, number 1 is Europe. I think that the European market has been largely untapped compared to US. I think that's the opportunity we're looking at. I can already see the German and the Nordic markets opening up; so that's a good one. Secondly, we have a few of high growth bets as we call them which will help the top line growth.
Are the days of high-growth rates for the Indian IT industry behind us?

A couple of things to look at, number 1 is I do believe that the growth rates will come down. I don't see the 30-35 per cent growth rates anymore. Clearly the base is higher. So it's just simple math; You know you are going to get a lower rate and so it's more likely to see it in between the 16-25 per cent range.



Secondly, is I do think that the model is changing somewhat in the sense that there needs to be a need to break the linkage between the headcount numbers on the revenue, and the industry is focusing on developing more non-linear models as they call it... more focus on IP and solution. So I think the industry, I would say, is at an inflection point where you say - ok head count related growth is fine, but let us focus on the other things which would give us the lift on the revenue and the margins.


Capgemini is projecting for 2015 over 50 per cent of its global workforce in India? Is it tough to meet this target?

It is of course a nice growth to have in India and I think the key challenge for us would be to get the right talen. Both recruitment as well as retention are going to be important. What we hope to build on is the fact that people today like to work for us. In the internal surveys that we do, we ask people the question as to what you most like about Capgemini and they say it is a good place to work. I think eventually all our strategies need to focus on the fact that we make it a great place to work; we give people the right opportunities and the right challenges, and that's what will help us for getting the people. On the recruitment side of it, I personally don't think it's too hard.
Given that in the current environment there are a lot of people that are holding back recruitments cutting doing given the uncertainty, any concerns on that front?

I don't think so at all. I think even in the current year, we are continuing to grow; we are continuing to recruit at a steady pace, quite similar to last year. So I don't really see a big shift in the recruitment patterns and I think we're reasonably well geared, both at the campus recruitment level as well as the lateral recruitment level.
Can you talk to us about strategy to recruit more from campuses this time?

I think personally that compared to the rest of the industry, our population of freshers is lower. I do think we have an opportunity to raise that by 5-6 per cent points. That is certainly something that we will look in doing. Besides we are also getting campus recruits from outside of India, for example from the US, to come and spend a few months in India. So what we are trying to do is not just train the freshers and campus people in India, but also get much more integrated work force into the system.
You are also expanding your presence in Tier-3 cities? How has that strategy worked so far?

We actually tried out Salem as one of our first year 3 delivery centers especially in the BPO space and it has, i have to say it has worked out extremely well and internally we call it quite a successful model. Following that we have just recently opened up Trichy and our idea is to have a hub-and-spoke model. So for example, either Bangalore or Chennai being the hubs delivery Center and open 3 or 4 spokes around it; just smaller centers which will never get to the scale of big centers; but that is the model we are looking to do.