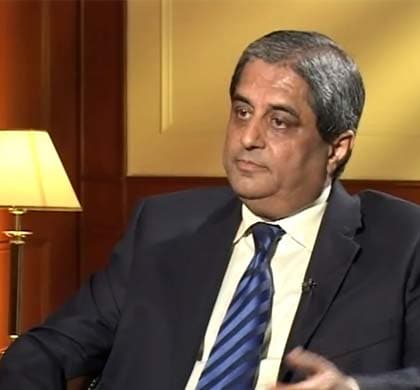 New Delhi
:
As growth slows and expectations of rate cuts rise, Aditya Puri, managing director of HDFC Bank, says that while some room for rate easing has opened up, any dramatic reduction in rates is unlikely. In an interview to NDTV Profit's Ira Dugal, Puri said that the weak GDP data is a call for action to all policymakers.
Below is a transcript of the interview. Watch the accompanying video here.
Aditya Puri
: You can't make the central bank the panacea of all your issues. I think the central bank has been saying clearly for a period of time that it can take action but if you run large fiscal deficit, structurally, interest rates aren't going to solve the problem. You can't run a larger fiscal deficit and have declining interest rate especially when you take that fiscal deficit that you are running for an unproductive expenditure. So, the capital efficiency has fallen by 25 per cent. So if you are not sorting out supply and you are creating demand and then you expect the RBI to continuously move, then I don't think it's feasible. I don't think the monetary policy is a substitute for an action. It can aid proper policy, it can't lead it.
But how can we expect them to cut rates substantially?


I'm saying that as of now, it is reasonable to presume that if the core inflation has moderated, oil prices are higher than $100 per barrel and if the world is not going through a pretty good time, then there will be further decline in commodity prices and there will be slowing of growth and hence, there is not a major likelihood for interest to zoom up. And even if the RBI takes action, they aren't going to make it so easy that they create superfluous demand. But they could put some liquidity and take at bet, put some interest rate but will that solve the problem own its own? The answer is no.
But will it help the investment climate?


It will help temporarily. But the investment is not based only on interest rate so if you don't sort out in terms of approval, power supply, raw material policies and land acquisition, interest rate alone can't do it; you got to have all of it coming together.
So if there is an interest rate cut, then how would it help?


An interest rate cut at this point of time…some of the industries would look at it as reducing their cost margins and frankly if our inflation goes down, even then our interest rate is high. But if you are accepting major interest rate cuts, then I think we will be on different planets.

I'm saying the cut would not be very major and you could see some liquidity measures and combination of these, which will be helpful but I am also saying that as far as the running of the economy is concerned, the RBI can help but it has to be run elsewhere.
There has been a criticism on the account of the banking system since the RBI has cut rates. Is that fine according to you?


The issue is what the RBI has indicated that the banks could have brought the interest rate down provided there was enough liquidity in the system and the deposit of the trade has come down because of the shortage of liquidity. When you see the funding in the banking system in India, it is 90 per cent deposits. If those costs don't change, then what are you waiting for the banks to do? So the signal in the long run by the RBI is correct; some amount of cost has come down and a CRR cut of 1 per cent or 100 basis points will cut costs by 10 basis points.
Partly because liquidity has eased out, I mean it is still tight plus about Rs 1 lakh crore of liquidity is injected?


The point is that the intention is not to ease liquidity. Rs 40-50,000 is easing liquidity so if you take deposit rate, today the deposit rate is where it is and they are where they are since there is a shortage of money.

Well, I don't think the optimism has shaken but I'm starting to get worried. The answer is yes because I do believe the fundamentals of the economy in terms of our structure, benefits it's going forward but for the country, it hasn't changed. We have some problem and I have to admit that even the problems have been identified, solutions for them have been specified in the budget, then why there is so much of a roar when political actions have been taken and why don't we actions. I don't have enough knowledge of how politics and Delhi works to give that answer but everyone knows what needs to be done. It is not that complicated. We are still a good story.
If we will look at the growth number, the fourth quarter GDP number, it shook everybody. Dr Rangarajan himself said he was looking for a 6-7 per cent growth. So now we are not even talking about 7 per cent but talking about sub 7 per cent (of economic growth).


That's because we have delayed the action. The issue is that there is no investment in the economy and then it gets linked to interest rate and fiscal deficit and liquidity. The longer we delay taking action on subsidies, on investment in import control, the time gets shorter. So I would say we call for action not despair and that's why I say I'm still an optimist since I do believe we should get our action together. There is no point blaming each other. There are things that everybody needs to do.
Just looking forward on the investment side, nothing has been moved from last 3-4 months for this calendar year. Has anything moved for the betterment or have things got worse?


I would say they are close to static but the issue remains. We all know the issues remain that if you need faster approval, you need the power sorted out, you need the government to kick start investment and you need clear picture on rates. I think those haven't changed and till they change, you won't get investment and in turn won't get growth rate.
But has the consumption side of the economy helped it or are there cracks?


There are signs of slowing down because if the inflation is on and if you don't get wage increase and investment and employment, then sooner or later the consumption will start slowing down.

But if we fix the issues that you're talking about, then at least from my talks with the institutional investors, there's a lot of money waiting to come in. If you see what is happening today, I think people have realised that in the long run, we have a structurally good story but there is a problem with the US and European story, Europe, which is a big problem. But so does the US, they probably have to have a quantitative easing again. So for people who want to invest in the long term, this still remains a good idea, but we got to get our basics right.
So you're still saying that capital flows could come back on the assumption that we.....

Oh! Absolutely, I think that if they raise the diesel price that means we would be able to show to the rest of the world that when they say we will have action, we will have action and if we then start to have a rational review of our subsidy mechanism whereby those subsidies, where we really don't have the leeway today to have the subsidy not reach the end beneficiaries, I think it'll work straight away. I do believe that maybe the gods are favoring us, I think oil price will come down, I think we should see some improvement in the rupee exchange rate and so just let's hope we do diesel and one of the other things and we could see a change in sentiment.
But Sir, when you hear all these brokerages - Morgan, CLSA -coming out with an excessively bearish (outlook), you're saying that numbers like that are not enough to sort of scare away foreign investors, they still believe in the medium term story, so at least FDIs should be strong if FII is not?


FDI is not related to that....
But what if people are questioning your long term stories?


I don't think they're questioning of the long term stories is correct, whereas I don't know what to take a pot shot at Morgan Stanley, CLSA, I think they could also do better estimates rather than just blaming the government. Their estimates, in a lot of cases are wrong and that's when I said that lets have an action call rather than just despair. Why not think that if the oil price falls, the commodity price falls and we raise petrol price, wouldn't we be kings?
May not be kings but we may not be paupers...


At least we're getting somewhere. So I think those guys have gone a little too far, I think Dr. Rangarajan when he stated that in a very fair, professional assessment that we need to cut our fiscal deficit, we need to raise petrol prices to show that we're bringing our fiscal deficit under control, we need to make sure that we remove the impediments to the investors. I think if we do that and very quickly sort out and as Adi Godrej says that we should sort out our GST, I think we still have a great future.