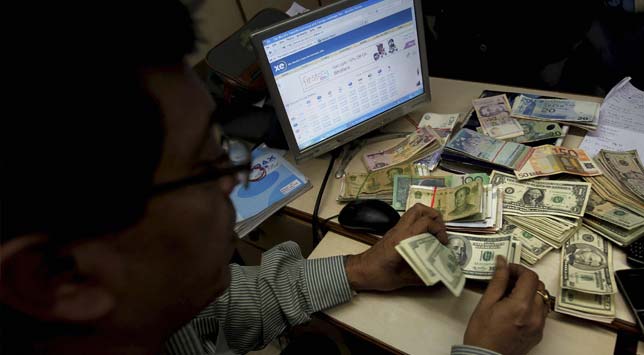 New Delhi: After posting its biggest percentage jump against the dollar in three years on Friday, the Indian currency was on Monday trading marginally higher at 55.57 to the dollar.

The rupee has lost 24.64 per cent against the dollar over the past year, and is on course to log its worst quarter in at least 17 years, Reuters data showed.

A ballooning current account deficit and the ongoing euro zone crisis is weighing heavily on the currency.

Rating agency Crisil, however, says there is a 66 per cent chance that the rupee will appreciate to around 50 per dollar by March-end 2013.

Here are five reasons it gives:

1. The key underlying assumptions, Crisil says, include the initiation of some domestic policy measures to revive growth, no further worsening of expectations of growth and inflation, and an easing of current account deficit due to softening of crude and commodity prices– all of which would improve investor appetite.

2. On the global front, some improvement in the Euro zone situation towards the first quarter of 2013 is assumed, Crisil says. These factors should improve investor sentiments and stimulate the return of capital inflows.

3. Crisil says an improved risk appetite of the foreign investors would lead them to consider the opportunity India offers, with assets in India being cheaper due to correction in prices and a sharply depreciated rupee.

4. The difference in growth rate that India maintains with the West and the other emerging markets, along with the new measures announced by the Reserve Bank on June 25 aimed at attracting foreign capital inflows will improve India's chances.

5. The agency, however, has also warned that there was a 33 per cent chance that the local currency may settle at 55-57 levels by March 2013, assuming a status quo in domestic policy setting and no change in the euro zone problems, with the ongoing global turbulence continuing.