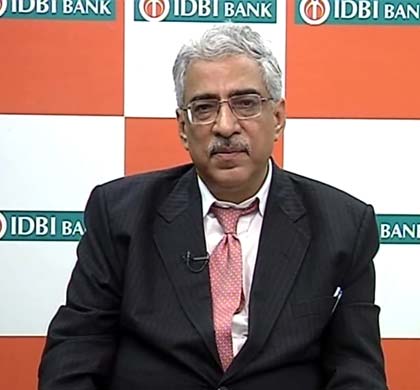 New Delhi
:
Public sector lender, IDBI Bank, reported a 49.42 per cent increase in its net profit at Rs 771 crore for the quarter ended March 31, 2012. The bank's asset quality in the fourth quarter has improved on sequential basis despite issues like increasing bad loans and corporate debt restructuring.
Its net Non-Performing Asset (NPA) improved to 1.61 per cent, against 1.96 per cent a year ago, while its gross NPA saw a marginal improvement at 2.49 per cent against 2.94 per cent a year ago.
R M Malla, chairman and managing director of IDBI Bank spoke to NDTV Profit about how its no-performing assets have come down in the fourth quarter. He is confident about achieving better growth in fiscal year 2013 than 2012.
Below is a complete interview. Also watch the accompanying video here
.
There is a sharp jump in your other income, advances and deposits on a sequential basis; can you give us more details on the same? What has led to such growth?

I think I'll give credit to my 15,000 young colleagues working in this organization. Essentially, we have tried to reduce our cost of borrowings and at the same time doing a business, which is essentially profitable for the bank. So, we have tried to protect our NIM (Net interest margin), which was 2 per cent last year and continues to be 2 per cent this year. On a bigger balance sheet, the 2 per cent has gotten converted into a quantum jump in profit from Rs 1650 crore to Rs 2032 crore this year.

Especially in the March quarter, our profits are Rs 770 crore which is 49 per cent more than the last year. This quarter, two things happened; one, our fee base income caused a quantum jump of Rs 100 crore and the requirement of provisioning was much less because of our proactive working on our portfolio. I am happy to inform that our gross NPA, from December 2011, has actually come down in March 2012. So provisioning requirement was less; so it has resulted in a very good profit jump.
Last time, margins were a disappointment; how much were the margins this time?

As far as last quarter was concerned, there were few large size assets which turned into non-performing assets. So December quarter had a jump in NPAs. That is why the pool of NPA increased; as a result, the percentage also increased, whereas in this quarter, there are not many assets which turned non-performing. In fact, there were a large number of assets which moved out of the NPA category, which is the reason why the requirement of provisioning is far less in this quarter. As a result, the profit was more.
Last time in Q3, you saw a decline in savings deposits, and in Q4 you waived off all savings account-related fees. Did that help this time in the fourth quarter?

We have seen quite a remarkable growth in current and savings account (CASA). In 2010, our CASA as a percentage of our total deposit, used to be 15 per cent to 18 per cent. We were the first bank, which brought a paradigm shift in the savings segment, by doing away with all the charges. As a result, the number of accounts as well as balances in savings bank account improved dramatically in March 2011. CASA percentage was 20 per cent of a large balance sheet; which in March 2012 has become 24 per cent of still larger balance sheet of Rs 2,10,000 crore. So today with 975 branches, our CASA is as high as Rs 50,000 crore.

We believe that this is the largest in banking and savings industry, which is alone is almost 20,000 crore but what you are referring is the ratio of interest of deposits, which was higher in the last quarter. A lot of amount moves from savings bank to fixed deposit (FD), so that was the reason sometimes a lot of money moves from the fixed deposit and as long as our depositors are concerned, we would like them to have as high as possible rates of interest.

However, going forward again taking the cue from the recent RBI monetary policy, we were the first bank which revised its Return on Investment (ROI) on various maturity deposits between 0.25 per cent and 0.50 per cent (25 to 50 basis points) and consequent to that we have also revised the ROI on our borrowing. By cutting the rate by 0.25 per cent going forward we have done our calculation that on a full year basis, it will rather improve our profitability than affect us.
What is the status of HCC and Lavasa accounts? Lavasa has been classified by PSU banks as a NPA we believe, how much exposure did you have?


I don't generally like to talk about specific accounts. This is a large company which has contributed lot to this nation by creating all sorts of infrastructure. We have small exposure in that company and it's only the cash flow, which is an issue. As far as that company is concerned, it has a great experience in the line in which they are. They have a huge advantage but it is only a temporary phenomenon and I believe that an orderly re-structure will help this company. This company has a great future.
Any big accounts that are there in the pipeline for restructuring?


I think that the stress of 2010-11 has been seen by a number of companies across industries. You might have seen the IIP figures, which have remained low. But for the positive signal, which the Reserve Bank of India has given, I must be grateful to the governor and his entire team. They have not only reduced the cash reserve ratio or CRR by hefty 1.25 per cent, but also cut repo rate with one stroke by 0.50 per cent or 50 basis points. (It is) a very bold and imaginative work done by RBI, which has got translated so quickly.

In fact, we were the first bank to announce rate cut and now it is being followed by the banks. With rate of interest cooling down, I am sure the industrialists will start looking at setting new projects, which will bring back growth to central agenda; and when growth takes place, the market becomes good for all the products and services. Once the market for goods and services becomes more effective, obviously, the businessmen will start earning money. Hence, when everything is good, there is no question of a non-performing asset. But still I believe that 2012-13 will be superior compared to 2011-12.
How much was the total amount of restructuring done? Also, could you tell us the same for recoveries, slippages and upgradations?

As far as I can tell you, between March 2011 and March 2012, both our gross NPA and net NPA are slightly on a higher side both percentage-wise as well as amount-wise. But if we compare December 2011 to March 2012, both amount-wise as well as percentage-wise, our NPA is lower, which shows that the signs are good as far as IDBI is concerned.

Now coming to the restructured asset, if you see our March 2011 figure and March 2012 figure, there is only an increase of roughly Rs 500 crore, which I believe is not something significant in comparison with our fund based balance sheet of Rs 1, 80,000 crore of and about non-fund based balance sheet of Rs 70,000 crore. So our entire restructure asset is very small percentage.
Power sector has been facing headwinds and you have a very high exposure to the same, any concerns do you see there?


We have a sizeable portion in power; but at the same time, we are very fortunate that these power projects have been planned and are been implemented by top industrialist of this nation, who have huge experience in this line. So we are very selective. Whichever power project we have taken, we have ensured that these are setup by the people who have huge experience in this line, and while we sanction, we ensured that all preliminary things which are needed are in place, be it power purchase agreement, coal availability, land availability or water availability. The coal ministry and Coal India Ltd are now working to ensure that the power projects, which are coming up, get sufficient coal supply either domestically or imported. So this sector will bounce back very quickly.
You were the first ones to cut down rates, was there some pressure from the government to do so? Will there be a pressure on margins?

First of all, I would like to say that there was absolutely no pressure and we are really fortunate that we don't get any pressure from any quarter. This was the most sensible thing to do when the RBI has reduced CRR by 1.2 per cent or 125 basis points, which places with IDBI around Rs 2500 crore which was lying with RBI.

Now, we can use this Rs 2500 crore in our lending and even at 11 per cent, it can fetch us Rs 275 crore. Realizing that the rate of interest is now going to fall, we rejigged our deposit rate between 0.25 per cent to 0.50 per cent (25 to 50 basis points) across various maturities depending on our requirement. Having done these two things, the logical thing was to reduce the base rate, because we would like all our companies to remain competitive. All said and done, the cost of borrowing is an important segment in any company's profit and loss account. So this was a very logical thing to do, because as and when RBI was raising its interest rate, we were raising our interest rate; and despite having an opportunity to reduce the rate of interest after the CRR cut, we consciously waited till the repo rate was cut.
Few banks are perhaps reluctant to cut rates as of now as they want to wait and see how things pan out, also whether the cost of funds comes down. What is your take on the same?

I can talk only about my bank. As far as IDBI bank is concerned, we have taken a very conscious decision because we are dealing with top companies of this nation and we would like to remain very competitive as far as our lending is concerned. We don't want to out-price our self; we want to encourage certain areas where we are likely to go. We want to attract top clients both on the right side of the balance sheet as well as the left side.
SBI chief said that the deposit growth is getting crowded out by competing instruments. Do you think that lowering the deposit rates at this point is the right decision? What impact do you see on the deposits growth?


IDBI: I can talk only about IDBI bank. We have deposit growth of 16 per cent or so. With only 975 branches today, our deposit is more than Rs 2, 10,000 crore. It gets converted to something like Rs 220 crore per branch and we have 200 rural branches also. So, as far as our bank is concerned, we are really fortunate to have top of the line technology and we are really fortunate to have very young team which is working for our bank. I believe sky is the limit. Only thing is that, we don't raise deposit per sale. We have to first see what is our target in growth and advances, which is 15 per cent in the next year. So, in order to meet that 15 per cent, we have to see how to raise fund at the most competitive rate.

So, the first option for us is to go for current account and saving banks, which is why, we are focusing on current account and saving bank deposits. We are working together to see our CASA go up, and then we will look at international borrowing where we are a sizeable player, where the cost of fund becomes lower. As far as refinancing is concerned, we are very innovative and raising refinance from national housing bank, Reserve Bank and then fixed deposit so that's why the deposit growth we have envisaged next year is only about 12 to 12 and half per cent.
How much credit and deposit growth do you see in FY13?

Next year, our advance growth target is roughly 15 per cent. This year also, we have decided 15 per cent and we are dot on 15 per cent. Similarly next year also, our target is to have growth of 15 per cent and in order to meet that growth of advances of 15 per cent; our deposit growth will have to grow about 13 to 13.5 per cent