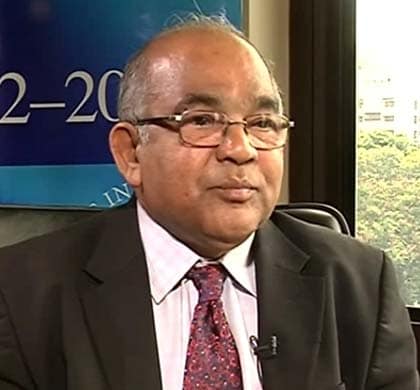 New Delhi
:
High inflation and high interest rates could mean that growth may remain below 7 per cent for the second year running. But Y.V. Reddy, former governor of the RBI, told NDTV Profit that 6-7 per cent growth does not worry him and what we need to focus on is improving the productivity in the economy.
Below is the transcript. Watch the full interview here.
You have done analysis on inflation. How relevant is that in the current scenario?

I think it is extremely relevant to the current picture. Inflation is not exactly a monetary phenomenon; it is a monetary phenomenon in a restricted sense. Whenever a fiscal situation comes, the demand will be determined by a fiscal policy. The fiscal policy preempts the resources of the society in some senses. Therefore, since a very few people express the inflation issue as something which you solve by handling fiscal and monetary, but the real issue is that you have to produce services, which is forgotten. It is a longer-term affair. So, Mr. Patel (full name with desig) has made it clear that a debate on inflation should not be viewed as something that deals with growth versus inflation and monetary versus fiscal policy. But it has to be fought under frets of fiscal policy.

He has also mentioned that reforms are not a list of laundry measures in the macro management; it has to be sector by sector. See you can always deregulate a reform. You will get some results. But after the deregulation, you have to create a favourable atmosphere for competitive efficacy. For that to happen sometimes deregulation is required, sometimes you have to be market-friendly and not necessarily business-friendly. Hence, the reform has to be liked to sectoral productivity, sectoral efficacy, moving sectoral bottlenecks, that is a key to fight the inflation and have a consistent growth. It should be the priority.
Are we failing to do that right now?

I'm not saying that we are failing but the highest priority will be the sectoral ...How do you make sure more coal is produced or more power is produced? How do you make sure that more agricultural products are not wasted? That is the reform.
But those are the long-term issues?

But then you can solve issues related to inflation and get growth without tackling them.
But in the interim, what do you do? Would you caution against the tightening of the monetary policy?

If you think that you can solve the problems in the longer term then you will get growth only in the longer term. So, in the short-term, you can't have growth if you can't solve problems. Therefore, your growth has to be moderated to match your reforms in the sectors. If you try to grow more than what your sectoral productivity warrants, then it will result in inflation or external sector burden or both, as it is happening more or less now.
So, there are no short-term solutions in the current inflation scenario?

There is no way you can fix inflation in the short run as there are serious supply bottlenecks. But the other way of looking at it is that if the supply is not that elastic, then you can manage the demand. If you manage the demand activity, the growth will go down. So, there is a dilemma. The attention of reformers to macro-economy is not enough. It has to be sector by sector.
You have also written about the new normal for inflation and the new normal for growth. Can you explain that point?

The pre-crisis growth of the Indian economy was 9 per cent. Even Mr. Patel says that it is not very wise to aim for 9-10 per cent growth. It is not easy to achieve. Secondly, if the same thing is applied to the global economy, it will apply to the global economy as well (duh!). Therefore, you have to re-calibrate growth. In 20 years, I think expecting 10 per cent is really unrealistic. So, the growth objective as well the inflation objective will be moderated at the global level but less moderated at the Indian level. We are expecting to get close to 8 per cent.
There is a debate raging that whether even 6 per cent growth is sustainable for India...

Ultimately, growth depends on savings, investment and productivity. Our household savings are still high—same as the rest of Asia. I don't see a reason why they would go down. But the basic issue is of the fisc and at times, the corporates. Therefore, I don't see a reason why that will come down. Secondly, if you take investment as a whole, 90 per cent of investments are domestic savings; foreign savings only constitute 10 per cent of our savings. The productivity should improve dynamically unless we fail in the area of physical infrastcuture.