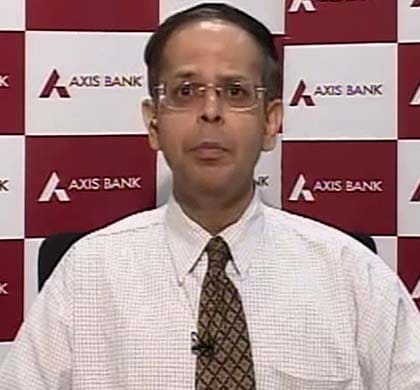 Saugata Bhattacharya, senior vice-president, business & economic research, Axis Bank, told NDTV Profit that India is headed towards a sub-6 per cent growth as the global situation has worsened. "The economic fundamentals suggest that the RBI will pause the rate cut this time," he added.
Below is the interview transcript. Also watch the accompanying video.
Q: Does RBI have an outside chance to cut rates?

A: I think economic fundamentals seem to suggest that the RBI will hold on. It will maintain its pause. Personally, I would like to see further raising of monetary policy. A cool, dispassionate look suggests that there have really not been too many changes since April and June. Strong statements on pre-conditioning the monetary policy stance on various other policies, fiscal policy, particularly, have changed. The only real change that I can see is that the global situation seems to have worsened significantly, particularly, the events in the last couple of weeks. The European Central Bank (ECB) and the other European authorities are trying to claim to deal with the situation. The global environment is the only change that might give RBI an outside chance to cut rates.
Q: Is India's comaparison with Korea fair? They are not facing the kind of fiscal issues India is facing right now...

A: I think you are absolutely right. In addition to the factors that you have mentioned, Korea's economic fundamentals are better than that of India. I think their exposure to the global market is higher because of the exports. So, a slowdown in exports or global trade is likely to affect those economies more (severely) than India. So given the improvement in liquidity, at this point in time, is unlikely to be as bad as last year. The rupee is also likely to remain weak. Earlier, the RBI had indicated that the exports might be potential drivers of growth, that stand will still remain the same in this policy. I don't know what other measures they may try on the export front but a weak rupee may try to push India's exports and that will be one driver of growth in this environment.
Q: The RBI will highlight inflation from the monsoon perspective this time?

A: I think you're right. They will do that. There will be an impact on inflationary expectations due to the worsening monsoon situation and there will also be an impact on the fiscal side. So, the two will probably offset concern on growth. I think we are likely to be headed towards a sub-6 per cent growth, looking at the impact of the monsoon. Despite that, the RBI will probably take a call that slowing growth is rising from the poor rainfall and relatively poor agricultural growth situation. I think the RBI will be very worried as they have highlighted in the June policy that headline inflation is likely to translate into a worsening wage price spiral. Unfortunately, the data that we have seen in terms of the wage price increases seems to suggest that it is very right although it is very sector specific. There are large differences across sectors. They are somewhat justified and they seem to respond to the high inflationary environment.
Q: Will there be a revision of GDP forecast?

A: I think it will come in the 6.5-7 per cent range for GDP growth. They will probably not take it down to 6 per cent. There will be a clear indication of a downside risk in growth. They will revise inflation to 6.5-7 per cent range with upside risks. So, that's the tone that will come in changed growth and inflation balance.