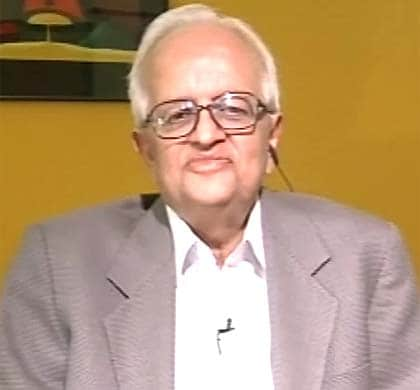 Frankfurt
:
In an interview to NDTV Profit, former Reserve Bank of India governor Dr. Bimal Jalan said that there is a need for a credible policy to prevent the rupee's fall as expectations on the currency direction are critical.
He, however, believes that the rupee depreciation will not help resolve the issue of current account deficit. "The loss of confidence in India is a key concern; it is critical to have policy reforms. India can overcome challenges if there is a credible policy," he added.
Below are the edited excerpts of the interview. Watch the full video here.
Has the fall in the Indian currency worried you?


The real issue is what is our policy towards the currency management. The policy is not clear to me. If you look at (the) last two months, there is a sharp fall. If you go back a little longer, there was appreciation. What exactly is happening? We may have current account deficit, fiscal deficit, that scenario hasn't changed nor has Europe improved, so currently what is needed is that we should have a view at the macro level, at the policy level as to what our policy on the rupee is.
Are you talking about the RBI policy looking to curb volatility rather than looking at levels which are appropriate for the macro economy?


I cannot comment on RBI policy, I am commenting on our policy as a country, what has changed to convert appreciating rupee to a depreciating rupee. Today, if you asked one of the market participants which way the rupee is going then he would not know. So that is an extremely important point, the current situation is definitely uncomfortable, the discomfort is because we don't know whether it is intended direction or unintended movement in which we have figments of policy, but expectation of the market. Expectation of participants are extremely uncertain so this is the issue that we need to resolve, is this value sustainable, the direction is not known.
Is the shift from appreciating rupee to a depreciating rupee is because of a loss of confidence in India?


The confidence in India has become much lesser than what it was one year ago, and that is the partly a reflection of our policy that we don't know at the moment (whether we) are tackling current account deficit or fiscal account deficit, there is an issue here and the situation is uncomfortable. I believe we can tackle the situation, we can do what we intend to do, we have the capacity, we have the strength. During the Asian crisis from 1993-2000, we were so much weaker, but today we are so much stronger, our entrepreneurs are strong, our capital base is strong, so we can tackle the issue. The growth rate of 6 per cent, 7 per cent, 8 per cent is not the issue.
When you hear comparisons with the 1991 situation what is it that you think?


There is no comparison at all. If you go back, there was political instability, no government consensus, oil prices were high we didn't have the means, we didn't have the strength, we didn't have the reputation, we didn't have any policy making mechanism. So the crises were completely different and I do not see such a thing happening to our country again. In 1991 we were weak, today we are strong in terms of policy making so we should take the required measure even if it is a painful decision.
It is argued that you should bring down your currency to the level that is acceptable to the current account deficit, that is what the theoretical concept is, you reduce your imports and increase your exports, and if the rupee stabilizes at the lower level, will that be beneficial for us in medium term?


The crucial issue is where it stabilises. People should believe that it has been stabilised, who want to send capital to India. If they expect rupee to depreciate…, there is a whole history in Latin America, in parts of the Middle East, in parts of Africa, the question is not of the level of the currency, the question is how confident we are of managing the situation.
Where will the confidence come from?


Suppose you decide to handle this situation, then you could develop a policy which brings that confidence, 'Yes we want our exchange rate to be stable'. India was the first country to decide during the 1991 crises to have a flexible and managed exchange rate. The important point is that it is the question of credibility. The currency market are extremely volatile by nature, they are self-fed.
The other measures that are talked about like opening up the special window for oil companies to buy the dollar, Millennium Deposit scheme. In such a negative environment, the Millennium Scheme won't work for us?


We should have a consolidated policy response rather than having an ad hoc policy response from time to time, then we don't know which direction we are going. You should have a basic policy which is consistent over a period of time until the situation changes dramatically. If you announce changes every 3-4 days, then there will be problems.
On the domestic front, that is, on the growth side, on the fiscal side, we haven't done any improvement in last few months…


What we need is strengthened, unified, structured policy making, we need political reforms. I have suggested them in my book. For example, if you take a coalition government and if it strengthens the states then we should pass the anti-defection law – that is at the moment applied to an individual – will also be applicable to the party that joins the government. Democracy is based on concept of majority, the anti-defection law was started because the individuals were shifting the parties. Then criminals in politics should not be allowed. What I mean to say is that we need a few fundamental reforms that will make our politics strong.
Some of the reforms that you are mentioning are becoming more and more urgent from the economic perspective?


From economic perspective what is important is that the government should have a collective voice. The reversal cannot be done unless you have a majority. Economics has got isolated from politics in democracy. There must be responsibility, there must be accountability.
The entire inflation story, we seems to be have lost track of that, we say that we will bring down the inflation to 5-6 per cent level, (but) we are nowhere near it. Food inflation is surging, the central bank keeps on reducing the rates, is there some sort of disconnect?


There is no disconnect between the interest rate and inflation the factors that are accounting for inflation are different. Interest rate is not the reason behind inflation, here the demand for credit is not critical, it is ancillary. We should encourage investment, higher growth rate scenario.
The central bank's target to move towards 3- 4 per cent are outdated, why are they damaging their credibility?


They have revised their target to 5-6 per cent but one should set a target which is practical and achievable otherwise they are damaging their credibility.