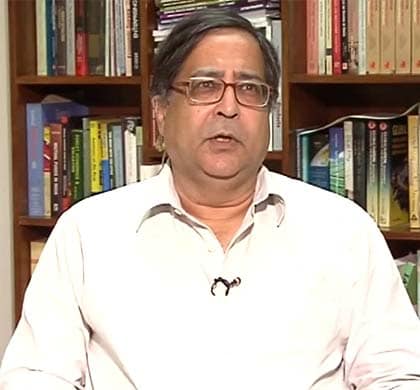 Bangkok
:
India's economic growth could fall below 5 per cent in the first quarter of the current fiscal, impacted by a contraction in industrial output and deficient monsoons, global research firm Citi has said.
However, TCA Anant, secretary and chief statistician of India, feels that there is no evidence to show that the industry is worsening.
Below is the interview transcript. Also watch the accompanying video.
How do we read these numbers? It is a base effect hit, but even without that the index is lower?

No. There are two things. There is a base effect operating to look at the index number date. You will see that last year in the month of June, the index has seen a very sharp rise. If you look at the series, the general index was 166 in May; it rose to 171 in June and again dropped to 167 in July. And that's what we have picked up when we see negative growth. The index from May to June has dropped but if you look at it on a month-to-month basis, it is much lower in magnitude.
Speaking of index levels, the index levels of mining, manufacturing and electricity have gone down.

I am not sure what I can say about electricity. However, in terms of both mining and manufacturing, there has been a persistent softness for the last year or so. In fact, if you recall, most of last year was showing negative growth for mining, so mining is probably a continuation of the same picture. Manufacturing has also declined in this month. There was a sort of consistent pattern, which we have been seeing for the last 6-8 months, which is showing very soft or almost no growth in the manufacturing sector.
Are there anomalies?

Principally, one of the factors of base effect is electric machinery and cables, where last year at this time there was huge jump in the value. So you saw a large positive at that time and now you are seeing a correspondent impact of that in large negative. Other than that, in all others, the growth has been consistent. Overall, the picture is rather being soft.
On a longer term basis, what are the sectoral trends telling you?

I am not sure I have not looked into it segment wise. I am not even sure whether IIP is very accurate. At that level of disaggregation, what is good is that capital goods is soft, matched up with other indicators which you look for investment. All of them suggest that investment activity isn't picking up at the moment. If the underline growth is slow, it is quite possible to see somewhat large fluctuations in growth because a single demand coming in or being completed can lead to large fluctuations in output in an overall framework of low growth.
What is the final analysis?

Essentially, it has been a slowdown in growth. However, there is no evidence to show that the industry is worsening.