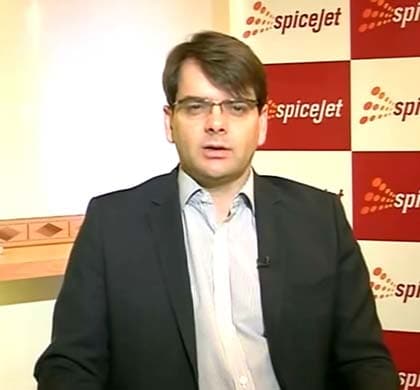 New York
:
Neil Mills, CEO of SpiceJet speaks to NDTV Profit about the aviation industry in India. He also comments on Tim Clark's view, who is the president of Dubai's Emirates Airlines that global airlines are not interested in investing in India.
"Operational environment is tough in India; the aviation industry here needs FDI in aviation quickly," he added.
Below is a complete interview. Watch the accompanying video here.
Airlines stocks have been jumping up and down based on hopes for policy announcement, which never seems to come. Tim Clark, President of the Emirates Airlines, in an interview to a newspaper, essentially ruled out the possibility of any investment by any foreign carrier in the current operating environment into the Indian airline space. He said it is not just about increasing the FDI limit; there are a lot of other things which make it very difficult for foreign airlines to make money in India, which technically should do very well because of the population, the size of the country. How do you react to this?

I think, he is entitled to his own views, we all are. But, from our perspective, yes it is a tough working environment; but we do believe that there is long term value here. Certainly, other airlines have expressed interests. Whether Emirates is or not interested, is really a decision for emirates. It is not a decision for us. But certainly, the rules are not changing as fast as we would like. We would like FDI and other rules coming through quicker, but we also believe that the government will deliver what it promised. So, it will deliver in longer term, although in short term we do face challenges.
But are you disappointed Neil, with what Tim Clark has said. What he is suggesting is that even if the rules are tweaked tomorrow, it will not bring in foreign carriers. It might be his view, but I am assuming that in a way, he is representing the thoughts of other carriers and similar sentiment...

I don't think I want to get into an argument publicly with Clark, it is not appropriate and it would not have any value. But certainly, other carriers may have some of the concerns and views. We will just have to work through them, one by one. Maybe Tim will have a different view once we start dealing with these carriers after FDI is actually put in place. At the moment, what he is commenting on is what would be a theoretical possibility.
I just want your views, and not get you into an argument, talking as an industry representative; the airlines in India need funds; long term, stable funds. One way to get that is give foreign airlines more control. What seems to have been said here is that, the rules and operating environment, even after changing norms, is extremely unattractive.

I am not sure I agree with that, because most individual countries and operating entities will always insist that local nationals control or have the majority shareholding in the local carriers. 49 per cent, being a limit, is actually not unusual. Govt policy and how that moves and changes, yes, that could be quicker; but that is something that we have to deal with. This is the country that we live in. At the moment, what we have seen from the ministry in the recent months, is a big change in policy and they are trying to make positive changes which haven't happened in the last year and a half and going forward, we do believe they will get more positive.
What recent changes are you referring to?

Things like direct importation of fuel. This has been talked about for at least a year and a half; and has only recently come through. We talked about foreign rights for private carriers. We have been talking about escrow accounts in the recent couple of months and it has actually come through now. We will now launch our first flight to Dubai Monday the 25th of June. So, this is not promises any more. The government is delivering on some of its promises. Agreed, it is taking longer than we hoped, but they are starting to do it now. We have positive views that under the new regime, things will change. But things take longer that you always hope; that is just reality.
So, you are hopeful and you are seeing real change in the government's approach. But, what more, do you think, needs to be done?

We will always like to see more, and we would like to see it quicker. But that is always in the business sector and we are naturally impatient. And I think, with the momentum under the new minister, we will see a lot more happening. Of course, they are never going to be fast enough to make everybody happy; we will just have to live through this. But in the short term, we are not desperate for funds. We can still pay salaries; we still have an adequate cash flow, unlike some of our competitors. But that is a discussion you need to have with them, not with us.
So, tell us about the business and as you see it panning out over the next few months. What is your outlook on fares, and load factors?

The outlook on fares is certainly getting a lot more positive. We are certainly seeing an increase in fares and that is a reason for two things – there is more discipline in the market on capacity deployment, which certainly helped. The other thing is that this quarter generally sees high demand. April-June is the second best quarter in a year for the airline industry, historically. So you would naturally see some uplifting phase in the market. But certainly, the discipline in the industry is definitely helping. We are not seeing the dramatic underpricing that we saw this quarter last year, where everybody seemed to check how low they could go and how much money they could lose on every passenger they carried.
That is a trend that we have seen in the fourth quarter result as well, Neil. My question is, with fares picking up, would load factors come under pressure? Not just for Spicejet, but for the sector as such. We have seen this with some airlines last quarter.

In the last quarter, the load factors were not as high as they had been 12 months earlier. If you are asking for a reasonable price, it is a little difficult. That is fine. So, you will see a slight reduction in load factors which is what we have seen in the last couple of quarters. We are okay with it as along as the average fare goes up to a reasonable level and is not the give-away levels that were there 12 months ago.
So you are saying, fares should continue to trend higher, perhaps not at a rapid rate, but stay where they are if not higher and load factors should pick up as well?

I think in the long term, we need to convince people that actually paying a reasonable fare is the right thing to do, because companies are not viable otherwise.
It is a hard thing to do Neil!

It is a hard thing to do, and it is much easier to convince people to pay less. But we need to convince people over time and it is really the only way the industry could survive.
There are some news reports that you are very actively in talks with a private equity firm for funding. Can you confirm these reports?

I think this has been overblown. People talk to us all the time. Yes, there are some private equity players and one of them is particularly interested. But, this is not something that we are close to completing at all. We will keep discussing and if they offer us a really good price and if the deal is really good for the company, and the investors, then that is what we will do. But as I said earlier, we are not desperate to do it. We can still pay our salaries and pay our bills. So, I don't need to get that money tomorrow at any price.
You briefly alluded to the Dubai flight. What is the response? What are other plans with regard to international operations?

The response to Dubai, from both Delhi and Mumbai has been great so far. We have sold over 6000 seats in less than a week and on a route, that everybody told us was over-supplied. It clearly shows that it is not the case and that a good service at the right price is something that the people actually want. We will be looking to push that and we are also looking at new routes. As you heard from the Ministry, we have been awarded Hong Kong, Rihad, all out of Delhi, and we have got Mali and Columbo too. These points will make it interesting as to how we will go ahead. These will all be deployed this season during summer.
One last question, we heard that you have written to the Civil Aviation Ministry to allow you to continue operating from Terminal 1B at the Delhi Airport rather than T3, and that is because of the huge costs involved. Can you confirm that for us? Have you heard back from them?

The information is only half correct. Yes, we have written to them about continuing operations from T1 rather than T3, but this is not a cost related issue to the airport. With the changes that have happened to the airport, we pay exactly the same amount that we paid for T3 despite the fact that it is not quite the same facility. But the reason is that it would be more efficient; we could use the same people and aircraft to service both domestic and international operations. But it is not about saving costs.