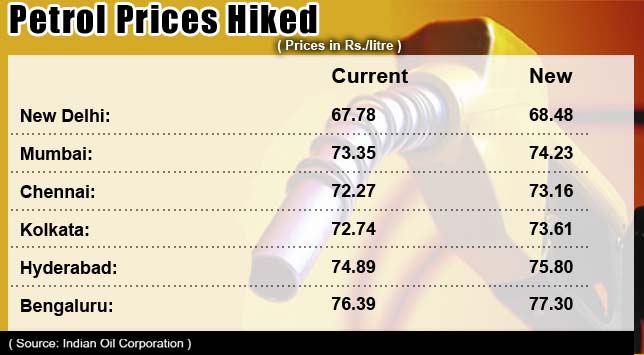 New Delhi: After two sets of reductions in petrol prices last month, oil marketing companies will raise petrol prices by 70 paise-91 paise effective midnight tonight, Indian Oil said in a release. The effective hike in Delhi will be 70 paise, which will push up prices to Rs 68.48.

The hike comes after a Rs 2.46 price cut on June 29, which followed a Rs 2.02 per litre cut on June 3.

Indian Oil, India's largest oil marketing firm, said the "revision has been necessitated due to increasing international oil prices and movement in INR-USD exchange rate".

"Indian Oil is incurring losses of about Rs 1.41/litre on sales in the domestic market. However, as the price movement is quite volatile, it has been decided that an increase of Rs 0.70/litre may be effected at this juncture and the situation watched for some time depending upon which a further view will be taken at an appropriate time," the release said.

The two price cuts had wiped out more than half of the massive Rs 7.54 per litre increase in rates, the biggest in the history, effected in May.

Oil firms are projected to lose a record Rs 151,000 crore in revenue on sale of diesel, domestic LPG and kerosene, whose rates have not been revised in past one year.

Oil companies have now abandoned the practice of revising petrol rates on the 1st and 16th of every month and from now on will do so on a random date so as to deter petrol pump dealers building positions.

Petrol pumps at some places run dry as owners stop taking supplies from companies if a reduction in price is anticipated. Similarly, if an increase in rate is expected, pump dealers start hoarding supplies.