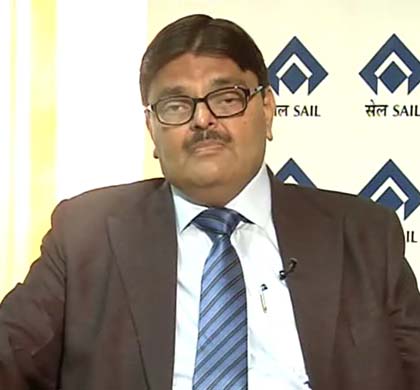 New York
:
CS Verma, chairman, SAIL told NDTV Profit that the company has witnessed a setback in the international market in terms of demand. "Demand will pick up ahead with a rise in the infrastructure spending. We will pass on the cost per kilo to consumers, which will be very negligible" he said. Verma is confident about the modernisation and expansion at all plants. "Our capex in the current financial year is seen at about Rs 12,000 crore," he added.
Below is the complete interview. Watch the accompanying video here.
Has demand tapered off due to slowdown and how do you see steel pricing going forward?


As far as the steel prices are concerned, the hot-rolled coil prices in the international market have slightly come down from the level of $645 per tonne on a freight-on-board (FOB) basis. Today, the price level has come down to about $595 per tonne FOB basis for HR coil. As far as the price level in India for

hot-rolled

is concerned, it was Rs 39,000 per tonne, in the last 3-4 months, this price level is prevailing and for TMT, the price level is prevailing long segments for Rs 47,000 per tonne. So as far as India is concerned, with the present level of dollar-rupee rates, which are prevailing in the market, where the inputs have virtually become very negligible, I think the price level is more or less stable. I don't see a major change in the price level to come. At present, the level of price is about Rs 39,000 for HR and Rs 47000 for the long segment TMT.

There has been as setback in the demand level. If you see the data from January 2012 to April 2012, the increase in the Indian production has been 0.8 per cent of the total steel production in India. If you see roughly about 24 million tonne and if you see the global level, the first four months of the calendar, the increase in the global production is just 0.7 per cent, growth at 504 million tonne. If you see the trend in Japan, it is 1.4 per cent at 36 million tonne of the crude steel.

As far as the demand scenario in India is concerned, in FY11-12, the production has been about 70.4 million tonne, input has been 6.8 million tonne, export has been 4.1 million tonne and the real consumption has been roughly about 69 million tonne. Thus, the growth in their demand, real consumption in India for the FY11-12 as a whole has been roughly about 5.9 per cent. But I'm sure that now things are going to pick up because now 12th Five-Year Plan has started from 1st April 2012. The infrastructure expenditure, which has been committed by the government has been approved by the government, which is roughly about 10 per cent of GDP and which is going to be $1 trillion. It has never happened in the economy of India when 10 per cent of the GDP is going to be spent on the infrastructure. This will now boost demand in all the sectors of the Indian economy.
You have recently faced a lot of flak from the steel minister regarding the delays in executions of new capacity installation. Are there any delays in Bokaro, IISCO, Durgapur, Bhilai steel plants?


The total cost of our modernisation programme is about Rs 72,000 crore and we have already placed orders for about Rs 57,000 crore of which expenditure of Rs 36,000 crore has already been occurred. This will accelerate our capacity from the present level of 13.82 million tonne to 23.46 million tonne of the hot metal. There have been some challenges because we have taken up simultaneously the expansion and modernisation programme and we have taken various schemes in all the plants, but now the modernisation and expansion are going in the full swing in all the plants. As far as Bokaro is concerned, we have already started commissioning the modernisation-expansion scheme. We have already started commissioning of Cocoon battery number 1 and number 2. In the last three months, these two batteries were part of the modernisation scheme in Bokaro, which we have already started. In Bokaro again, reconstruction of blast number 2 again is a part of the modernisation-expansion scheme which is again become fully operational and the last scheme is coal rolling mill of 1.2 million tonne capacity of which the coal trial that we started, will become fully functional by October- November 2012.

As far as the Rourkela plant is concerned, we are going to install a new blast furnace of 460 or cubic metre, which is in full swing of installation and commissioning and we do hope that we will be able to take out the first taping of the hot metal from this newly built up blast furnace in Rourkela, which will happen sometime in October-November 2012. Other facilities are also at a very advanced stage, the government has already commissioned a new central plant in Raurkela.

The center plant in Banpur is also ready and we will be getting billets from Durgapur for the time being to roll it in the Banpur. Our blast one is ready. The delay in Banpur had been in converters and we are hoping that two of the three convertors which are coming up in Banpur should be ready by December 2012. And hence, we can start with the two converters, blast one is operational by December 2012 or by January 2013. So I think before the end of this financial year, we will be able to start two new blasts; one in Rourkela and second in Banpur.

Thus, our hot metal capacity, which is at the present level of 14 million tonne, will go to a level of 19 million tonne by the end of current financial year 2012-13. There have been some remarks by the steel minister because his expectation is very high and he wants us to push the things, which we are trying to push also and we are trying to surmount all the difficulties that we are facing at the local level.
What is the status with regards to Hajigak iron ore mine in Afghanistan? Can you give us some details about your bid for mining of gold, copper and uranium in Afghanistan in partnership with Hindustan Copper & NALCO?


We have already been issued letter of intent for allocation of 3A iron ore or mining block Hajigak. Negotiation and discussions are at a very advance level to finalise and sign the joint venture agreements. Three rounds of discussion have already taken place and I hope we will be signing the joint venture agreement soon. About other project I cannot disclose right now because we are still at the formation level because now the JV agreement among the constitution partner that understanding agreement is being finalised.
Reports suggest that CIL wants to exit ICVL; also NTPC had wished to exit last year. Now what is the way forward for ICVL?


I have heard and got a communication about NTPC intending to exit from ICVL, but we don't have any communication about Coal India and let us see that ICVL is already in the process carrying out due diligence of 3 or 4 coal properties abroad. If there is any such eventuality, we will have to go for the restructuring of ICVL.
The government had recently expressed concerns over a rise in steel prices and had called a meeting regarding that. What is the update?


There has to be a tandem in the prices prevailing in the international market, otherwise they are free imports; of course duty is there. The price level has slightly gone up with the international market and that too also in a domestic market because the inputs prices have gone up. About one-and-a-half-years back, the coking coal price level was about $125 per tonne in the international market. This coking coal price went up to a level of $330 per tonne in the international market. Today, it is holding around $200 per tonne in the international market since the coking coal prices have gone up. To produce one tonne of steel, we roughly need about 0.9-10 tonnes of coking coal. So some increase in the import prices has to be passed on to the ultimate consumer. Passing on the per kilo cost to the ultimate consumer has been very very negligible in relation to the acceleration as a cost, which all the companies have to face.
Can you give us a sense of production target for FY13 and what is the capex going forward?


Capex in the current financial year is going to be roughly about Rs 12,000 crore and we will try to achieve that because now again major facilities are at various stage of completion and then the final payments and other things will happen. So, I'm hopeful that we will be able to achieve Rs 12,000 crore capex for the current financial year. As far as the production targets are concerned, there has to be a growth of the last year and let us see that how much growth we are able to achieve in the current year of the last year production.