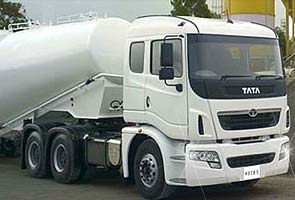 Washington: Tata Motors stocks are trading higher on the back of plans to unveil 230 new showrooms for Nano in a year.



Shares of the auto company rose to Rs. 272.30, up by 1.10 points or 0.41% from its previous closing of Rs. 271.20 on the BSE. As of 1.52 pm, they are trading 0.29 per cent higher at Rs 272.



The scrip opened at Rs. 273.00 and has touched a high and low of Rs 276.00 and Rs 268.20 respectively.



The BSE group 'A' stock of face value Rs 2 has touched a 52 week high of Rs 292.00 on 15-Feb-2012 and a 52 week low of Rs 137.65 on 13-Sep-2011.



Last one week high and low of the scrip stood at Rs 284.35 and Rs 268.20 respectively. The current market cap of the company is Rs 72747.50 crore.



The promoters holding in the company stood at 35.04% while Institutions and Non-Institutions held 38.91% and 8.95% respectively.



Tata Motors is planning to launch 230 showrooms for its cheapest Nano car in the next 12 months. At present, the company has 120 exclusive Nano showrooms.



Tata, part of the global tea-to-technology Tata Group, has a product range that spans the Nano and the British Jaguar Land Rover luxury brands.



Tata Nano was launched in 2009 amid media hype and had shot into global fame as the world's cheapest car. This was Ratan Tata's dream project, and he virtually staked his own reputation on its success. There had been an overwhelming response from customers after the launch.



The company posted a 40.5% rise in profits in the quarter to end-December, as strong sales of its JLR models offset sluggish performance from its domestic arm, hit by high costs and interest rates in India.