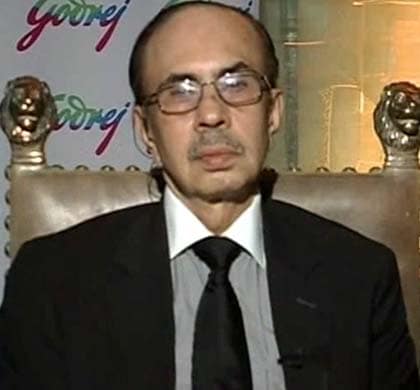 Helsinki
: The president of the Confederation of Indian Industry on Wednesday said that that the Indian economy quickly needs a revival package. "We need quick actions to push reforms. India can grow at 8-9 per cent rate if reforms are implemented," Adi Godrej, who is also chairman of the Godrej Group, told NDTV Profit in an exclusive interview.
The much-delayed Goods and Service Tax (GST) should be implemented by April 2013, he added. "GST will add 1-2 percentage points to India's GDP growth," Godrej said.
Below is the complete interview. Watch the accompanying video here.
Adi Godrej:
We have suggested that the government should have a revival package for growth in the economy. Now there are many possibilities to accelerate growth in India and quick action by the government in the reform process would be extremely helpful. We think a growth of 8-9 per cent in the second half of this year and 13-14 per cent is eminently possible if the reform process is carried forward. So, the main suggestion was that the goods and services tax (GST) should be introduced at the earliest and should be in place by April 2013 because this is the single most important reform that could stimulate the economy. We think that it would add 1-2 percentage points to India's GDP growth rates and it will be very complementary to other reforms that can be implemented.
Moreover, we have also suggested that the fiscal deficit should be brought down through disinvestment. We have explained that we are very disappointed that there has been no disinvestment in the first quarter (of fiscal FY-13).
Disinvestment should go on throughout the year and not as an emergency measure in the last quarter of every financial year. Then the targets are not met. The other thing which has been debated quite considerably is that the subsidies need to be reduced, especially on diesel. We have also suggested that FDI (foreign direct investment) in multi brand retail and aviation, defense and insurance should be brought in at the earliest, so several of the pending reforms can also be looked into. The Prime Minister himself mentioned that he would also release the animal spirits of the economy, so we are fully aligned to that goal.
Mr. Godrej, you have spoken about the big ticket reforms but a lot of people have pointed out that implementation is slow and if it can be speeded up.

Yes. We spoke about that. There is no need to delay these reforms and even the ones that need parliamentary approval; we should have a timeline for them. We have also suggested that the political parties should cooperate, the states should cooperate. We have appealed to the opposition parties, the coalition partners to cooperate in this reform process, so that growth is restored.

We clearly discussed that important projects should be followed up. The government has already announced two committees, one for projects above Rs 1,000 crore in the private sector and one for those above Rs 1,000 crore in the public sector. So those two committees have already been formulated and we have said that they should work efficiently and in a regular manner so that these projects can be taken forward. Any sort of obstructions in the way of these projects can be cleared very quickly.
Are you considering taking the message to the states as well because it is more about the state level hindrances?

(We are not) just considering, we have done it. I have already met the Chief Ministers of Gujarat, Bihar, UP (Uttar Pradesh) on the reform process on GST on FDI. So, we have had discussions with the state governments. CII's local offices have met other people in the state government. I have also met opposition leaders as that is an important part of CII's agenda. We have already taken it forward. There is no question of whether we will do it; we will continue to do it but we have already worked on that.
Were you encouraged by those conversations?

Yes. I think we have also sent some messages. The central government needs to attend problems that the states face, especially the GST. So, we have communicated it both ways.
Was there any discussion around interest rates? Corporates seem to be quite disappointed on that front although a lot of people say that the demand for lower rates is not justified?

Even in the meeting yesterday, we discussed about rates. We feel that rates must come down because they are coming in the way of growth. High interest rates are certainly impediments to growth, especially in two areas. One in investments – clearly, new manufacturing investments are being held up, which is not only affecting growth in present but it will affect future growth. And the other area is where consumers need to finance residential housing, automobiles, etc , where high interest rates are an inhibition to consumption. A slowdown in demand affects growth too. We also think that the CRR (cash reserve ratio) needs to be reduced and we also talked of defending the rupee. Depreciating rupee is causing inflation, which in term, will negatively affect growth in many ways including the RBI action. So, we spoke about defending the rupee and having policies to see that the rupee doesn't fluctuate very much or depreciate very much.
Taxation issues...did that come up?

On taxation, the only thing we discussed was the very poor perception of India both within the country and with investors outside on the retrospective amendments and the GAAR, and we said that we should correct these perceptions and take action to do so.
What's the economic scenario, particularly on consumption?

If growth doesn't revive, consumption growth is bound to take a hit, especially if we face a poor monsoon. Clearly, consumption of items has been affected and something needs to be done. Other consumption will also be affected if the GDP slows down. We are facing the possibilities of not-so-good monsoon, although we need more reforms in other sectors so that growth is restored. The good news is that among the large economies in the world, India perhaps has the best potential to restore growth .If you look at Europe and America, even China, (they) have their own problems. GST is perhaps the most important fiscal stimulus this economy can get. We should work together with the opposition, with the states to see that this reform is implemented at the earliest.
Could growth slip to near 5 per cent?

Well, I don't want to comment on it since I haven't done any studies on that nor do we clearly know what will happen if reforms process is not taken forward. All we can say is that we are very confident that India has the tools and has the ways to see that growth again gets to an 8 to 9 per cent level. But institution of these reforms is important; the earlier it is done the better.