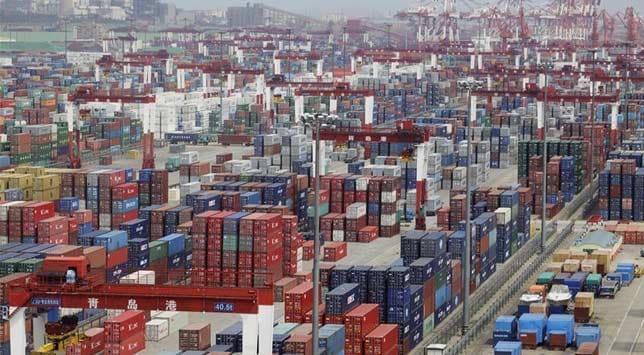 Mumbai
: India's trade deficit contracted as imports fell 13 per cent in the month of June this year.
Indi's exports fell 5.45 percent to $25.1 billion in June, while imports fell 13.46 percent to $35.3 billion, leaving a trade deficit of $10.3 billion, a senior trade ministry official said on Friday.
Exports between April and June fell 1.7 percent (on an annual basis), totalling $75.2 billion, Anup Pujari, director general of foreign trade told reporters. Imports for the same period have fallen 6.5 per cent on an annual basis
The downward trend in imports helped curb trade deficit to $10.3 billion in the month of June from $13.26 billion last month. The cumulative trade deficit since the beginning of the current fiscal now stands at $40.05 billion, lower than the $46.3 bn in the corresponding perio during the previous fiscal.
Oil imports, which are the single largest component of the import bill, fell to $12.6 bn from $15 bn in the month of May, an 18 per cent decline. India imports about 80 per cent of its crude needs and key fuels such as diesel, kerosene and LPG are heavily subsidized by the state. Oil imports, however, rose 24 per cent from the same period in the last fiscal, part of which is attributable to a steep fall in the rupee.
Part of the decline in the import numbers can be attributed to falling oil prices on the past months, as demand has subsided from major economies.
Oil prices have fallen by around a quarter over the last three months with North Sea Brent dipping below $100 per barrel on Thursday, down from a high above $128 in March as supply has outstripped demand.
Energy hungry China on Friday also reported its slowest rate of economic growth in two years for the quarter ended June 2012, and in Norway earlier this week, the government ordered an end to a threatened strike by oil industry workers, and imposed a moratorium on similar strikes for the next two years, alleviating fears of a supply crunch. In India, too, slower economic growth has meant that industry has pushed back expansion plans, and pushed down sales of both commercial and passenger vehicles.
Gold and silver imports too reduced to $1.9 billion from $4.3 billion on month on month basis. Gold prices have slipped only marginally in recent weeks and demand has been slow from China and India, the two largest buyers of the yellow metal.
In India, until recently the world's biggest gold consumer, bullion hit a record of Rs 30,428 per 10 grams on June 19. The gold market in this South Asian nation slackens during the monsoon season, but picks up pace in September as people prepare for the impending Dussehra and Diwali festivals, and the wedding season. The festive season traditionally kicks off in August following the festival of Ganesh Chaturthi.
The country's fiscal deficit is projected at 5.1 per cent of GDP in fiscal 2013.
The Indian currency has also been under considerable pressure, falling to record lows in June. On June 22, the rupee fell to a lifetime low of 57.33 against the dollar, which has been rising against the euro. A depreciating currency puts more pressure on India's imports -- dominated by oil, capital goods, and gold & jewellery -- as well as the deficit.
(
With inputs from Thomson Reuters 2012
)