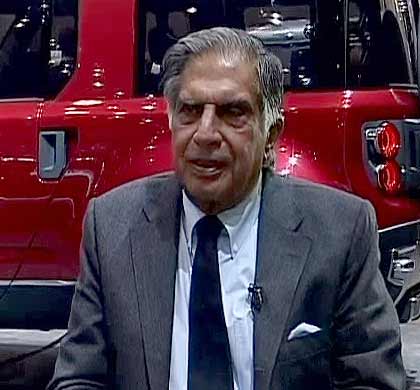 Brussels
:
At the Geneva Motor Show 2012, Mr Ratan Tata, Chairman, Tata Motors spoke exclusively to NDTV's auto expert Siddharth Vinayak Patankar about his 'baby car' Nano. He said that a vision for Nano has been achieved but there is still a lot of scope for upgrading the Nano.
He also talked about how the car needs further improvements - both mechanically and in terms of its image.
Below is a complete interview. Also watch the accompanying video here.
The global automotive industry meets once a year here in Geneva to take stock of the work has been done and to also assess some of the concern areas that are plaguing the sector and of course look forward to the future in terms of the kind of products is been bringing up the new technologies and of course the business environment, one man is a veteran here in Geneva and as in fact been flying the Indian flag high here over a decade now. It is my pleasure to welcome the chairman of Tata Sons, Mr Ratan Tata. Pleasure always sir to see you.


Thank you.
I want to start by talking about the special link that Tata Motors has with the Geneva show. The very 1st time you decided to come here, what was the thinking behind that, Why Geneva, and why not in the other shows? Also – what has it meant to you?


My memory of that is little bit blurred. We entered the passenger car field at just about that time and we launched the Indica. And when we did that we had several critics who felt that India could not design its own car without collaboration or a joint venture and if we did it was going to be a marginal car. So we looked at expressing to the international automotive community that we had done something. India's 1st car and so an international motor show is the good place to do this. Frankfurt is huge, we felt we would be lost with the noise and Geneva and Paris were two motor shows with kind of the right size – attracted people – principally car guys. And we chose Geneva. We were able to get a stall and stand in a prominent location on the main floor and that became our starting point. We had to attract attention because who was Tata and what was Indica, as there was no particular interest. So we had the then Indian Miss World as the 1st master of ceremonies at the stands and we attracted a lot of attention. Probably because of her, but we generated a lot of attention to the Indian cars at the stall. We made the programme or the press conference very Indian – videos of bullock carts and fabrics etc, which we now don't really do and our stall was a basically looked at by a whole host of people. It was crowded as compared to others so we did reasonably well.
And that met or perhaps exceeded your expectations and what you wanted to do?


Yes but then it provided the base for us to be an exhibitor our models and our new cars and then later concept cars, to register that we are a company that is vibrant and active and was taking its place amongst the car makers of the world.
Now Geneva has the advantage sir of also being neutral territory in the sense that it's not a home market to any one car maker. But at the same time you know you find the world press can be very polarized with their views. How did you counter this perception that you are not a serious global player right at the start?


I think we have got to counter that not by participating in shows but by our actual performance at home. The show has given us an international footprint if you might. And the rest has been done by whatever we have done at home.
Now the domestic industry has not been known for bringing out design concepts or design studies, that is something else that you held dear during the process?


Well let's not entirely true now, with the Auto Expo taking place in India regularly. It's a mini international car show, and the Indian public is being exposed to concept cars, its being exposed to international cars. And I would say that the interest it generates in Delhi is pretty phenomenal.
Especially now I think we have reached a...


They are not buyers but they are certainly interested in cars! (laughs)
It's a huge turn out and I know its nothing like that we can see here, but how have you seen that perception change for the brand? Let's say here at Geneva – the kind of interactions you have, the people you meet, 1998 to today, it's a different world?


I think there is not been a sense of animosity. There has been 1st patronage and later a very fair acceptance of Tata Motors. As it is and what it can do, and we ourselves have not been overselling or over-claiming our capabilities. So we have been quite measured in terms of what we have done.
When you 1st came here sir, you had the Indica but yet you were an unknown player. At the time you brought like Nano, so much had been written already, there was already so much anticipation around it. So where did you see the greater high and perhaps even greater anxiety for yourself?


Actually that's what most people don't know. I really had a back injury and I was convinced that if we are displaying the Nano to the world – they had not seen it – I had to be there. It's my baby and so I travelled here on a stretcher with a doctor. And before I spoke and went on to unveil the Nano, he gave me a shot which absolutely numbed me. I didn't even know that I'm touching the car! I made my speech, I did the photo shoot, and went back on the stretcher – I went to the press conference – and then went back on the stretcher to Bombay. It did my back a lot of damage in making that trip. But the reception we got was phenomenal. You know we had the Koreans and Japanese with cameras looking under the car...
Trying to lift the covers and have a look at the car...I remember...


No no... after they were lifted. And German car makers, and the engineers – opening and closing the doors to see whether it was real! And it did everything that you were expecting it to do. And the acceptance was kind of universal. There was no scorn; in fact there was more scorn in India! (laughs)
Yes I think so too, because I saw the reactions in both the places and I think you are right about that! I remember the time when you announced the actual price of the car in Delhi – I think that's what everybody was hanging on to?


I wouldn't know, I was a little overwhelmed by the crowds and the media that were present. And maybe it was the price, maybe it was people wanted to watch how the one lakh car would be. Whatever it was, it was overwhelming. Here (in Geneva), it was just showing it to the rest of the world.
What we have seen with the Nano particularly – you know, the overall journey, all the trouble at the start and then even all the guys who were trying to knock it down. Today we have reached a stage where you have the 2012 Nano, and it's no longer just about the price. The price is not the headline about the car. That's the good thing? I mean you must be satisfied with that?


The price was really just the issue that we have kept our promise. At the same time the car was supposed to be tremendous value and an affordable family car. That was the buy word and that was what we have achieved. It was never meant to be a cheaper car or the lowest cost car or anything of that nature. It's meant to be able to be within the reach of most Indians and I think we are re-establishing that criteria.
And there is a lot more confidence your dealer community now sees with this car. Every time you come to Geneva, everybody always asks you: When are we getting it in our market? And I know I have asked you this as well when we met last time! What do you see for that?


We have to be sensitive to the fact that there is a great deal of difference between marketing an affordable car for India and an affordable car for Europe or the United States. And there are certain minimum criteria, affordable cars here have to have or else they become sub-cars. So we have to get the Nano to the level which falls within that category. So we have to upgrade the power of the engine, the crash-worthiness of the vehicle etc. So we are in the process of doing that.
Sir, your vision for the car has been achieved you think?

For the Europe or US?
No, just the overall Nano project.


Yes I think so but it can't go on endlessly. We have lost a lot of time and we have to refresh the image of the Nano.
I would now like you to take us back in time and run us through when the thought of Jaguar & Land Rover first come up on your radar?


We didn't approach Ford, we were approached – that they had an interest in selling Jaguar - Land Rover. To me it was particularly interesting because the Range Rover range sat on the top of our SUV range rather nicely, and gave us the strategic fit. To be frank, if I could have separated Jaguar from that I might have done so. But Ford was unwilling to separate the two, so we took them together. And it was just that I didn't know what we could do with Jaguar. Whereas with Land Rover and Range Rover, we obviously had a fit. So it wasn't until we acquired the company that we really understood what we were getting. And we realized that we were getting two brands, and we were getting a tremendous amount of technology and talent that was embedded in the two brands – and the people. The technology being utilized – like aluminium technology being used, suspension and steering capabilities, and of course road handling at high speeds. I can't say we have adopted and taken over all these attributes, but we are as a company are now much more exposed to that in our interaction with Jaguar and Land Rover.
And the brands themselves – the heritage that they come with – in the global industry of course that carries a lot of weight, but what did it mean to you?


See from a strategic perspective, how could an Indian company acquire a company with the standing of an international brand, without spending billions of dollars and having no product to really avail of? So Jaguar and Land Rover have given us the opportunity of own these brands, and any view that we are trying to merge our two branded products together is misinformation. Because the only correct thing to do is to polish these brands, which are longstanding and move them back to the level of glory that they once had – which I think we tried to do – and keep our brands separate. But the synergy between the two companies – in terms of sharing platforms and doing engineering together, packaging etc, has been growing and I don't think we have been forcing that either. But it is genuinely happening. We now assemble the Freelander in India, we are working jointly on engine projects, we are working on sharing platforms so we are moving and learning more about aluminium architecture. And over time I think it will be a very positive thing for the Tata Motors brand, and of course I hope we can continue to give support and commitment to the Jaguar and Land Rover brands internationally.
At the time of the acquisition, or maybe soon after when there was so much said about whether or not it was a right price or not the right price. Through that process sir, you would have also had a window to look at where these brands are going, that I think, we as the press didn't see. Vehicles like the Evoque for example – a lot of these were already in the pipeline, so that was a heartening part for you as well?


I have to say that we knew that these were in the pipeline, but we didn't know enough about those products. In other words we didn't have that kind of access to the development or engineering of the company, and we had no idea how the new products would be reacted to in the market. Jaguar and Land Rover were at a cross roads. They were brands that were not... they didn't have sustainable model ranges, and what we are trying to do now is enhance the range so that the dealerships and the customer base have a much wider choice to choose from, and where volumes can be enhanced so that we get scale.
Markets like China and India then become important clearly?


Yes and Jaguar and Land Rover are now appreciating that India is a relevant market.
And in the case of China – Was there a lot of pressure to get into China?


China is now the second largest market for the company and that's pretty phenomenal. We are looking at building a JV in China and no one earlier would have expected that China would be a major market of that nature.
That's true but in India there is a double connotation to it because not only is it a strategically important market, but in some senses – as Ralph (Speth, CEO JLR) has said, it is the second home market too! So is it important to have a strong position in India, you think?

I think it certainly helps, and Jaguar was a nostalgic name and so was Land Rover. Now it is an actual vibrant brand. You now see Land Rovers and Jaguars on the road and the car has had a comeback into India.
Markets like India and China, just the kind of future that these brands now have, you talked about the fact that they need to get bigger and expand globally, Where do you see that future really for the two brands?


I see both these brands being premium brands. I think we have a lot of refining to do in the company to make the brands not only premium but to also support those brands and to make margins on the brands, which we are in the process of doing.
But you will continue to identify any opportunities that come along? I am not just going down the acquisition route that I know everyone is talking about right now, but you would actively look to grow these brands to being much bigger than what they are today?


Oh yes, absolutely.
The overall business environment has been uncertain, and it's the same for the Tata brand or JLR in many ways. But would you say that you are satisfied with the way that the two have managed to combat some of what we have seen over the last few years?


You know I think any brand that's trying to make a comeback is faced with a lot of scepticism. The brands have had troublesome history in terms of reliability etc. But the loyalty of the customers has been pretty phenomenal both here and in the U.S. And if we can rebuild that trust and faith – some of which is gone – we will then be truly a very successful company.
When you look at the future growth for JLR and the Tata brand, given that we have seen that the global economic environment is uncertain, you can't predict what's going to happen. And you also can't predict in many ways what is going to happen to policy! Government policy or the politics that happen around such issues, what's going to be that one thing that keeps you on track?


I cant truly answer that, but let me say that the greatest concern that a car company should have is that there are so many brands in the market with such variety of products, the greatest danger and challenge might be to ensure that your product range does not become a commodity. If you become a me-too car company and your car is just a me-too car then you are lost in the noise. You have to either technologically, or in terms of reliability, or in terms of attributes, have a car that distinguishes itself from all others. And on top of the list of things you have to do, is to create a car that attracts you in terms of appeal – the car is an emotive animal if you may. The housewife sees it, likes it instantly or hates it or a buyer, male buyer sees himself in a symbol of prestige or masculinity or whatever, and wants to have one or he doesn't. And if you fall into the former category of really crossing that bridge or differentiating yourself, then you have an interesting path and then it is a very very exciting sector to be in!
But right now the worry is that it just may not be enough. There are so many people who are now looking at joint production – and you have alliances too – is that just the world we live in today?


I think you can still do that.
I think when it comes to Jaguar and Land Rover everyone has always felt that you have had a soft spot for these brands, I want you to tell us if that's true!


I have a soft spot for these brands. I have acquired a great deal of affection for these brands, what we do with them will be a statement of our commitment.
We will be watching very closely – you know that! Thank you so much sir for speaking with me.

Thanks very much.