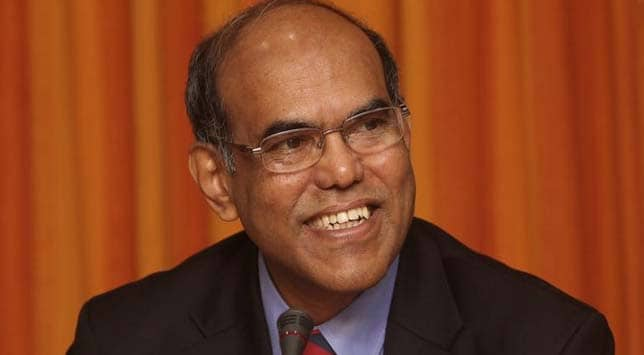 Mumbai
:
A day after he surprised the markets with a 50 basis point cut in the repo rate, Duvvuri Subbarao, governor of the Reserve Bank of India, spoke extensively to NDTV Profit about the thinking behind the rate cut, and what to expect going forward. He also made a strong case for the government to step up and play its part in containing the fiscal deficit and improve supply side management to boost growth.
Read the full interview below, and watch the video here.
Let me start by asking you about the call on the 50 basis point repo rate cut. Going into the policy, one could have made a strong case for no cut or a 25 bps cut. But you went a step further, what pushed you in that direction?


We just started with data points, because that's being central to our policy stance, it's being a difficult judgement after all. Analysis had come in and this time around it has been very complex. First, look at growth. Growth had come down last year at 7.7 per cent in Q1 to 6.9 per cent in Q2 to 6.1 per cent in Q3 and investment had gone negative in Q2 and Q3. And look at inflation, the headline inflation had come down from 9 per cent over last two year to 7 per cent core inflation and non-food manufacturing inflation which had peaked at 8.4 per cent in November last year has come below 5 per cent for the first time in two years and the no 4.7 per cent has been closed to the recent long period average. Also, recall that last we had raised the rate in October 2011 when headline inflation rate was around 11 per cent and core inflation above 8 per cent. Therefore we had to recalibrate the policy rate to the growth rate.

Also we said it clearly that growth is now close to the post-crisis trend and the output gap is small. Also, the possibility of inflation will be quite range-bound, pricing has come down and the demand has slowed so taking all this growth inflation scenario into the consideration we have calibrated the policy rate.
If you look at the forward looking scenario, you could argue that there was even lesser justification for a rate cut because growth is expected close to trend and inflation is expected to pick up in the months ahead?


That's a matter of judgement but we look at the numbers forward and believe that in 2012-13 inflation is going to be range-bound, may be printing around 6.7 per cent in March 2013 which is certainly above our comfort level and above tolerance level of 75 per cent of people of India, so we need it to bring down. But I also believe this rate cut itself is very modest. There are, of course, pressures that we indicated like the fiscal deficit, oil prices, monsoon, food inflation, currency movement, all of these are upsides to inflation (that) I believe we have to navigate as and when they unfold.
What is the best way to interpret your guidance? Are you saying there may be some rate cuts but nothing drastic?


That would be the correct reading and I would go a step further and put a probability of a rate reduction and a probability of rate hike at equal and we will have to calibrate the rate policy as needed.
So you are not ruling out a reversal in the rate cut?


I am not ruling it out but unless an unexpected event takes place, either internationally or domestically, the probability is low.
On the growth front, do you feel this rate cut will help revive growth specially since the slowdown was from the investment side and a marginal cut in rates may not help revive investment?


(That) The growth slowdown, particularly in investment territory, has been negative is an outcome of a number of factors: the external uncertainty, domestic policy, governance situation, so we had given a strong signal by cutting rate by 50 basis points which is (a) must to review the investment situation. We had a meet a week ago, several people had told us that some investment is interest-rate insensitive and some investment, particularly SME (small and medium enterprise), is interest-rate sensitive.
All of this depends on the ability and willingness of banks to pass it on? There are some issues like the weak deposit growth which bankers feel could slow down transmission?


Monetary transmission is always important and particularly important at this juncture, when there is an inflexion point in policy. Over the last one year monetary transmission has been quite effective, and it will even be effective now because look at the supply side and the demand side - the liquidity has eased, we have pumped in money by cutting the CRR (cash reserve ratio) rate, all this will help our bank to transmit our monetary policy. The intent of rate cut is to lower the lending rate and the borrowing rate.
A question on inflation, do you think the RBI's inflation fighting credentials are at risk? We continue to hold on the medium term projections of 3%, yet we haven't come close to that number s in many years?


It is important for us to manage the inflation in long run by bringing it down to 5 per cent, and then below 5 per cent as India integrates into the global economy as it is (a) very important outcome. Over the last year, inflation has been higher and there has been talk that this is a new normal for inflation. I believe that a normal inflation is around 5 per cent. In bringing inflation down, monetary policy is partly effective, we need to manage the growth inflation dynamics, the government policy needs to see (to) that.
So you would agree that the government has failed to manage the supply side of inflation and that will continue to be a complication?
In a country like India, the drivers of inflation are many. So, if we want to accelerate growth on slow and stable inflation rate, the supply side has to come in strongly.
Talking about the government, are you still sending a strong message to the government on fiscal deficit and the need to act on stated targets and objectives in the budget?


We hope that the government will deliver on its target of 5.1 per cent and the most important thing that needs to be done in achieving the target, is to do adjustment in subsidizing of the petroleum products and that we have emphasised very clearly in the policy statement.
Let me move to the external sector, you are saying you are concerned about the current account deficit but what can the RBI do to control it? Or is it a broader issue?


It is a broader issue and a lot can be done by the RBI and government in consultation. First, we have to bring down the current account deficit structurally and if there are any specific problems then we need to attend (to) it. Exports have moderated, the external situation and imports have been very inelastic. If the oil price adjustment takes place that will have a significant effect on the oil imports. If inflation comes under control, the appetite for gold will come down. The structural factors will have to play in order to bring down the current account deficit. Short term option will be decided depending upon what is required.
What's a comfortable level on the current account deficit?


The current account deficit that the finance minister indicated was 3.6 per cent. I believe we have to bring it down and 3 per cent or below 3 per cent will be good for our external sectors.
More broadly, would you say our external situation is looking worse than we have seen it in many years?

There are strains on balance of payment situation for all the reason we have spoken about like the quantum of current account deficit, the financing of current account deficit all are the important constraints for managing the current account deficit.

Forex reserves have come down. They have gone lower then 2-3 years, people are asking question whether this (is like) a situation of 1991, and let me tell you the situation is not that bad as 1991. Our external-debt-to-forex-reserve ratio is much higher than the base of 1991. In comparison to 1991, we are far sounder but, yes, the vulnerability has increased on the balance of payment problems. There are a number of parameters to judge the foreign exchange reserve adequacy.
On the banking system, how concerned are you about the asset quality of banks and particularly fears of masking NPAs?


The supervision system has been very robust to detect any masking, banks have been hearing to the regulation system. As regards (asset quality), t is true that asset quality has deteriorated and that has been our concern that we have openly expressed both in proportionate terms and in absolute terms. Part of it was expected because of the slowdown in growth rate.

But when we spoke to banks last time, they were very conscious and they have put a vigil on the asset quality, some of them are focused on small accounts in order to improve the recovery. As far as restructuring is concerned, our guideline is restructuring can be done if the account is illiquid rather than insolvent.
What are the other concerns in the banking system? Banks are worried that deposit growth is being compromised due to too many competing products?


The credit-deposit ratio had suddenly spurted in last two months and we spoke about last year's condition. This year, condition as far as deposits are concerned, banks have a structural problem, we cannot have a system that a part of system is not responding to the monetary system.
To end, do you think urgent attention is needed to push up the savings and investment rate?


Saving deposits have come down, investments have come down. For the household to save, we need to have a conducive macro-economic policy where growth is strong and inflation is lowest. We have seen the finance saving of the household is low and we need to bring it back. As far as government savings is concerned we have to bring down the revenue deficit in order to increase the savings. There are imbalances in the economy and we need to address those.