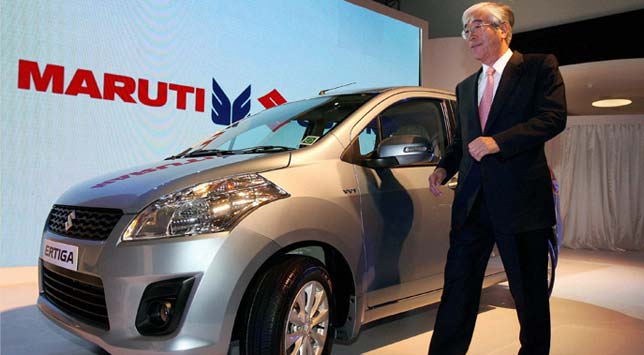 NEW YORK: Maruti Suzuki is struggling to meet demand for its new utility vehicle Ertiga that has got 32,000 bookings in the first month since its launch.



The waiting period for the Ertiga, especially some of the diesel variants, is already as much as six months, while the company can only roll out 6,000 units a month. The company is facing a similarly long waiting period for other popular models such as the Swift and Swift Dzire.



"We have actually five manufacturing units in Gurgaon and Manesar now, most of these units are flexible in manufacturing so we can move capacity from one to another," said Mayank Pareek, Managing Executive Officer (Sales & Marketing). "Right now our team is trying to increase the capacity of Ertiga and use the flexible manufacturing operation to give a net increase."





Analysts, too, say the capacity constraints won't last long. "I don't think capacity will hamper growth in sales for Maruti Suzuki. It's a matter of time before Maruti adjusts the capacity for Ertiga and its other models. I would give it a quarter," predicted Sharmila Joshi, Head-Equity, Fairwealth Securities.



Part of the reason for the demand for the Ertiga is price: at a starting price of Rs 5.89 lakh, it is one of the most economical utility vehicles in the market, with the top end at Rs 8.45 lakh. In comparison, the top-end variants for competitors such as Toyota's Innova and Mahindra's Xylo are priced at Rs 13.54 lakh and Rs 10.47 lakh, respectively.



However, the automaker is expected to raise prices in July. "Yes, we are certainly looking at increasing the price and we will be reviewing it in a few months," Pareek admitted.



The seven-seater Ertiga is also a big worry for manufacturers such Mahindra & Mahindra, which is the leader in the utility vehicle space, with over 50 per cent market share. In fact, M&M has been developing a compact utility vehicle 'Mini-Xylo', expected to be launched by July.



Other manufacturers that are lining up multi-utility-vehicles (MUVs) along the lines of the Ertiga include Chevrolet that will launch 'Enjoy' by October, Ashok Leyland ('Stile') and Nissan (Evali) by Diwali in India. Ford and Renault are also planning to launch multi-utility vehicles in India in the next two years.



Average monthly utility vehicles sales in India are around 30,000 units. MUVs are the fastest growing category in the utility vehicles market, with a compounded annual growth rate of 20 per cent, and account for 63 per cent of the 3.7 lakh per annum utility vehicles sales in India.