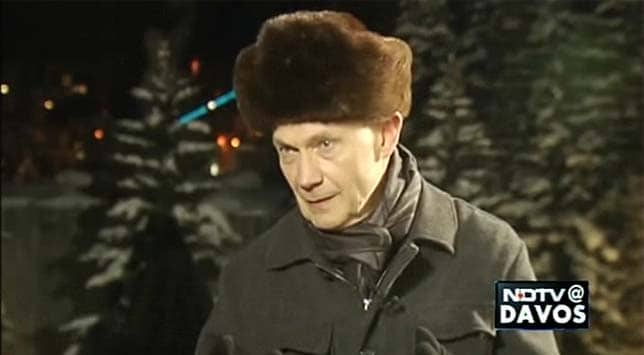 Davos, Switzerland: Pascal Lamy, Director-General of World Trade Organization (WTO) says there has been very little impact of protectionism on international trade as such policies have impacted the world trade by just 1 per cent. However, he adds that removing tax benefits for off-shoring firms is not a trade violation under WTO.

Here is the complete transcript of Pascal Lamy's interview with NDTV Profit's Ira Dugal from the World Economic Forum at Davos.

Ira Dugal: Hello and welcome to our continuing live programming from Davos, The World Economic Forum. Joining us to talk about the global scenario and what it means particularly for trade is Mr Pascal Lamy, Head of the World Trade Organization. Mr Lamy thanks so much for making time for us. Let me just start with the big picture. I think everybody is concerned about the economy in 2012. Not like the last four years. This time the focus is on euro, on potential concerns from China, the other emerging economies. How do you see the economic scenario broadly before I get to trade?

Pascal Lamy: Well, I am not hyper optimistic on this year. I think overall we will have less growth than last year. Notably because of very low growth in developed countries especially in Europe, Japan whereas emerging countries are also doing bit less than the last year where they grew 3 times than the developed countries. But there are clearly risks including in the financial side. So we are all unfortunately this time looking rather at the down side than the upside.

Ira Dugal: For the global trade outlook for 2012 what does that mean? Given that its developed economies, large consuming economies are continuing to be sluggish, some slowing down further. Is there a disproportionate impact on the world trade?

Pascal Lamy: No, I think overall we have an engine of growth in emerging countries which is slowly becoming less dependent on exports and more dependent on domestic consumption, as in the case of China. World trade is a function of three variables- growth of the economies because trade is the transmission band between supply and demand. If demand grows, supply grows. Supply drops so demand drops. Second variable, trade policy measures, which may open or restrict trade. Hence this concern on protectionism, which we have for the moment. So far there hasn't been any significant impact of protectionism. Protectionist pressures, which are there because of high unemployment, haven't translated in action that would substantially restrict trade. But protectionist pressures are there and if the economy deteriorates they want to bet on the country. Because they are coming from this notion which we believe is wrong. But it is in many people's mind that if you restrict your imports you are protecting employment. It doesn't work this way. In today's world not at least. The third variable which is a matter of concern is trade finance. 90 per cent of world trade goes with some sort of financial break between the exporter and the importer. Now, the deleveraging of global finance is impacting trade finance. There is less liquidity available. And the risk premium has increased. Now this is a matter of serious concern…we are trying to face it. Within the G20, we did it in 2009. We did it with World Bank, with regional development banks. In order to ensure that there is enough liquidity in the market. And at the low end of the market, which is small countries, small banks, small traders are not left aside from this market which is indispensible to world trade.
Ira Dugal: Mr Lamy I am going to pick up the second point first. You haven't seen any huge evidence of protectionism coming. Yet just 24 hours ago President Obama in the Union Address talked about two issues viewed as protectionist. One, setting up a group to monitor trade practices in China. And the second, which is relevant to India and has got a lot of attention, is that he wants to take away tax benefits from anybody who is looking at offshoring and taking jobs offshore. Should we not view that as protectionist?

Pascal Lamy: From the side of WTO, what we do in WTO is we have rules. We improve them, we enforce them. Now, there is nothing in WTO that US shouldn't watch the way Chinese are implementing their trade commitment. But there is a place where we do that which is WTO. And if there is a problem then US takes China to the dispute settlement of WTO or China takes US to the dispute settlement of WTO. So, I think there is a view in the US…public opinion that China is a problem. I don't agree with that. Overall, China has become a big trader. China has been a huge source of exports for the US economies and again whether China abides by the rules or US abides by the rule is something we can deal with. On the second part of your question, true and US is not the only place where this happens. I don't know the exact sources of taxes. But there has overall been a tendency to help domestic companies going abroad…either to invest or to produce…because it's a sign of health and dynamism of the economy. This sometimes goes with tax benefits which you will not have if you operate only in your domestic market. It's a question of fine balance. Again in WTO…except if your tax system is obviously resulting in the sort of subsidy to your exporter then there are WTO rules about that. For the rest, members have kept fiscal serenity.

Ira Dugal: Fair enough, Mr Lamy but at what stage does it become a concern just from the perspective of one country taking on the other, the other one retaliating and you get into for the want of the better term trade war between large economies like China and US or US and India. Surely that's not healthy for the trade system right now.

Pascal Lamy: No, I 100 per cent agree with you. These scenarios have to be avoided and by the way for the moment it has been avoided. If you look at what we track in the system…and we do track all producing members of WTO all the time and we publish this balance between trade restricting policies and trade opening measures for the last three years. So for the moment, so far so good. But you are right. There are pressures and if public opinion feels that only in my view that's not economic analysis… It shows that politics is also a matter of exception. If public opinion sees a link between unemployment and imports there is a sort of classical tendencies to blame your problem on the back of the foreigners.

Ira Dugal: Mr Lamy, the other aspect is the WTO talking about at an academic level the currency play in trade. So much noise about keeping currencies may be on the lower side trying to encourage export sector to an extent. So much talk about what a country against the other…what the exchange rates play a part in the trade picture. How do you perceive the exchange rates currency war? They have been often termed playing into the larger trade picture right now.

Pascal Lamy: Legally, we have a provision in WTO that says that a country cannot frustrate its trade opening commitments through manipulating their currency. It's an old legislation back from the 1950's…the time when world was living in a fixed exchange rate system. These rules have never been tested in dispute. No country so far has started a dispute or I would say…you are in my view manipulating your currency so let's go to WTO and I will prevent you from doing this anymore. This hasn't happened probably because it's a very complex issue technically. And there is a big debate if you have economic literature. Some economies will say off course exchange rates have an impact on trade. Others will say there is no impact at all. So it's a very complex question and we are re-discussing it in one of the rooms of WTO following an initiative that Brazil took last year. As you know Brazil has had some surge in the value of its currency. By the way it has gone down. It may be a short term activity. So our members are now discussing this change in view, trying to make up their mind on whether or not there is a problem.

Ira Dugal: What's the level of discussions to bring in new rules, new structures or just...

Pascal Lamy: So far there has been an initiative by some of our members to create new rules which by the way will need a negotiating mandate which should be agreed in WTO tradition. So we are not there. If we have to go there and off course I have to remain extremely cautious about this.

Ira Dugal: You have talked about non-tariff barriers to trade. Lot of literature that is coming out of WTO is focussed on non-tariff barriers. Can you just highlight what are your specific areas of concern which you would like to avoid in terms of encouraging and fostering healthy trade?

Pascal Lamy: Let's look at the reality of world trade today. Where are obstacles to trade? There are much less tariffs which have gone down shrinking in the last 50 years which is the reality. So they are on what we call as non-tariff measures…behind the border. For instance regulations that has to do with food safety, that has to do with safety of products, that have to do with technical standards. What's the right standard for car emissions of carbon for instance? All these areas are now regulated and the way you regulate can have impact on your trade. If I produce cars with my own standards of emissions and I will say I will not import cars that do not match my standards then that's an obstacle to trade. We have rules and disciplines in WTO which determine how you have to proceed in this case. And there are frictions here and there. Recently two countries at WTO have gone to dispute because one of the countries has said that I want my meat to be labelled this way…tracking each and every place where there has been processed. Another one said that I understand your concern about meat safety but tell me you have added so many requirements that in reality you are impeding trade. So, there is disappropriation between a legitimate objective which I have to protect. The food and the health of my people and the way you do it. So there is a whole series of previews, notifications. WTO looks at that report and sometimes you bump in difficult areas like for instance private senders. If I am a big retail chain, let's say Walmart or Carrefour, in order to shine from marketing wise with my consumers I will say I will go green. And I will sign a charter with consumers that I will accept only this and this. Governments don't step in that but the reality is that if I am a Kenyan bean producer and somebody in UK says beans have to be down this way…privately I will have a problem. Because I have a problem matching this…so it's a fine balance between the right to protect the environment, food, people, animals, plants on the one side and on the other side opening and the reality is that's not clear to everybody. My own view is that the solution to have as many as possible multi-lateral standards which are negotiated in the relevant organizations. And if there is a standard which have been agreed multi-laterally then the presumption in WTO is like you are okay. If you dive in that then you have to discuss it.

Ira Dugal: For instance, there was a recent case where the EU suggested having carbon tax on airlines above a certain levels…Will that fit into the realms of the non-tariff measures that you are talking about? Because in India there was a lot of furore about Indian airlines will have to be pay that kind of carbon tax and all.

Pascal Lamy: That's more sort of a broader measure. In that area, we have rules at WTO and if we have rules in these fields then the WTO can be the place to discuss and if possible litigate this. In this precise case, there are open questions whether airline services are covered by the WTO services agreement. You are right that assertive measures which more and more we have to watch because proportionally they are more important than tariffs. You are absolutely right.

Ira Dugal: Mr Lamy just talking a little bit big picture again, the trend in world trade over you know the last 5-6 years has moved away from multilateralism into bilateralism. Even the trade agreements that people talk about are more bi-lateral trade agreements or regional trade agreements. Multi-lateral trade initiatives have they taken a backseat? Are you worried about that or you are disappointed with that?

Pascal Lamy: You have to distinguish volumes of it, how to it happens? And that's going in the sense of opening…whether it's multilateral, whether it's vision, whether it's bilateral…it is going in the sense of opening and by the way a large part of it would be considered bilateral trade. If there is a bilateral trade, there is a bilateral demand and we are the users…multilateral trade would, then there is political and legal side, true. Bilateral demands have grown in number. There is a basic reason for that which is that the countries who are interesting partners for negotiating a bilateral demand have grown. Thirty years ago, nobody would have looked at Thailand, Vietnam which were very poor economies…and are not very trade interesting. Now this is changing and the question is whether there is a proper synergy between multilateral trade opening and bilateral trade opening. On this, I have a sort of considered balance view, it depends. In some cases, bilateral opening can be sort of precursor to multi-lateral opening. In other cases, there is always that bilateral deals scattered the global market place then you will be seeing efficiency of opening trade. You are right…there is now a tendency to go this way. Not least because the view is that multilateral trade negotiations are not moving very fast which i think is a nice diplomatic under-statement.

Ira Dugal: Last question, the Doha round, it's still sort of lingering on life support somewhere. Are you are still pursuing that? Is it relevant in today's world?

Pascal Lamy: Well, multi-lateral trade opening rules are off course relevant and it's the best option for everybody, notably because we operate under a sort all or nothing principle. There are 20 topics and as long as there's no agreement on everything, there is agreement on nothing. Our ministers who met in December in Geneva decided we now should explore something which is not or nothing. May be we can and that's what members are now testing in Geneva. May be we can see some of these fruits are riper than others and then you know pick them up which would mean smaller, staggered advances rather than a big jump which is what we have been looking in for the negotiation so far.

Ira Dugal: Well good luck in that process. Thank you so much Mr Lamy.

Pascal Lamy: My pleasure.