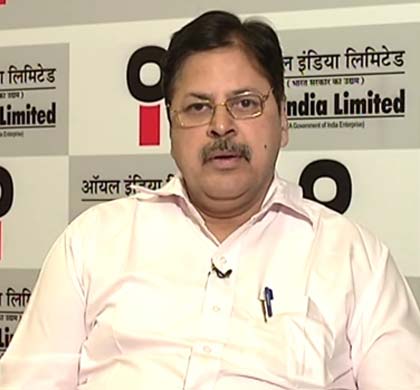 New Delhi
:
Oil India Ltd (OIL) reported a 21 per cent drop in net profit at Rs 444.81 crore for the fourth quarter ended March 31, 2012, against Rs 1,013.98 crore in the year-ago period.
Commenting on the results, TK Ananth Kumar, Director Finance, Oil India told NDTV Profit that the company showed 7 per cent growth in oil and 12 per cent growth in gas despite subsidy burden. "We aim to produce 2.92 billion cubic meters of gas in FY13," he said.
Below is the complete interview. Watch the accompanying video here.
Profits have slumped sharply and we do understand that it's because of the subsidy burden, but if you could just talk about the whole quarter, how did it pan out? How was the production in the quarter?


Actually we have ended this financial year (FY11-12) in good growth, both in oil and gas. We have shown 7 per cent growth in oil and 12 per cent growth in gas. However, the subsidy burden also has been very high, but despite that we have recorded a profit of 7 per cent. We are continuing the production growth in the current year also and we are hopeful of achieving some growth in this year as well.
In Q4, crude production was almost muted. What are your production targets from here on?


In the current year, we have kept a production guidance of 3.95 million tonnes of crude oil and 2.92 billion cubic meter of gas, which is as compare to 3.84 of oil and 2.63 of gas. So we expect to achieve some growth this year also from the organic side.
The new subsidy formula for upstream companies is not favorable for OIL, so is this formula going to be a constant now, at least in FY13?


The ministry of petroleum is working towards achieving a predictable and transparent subsidy sharing mechanism. So, 56 dollars per barrel is what has been achieved in FY11-12. We are not sure that the same thing would continue in the next years but we have been pressing for transparent mechanism continuously and we have been assured that some such mechanism would be put in place. We are waiting for that.
Reports are suggesting that you are eyeing stake in ConocoPhillips's oil sands and assets and also some assets in Mississippi. What is the size of these assets and how much funds have you earmarked for these?


As part of our inorganic growth strategy, accusations of assets abroad is one of our key steps for this. We have earmarked about Rs 6000- 7000 crore in the current year. We are evaluating some opportunities at the moment. Beyond this I'm unable to divulge anything further.
Also do we expect Oil India's stake sale in FY13?


That is for the Department of Divestment under Ministry of Finance to take the call. As far as Oil India is concerned, it is not a fresh issue of the follow-on public offer (FPO). We are not going for FPO, so we will not be involved in the whole picture. The Department of Divestment will be involved in the offer for sale.
Shale gas is another thing that you were focusing on, any update on that?


An acquisition of shale gas is also one of our strategies as part of unconventional oil and gas... At the moment, we are looking at some opportunities. It will take some time for us to come to some finality.
Give us an overall picture how is FY13 going to look like?


The larger business plans would essentially be around the exploration activity; what is going on and in 33 NELP blocks and many such blocks overseas. So, we are pursuing the exploration activities in an accelerated manner in many of our blocks. So, if we are able to discover some oil and gas in these blocks, we will have an overall long term growth. We are quite positive on the KG basin and Mizoram basin, where exploration activities are going on in full swing.
Numaligarh refinery will just be operational in few days. How much would be the impact of this shutdown?


There is not expected to be any adverse impact on account of the shutdown of Numaligarh refinery because it's a planned shutdown. We are able to divert our crew to the other three refineries.