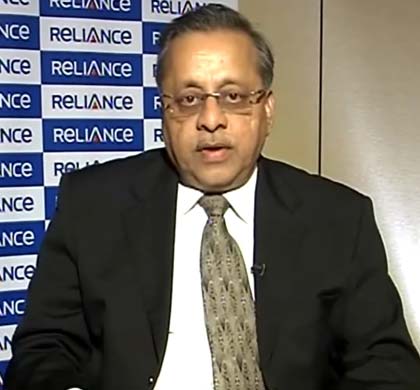 Tokyo
:
Despite witnessing a sharp hike of about 90 per cent in its total operating income, Reliance Infrastructure reported a muted growth in consolidated net profit at Rs 411.46 crore for the March quarter against Rs 410.88 crore in the year-ago period. The quarterly results were impacted largely due to the rise in expenditure and finance costs.
Speaking to NDTV on the fourth quarter results, Lalit Jalan, CEO of Reliance Infrastructure, said that the engineering, procurement and construction (EPC) business was the key reason behind the growth in the Q4. "The company is now looking at optimizing interest cost going ahead, which was higher in Q4 due to new projects. Our margins will be stable in FY13; it will be a better year for the infrastructure sector overall," he added.
Below is the complete interview. Also watch the accompanying video here.
The EPC segment performed above expectations in Q4. What is the growth outlook for FY13?


We have had a very encouraging quarter. We have had record turnover of Rs 24,279 crore, which is a growth of 59 per cent. Our net profit is Rs 1587 crore, which is also a record for the company. In FY13, we expect a growth in the energy segment with all generating plants and distribution companies performing well. Our EPC business, in which we had a spectacular growth in FY12, we now expect to maintain it for the current year. In the infrastructure segment, where we saw a three-fold growth in the turnover, we expect to see another quantum of growth there.
Higher interest cost increased 110 per cent year on year; how do you plan to scale down the interest burden?


Many of our projects are becoming operational in the infrastructure segment and as projects become operational, the entire interest burden for the project hits the profit and loss statement and that is the reason you have seen the interest going up so substantially due to Delhi Metro and the road projects, which are all becoming operational in the current year. So in the initial years, this burden of interest would be there. We are looking at ways and means to optimize the interest cost with the approvals in place in order to be able to replace the rupee debts with foreign debts. We are in a discussion with various lenders (for the same).
Overall margins have also dropped on a YoY basis, how do you plan to scale up the same?

We expect that in FY13, we are able to maintain our margins.
Is the outlook on commissioning of the three transmission assets in FY13-14 on track?


We expect the Western region transmission project to be fully ready by the end of this calendar year. As far as our Bombay (Mumbai) transmission project is concerned, we have already commissioned that; we have four stations and the other two would get commissioned in this financial year. Our Parvati coal dam joint venture project with Power Grid - the first line would get operational by the end of this financial year. So we expect that by the end of this financial year, all these three projects would be operational.
Reports suggest you are seeking more tariff hike for Delhi distribution business. Do you expect tariff hike to come through in Delhi?


If you look at the power distribution business, 80 per cent of what we recover from a consumer goes towards power purchases and you are aware that the power purchase costs are going up dramatically owing to several factors. First is the increase in the price of domestic coal and the freight. Second is the non-availability of domestic coal which means the power producers like NTPC, which have to import coal to meet the requirements and then we are getting a lot of new projects, whose fixed costs are much higher than the older projects.

So if you look at Delhi, the power purchase cost since last year has gone up by almost 30 per cent for us. Since we are a distributor and we have no control over these costs, these costs need to be passed through and that is the cost we have asked for the regulator to give to us. If you look at our distribution cost, I'll give you an example of Delhi. At the time of privatization, our distribution cost was at 90 paisa per unit. After nine years with an average of 8 to 9 per cent inflation, our costs are now at 45 paisa per unit. So we have brought in huge amount of efficiency and the entire benefit of this efficiency has gone to our valued consumers. So the tariff has increased; now we are looking forward to take care of the increased cost of the generating companies and 100 per cent of power that we buy in Delhi is from NTPC, Delhi generating station, NHPC, Nuclear Power Corporation. The largest has been NTPC that fulfills 70 per cent of our total requirement.
Any plans for stake sale in operational road and infra projects to PE players to bring in cash?


This is part of our strategy that we had announced a couple of years back as each of our vertical businesses are coming off-size we would always look at ways and means to monetise a part of our equity and that is to bring in value for our shareholders in Reliance Infrastructure who have invested this money in 100 per cent owned SPVs. So we have the transmission, distribution, roads and metros in each of these sub segments. We are the largest or amongst the largest players in the space and there is lot of interest from potential investors in taking part in this opportunity.