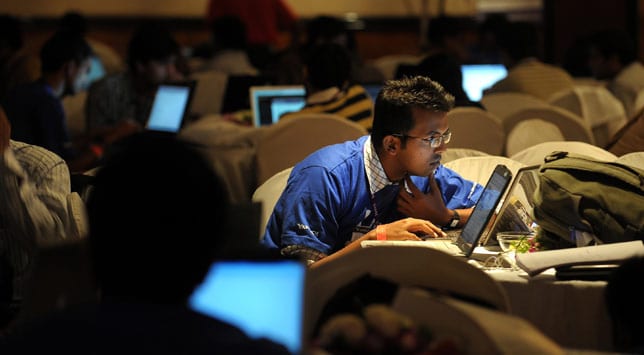 New Delhi: Tata Consultancy Services (TCS) and Infosys, the two largest information technology companies in India, declared their June quarter earnings on Thursday, one before stock exchanges opened, one after, as has been their respective practice.


Infosys, the second ranked IT and ITeS firm in the country, reported lower-than-expected numbers for the quarter ended June early morning, sending markets down a 300-point chute in intra-day trading.



Shares in Infosys fell a precipitious 8 per cent to Rs 2,264, its lowest in three months, while the broader 30-stock Sensex closed 1.47 per cent lower at 17, 232.55 points after having taking a battering due to Infosys' lower-than-expected earnings.


Ahead of its earnings announcement, TCS shares closed 1.80 per cent lower at Rs 1,236.10 on the Bombay Stock Exchange, along the same lines as the Sensex.


Here's a quick head-to-head comparison of the two firms and how they did on various parameters in the June quarter.




PROFIT


TCS: The IT major reported Rs 3,280 crore in net profit, barely above expectations of Rs 3,275 crore.

Infosys: India's second largest IT firm posted net profit of Rs 2,290 crore in the June quarter against Street expectations of Rs 2,483 crore.


REVENUE


TCS: The Mumbai-based firm also beat revenue estimates of Rs 14,865 crore with sales of Rs 14,868.7 crore.

Infosys: Infy, as the company is fondly called, fell behind on revenue expectations, too. It reported Rs 9,616 crore in sales, almost Rs 100 crore less than market expectations of Rs 9,715.2 crore.


EBITDA


TCS: Ebitda (Earnings before interest, tax, depreciation and amortisation) margins contracted 50 basis points to 29 per cent from 29.5 per cent in the previous quarter.

Infosys: Ebitda margins, a key measure of profitability, declined 190 basis points sequentially to 28 per cent against estimates of 30 per cent.


DOLLAR REVENUE


TCS: Dollar revenue for the quarter came in at $2,728 mn, against $2,648 mn in the previous quarter, an increase of 3.02 per cent

Infosys: Gross dollar sales were $1,752 million, well behind TCS, but the company said it expects dollar revenue to grow 5 per cent to $7.34 billion this fiscal.


HIRING AND ATTRITION


TCS: The company added 13,831 employees (gross) in the first quarter of the current fiscal, and a net of 4,962 for the period. This translates into 8,869 people leaving the firm in the first three months of the quarter.

Infosys: Gross addition for the quarter was only 9,236, while net was a slim 1,157, less than half of 2,740 in the same period last fiscal, which means that 8,079 people quit the company. The attrition rate rose marginally to 14.9 per cent from 14.7 per cent in a sequential basis, but was less than the 15.8 per cent from the year-ago period. However, it has of late delayed taking ob board about 28,000 engineers it had recruited through campus placements.


NEW CLIENTS


TCS: The management said on Thursday that it has added 29 new clients in the quarter ending June. It added that it has signed at least one $100 million-plus contract with a North American retailer.

Infosys: It has added 51 new clients in the June quarter, but reported pricing decline of 3.7 per cent. It also said it has four large wins—one in excess of $300 million—as well as four transformation deal wins.


FY13 GUIDANCE:


TCS: The company has said earlier that it will beat the upper end of industry body Nasscom's estimate for the sector growth in FY-13. Nasscom has projected 11-14 per cent growth for the IT industry.

Infosys: The company has significantly scaled back its guidance for the full fiscal from 8-10 per cent at the end of March to 5 per cent at the end of the June quarter.


CURRENCY IMPACT


TCS: The impact of the rupee depreciation affected the company's numbers by Rs 93.75 crore.

Infosys: The Bangalore-based firm said it had taken a hit of $13 million (about Rs 72.7 crore at Thursday's rates) in currency fluctuations. It also reported a marginal decline of 0.4 per cent in constant currency terms.