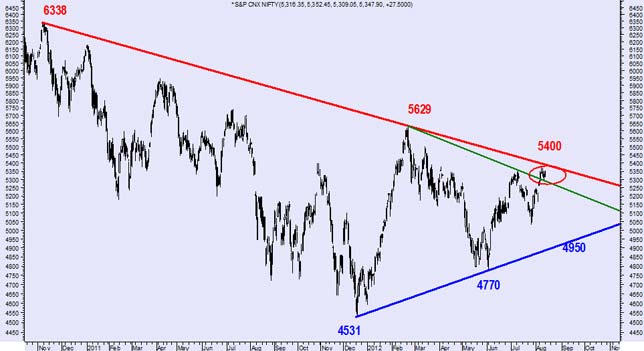 New Delhi: Tata Steel on Monday reported nearly 89 per cent decline in consolidated net profit at Rs 597.88 crore for the first quarter ended June 30, 2012.



The profit in the corresponding quarter of the previous fiscal was Rs 5,346.55 crore.



Net sales of the company rose by 1.89 per cent to Rs 33,547.73 crore from Rs 32,925.68 crore in the April-June period of 2011-12, Tata Steel said in a filing to the BSE.



During the quarter under review, Tata Steel reported a total expenditure of Rs 31,725.90 crore, while its interest burden came down to Rs 969 crore from Rs 1,012.95 crore in the same period a year ago, it added.



The consolidated results include financial performance of Tata Steel Europe and other global ventures of the leading steelmaker, besides Indian operations.



On stand-alone basis (Tata Steel's Indian operations) the company reported a decline of 38.88 per cent in its net profit to Rs 1,356.56 crore in the April-June quarter as compared to Rs 2,219.43 crore of the corresponding quarter of the previous fiscal.



Its stand-alone net sales were at Rs 8,820.19 crore, up 13.19 per cent.



Shares of the company closed Monday at Rs 395.65 apiece on the BSE, down 1.19 per cent from the previous close.



In line with the weak demand in European markets, the company's total steel shipments declined by 6.20 per cent to 5.68 million tonnes (MT) in the quarter, while its Indian deliveries remained stable at 1.59 MT, it said.



Besides, its net debt rose to Rs 54,020 crore (USD 9.71 billion) in the April-June period from Rs 47,657 crore (USD 8.57 billion) reported at the end of March, 2012.



The company also said it raised Rs 1,500 crore in April by issuing non-convertible debentures of 10 years through a private placement mode.



Last month, the steel major has also agreed to its 50 per cent stake in Dutch ferrous and non-ferrous metals recycler HKS Scrap Metals Co to Euro Scrap Alliance (ESA), a subsidiary of Germany's TSR.