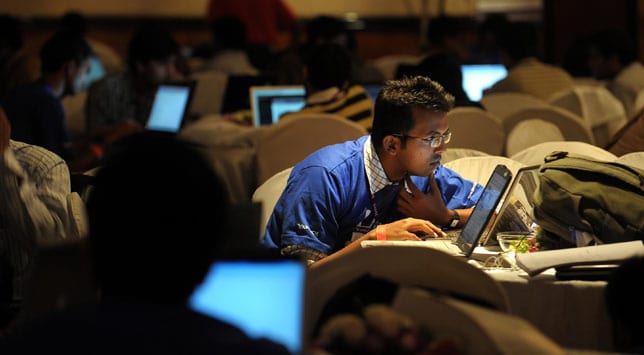 New Delhi: Tata Consultancy Services (TCS), India's top software services exporter, on Thursday reported Rs 3,280 crore in net profits against expectations of Rs 3,275 crore for the quarter ended June 2012.


Sales jumped to Rs 14,868.7 crore against Street expectations of Rs 14,865 crore. TCS had reported sales of Rs 13,259.3 crore and net profit at Rs 2,932.4 crore in the March quarter.



N Chandrasekaran, CEO & MD, TCS, said, "We've seen strong, secular growth across service lines and industry segments driven by robust volumes from key markets like North America, Europe and UK. We continue to see good demand from global corporations as they successfully navigate an increasingly complex business environment."


Reacting on the earnings, Prakash Diwan, independent analyst, told NDTV Profit that TCS numbers have proved that the IT industry is not facing a slowdown and it is an Infosys-specific issue. "It is a relief to see TCS numbers. Their profit number is slight ahead of our expectations," he said.



Harit Shah, Senior Research Analyst, Nirmal Bang Securities, said that TCS numbers look decent on the first cut basis. "We need to look at other factors like cross currency, volume growth, pricing cuts and operating margins, which are not in-line with street expectations," he added.


Deepak Thawani, Analyst, Merits capital feels that it is a good opportunity to buy the stock.


A. K. Prabhakar, Senior Vice President - Equity Research, Anand Rathi, said that that TCS will continue to remain one of their top picks but they are still cautious on Infosys.



The markets were disappointed today after IT bellwether Infosys reported dismal first quarter numbers. The company cut dollar revenue guidance by more than 5 per cent for the current fiscal. The profit was down marginally to Rs 2290 crore. The stock closed down nearly 10 per cent. (Read full copy here)


Prabhakar further said that TCS was very traditionally strong in making money when the rupee was depreciating. "Unlike Infosys, TCS was more keen on making dollar-based contracts. We are positive on the stock and we maintain a hold rating on the same. We feel that it will bring up the market sentiment, tomorrow," he explained.


Ankita Somani, analyst at Angel Broking too feels that TCS first quarter numbers were healthy. "We are positive on the stock," she said.


However, in Gaurang Shah's view, who is an Assistant Vice President at Geojit BNP Paribas Financial Services, TCS results were disappointing. "The business environment is still challenging and hence, sustaining growth is going to be big question mark for TCS. I'm concerned about the quality of its earnings. I doubt we will see any positive reaction from the market," he added.