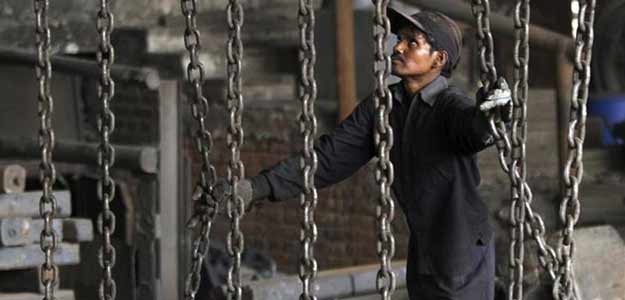 New Delhi
: In further damning evidence of the India growth story gone awry, the Index of Industrial Production (IIP) missed analyst estimates of 1.2 per cent growth by a wide margin, shrinking for the second consecutive month in December by 0.6 per cent. And as if the bad news was not enough, the decline in IIP for November 2012 was revised (provisionally) downwards to 0.84 per cent from 0.1 per cent.
The general index for the month of December 2012 stood at 179.3, according to a
government release
. The IIP for mining and manufacturing fell by 4 per cent and 0.7 per cent, respectively, while that of electricity grew by 5.2 per cent compared to the year-ago period.
In terms of industries, 12 out of the 22 industry groups in the manufacturing sector, which constitutes about 76 per cent of industrial production, contracted in December 2012 compared to December 2011.
In the April-December period, industrial production expanded an annual 0.7 per cent.
An NDTV Profit poll of 10 investment banks had shown industrial production likely grew by 1.2 per cent in December 2012, rebounding from the degrowth in the previous month. The banks which participated in the poll include HDFC Bank (0.7 per cent), Nomura (0.9 per cent), Barclays (1 per cent), Credit Suisse (1.5 per cent), HSBC (2.3 per cent), ICICI Securities (1.3 per cent), ING Vysya (1.1 per cent), RBS (0.8 per cent), UBS (2 per cent), and Yes Bank (1 per cent).
"There were two really unfavourable base effects - consumer durables and mining. Last month, there was a retracement... that the retracement continues suggests a slowdown," Sajjid Chinoy, India economist, at JPMorgan, told NDTV Profit. "We know investment has not picked up and there are no leading indicators that it will pick up in the near term. GDP (gross domestic product) for this quarter will very likely be below 5 per cent. With the slowdown in consumption, the clamour for rate cuts will be more. That is the sector that has been squeezed by high retail prices." (
More expert views
)
Naina Lal Kidwai, president of the Federation of Indian Chambers of Commerce & Industry, said, "We feel that these disappointing figures certainly call for
a high level committee under the Prime Minister
to look into the issue of industrial slowdown and monitor its progress for the next few months.
Output in the country's eight key infrastructure industries, which account for almost 40 per cent of factory production,
expanded just 2.6 per cent in December
from a year earlier, a tad higher than November's 1.6 per cent. And output in three of those eight key industries - natural gas, coal and fertilisers - contracted, which likely had a bearing on overall industrial production.
Factory output has also been hurt by relatively weak global trade, especially from Europe, India's largest trade partner, with the debt-ravaged euro zone economy expected to contract again this year.
Exports, which account for one-fifth of India's gross domestic product, fell for eight consecutive months up to November but December trade data showed the pace of contraction was slowing.
Capital goods production, a measure of investments in factories, shrank 4.7 per cent in November, having grown just once in the eight months until then.
Asia's third-largest economy is headed for
even worse than anticipated growth of 5 per cent this fiscal year ending in March
, well below the earlier projections for a decade-low pace, according to preliminary data released by the Central Statistics Office last Thursday.
The RBI's forecast for 2012-13 had been 5.5 per cent growth, while Finance Minister P. Chidambaram had projected growth of 5.7 per cent, down from 6.2 per cent in 2011-12, but both appear to have been over-optimisic. The preliminary data from CSO has dimmed hopes for a mild recovery in economic activity in the second half of the financial year, with the government now projecting economic growth of 4.6 per cent between October 2012 and March 2013, compared with 5.4 per cent in the first half of the fiscal year.
Disputing the CSO growth figures,
Mr Chidambaram said the economy would clock a higher 5.5 per cent growth
in the current fiscal year and 6-7 per cent in 2013-14.
"Why should we, without any reason, denigrate our own performance and record? I have no doubt in my mind that we will come out of the trough and we will climb back to a growth rate of between 6 and 7 per cent next year and then between 7 and 8 per cent the year after," Mr Chidambaram said at an event in Mumbai over the weekend.
The figures are bound to pile pressure on Prime Minister Manmohan Singh's Congress-led government to unveil a growth-oriented budget on February 28 for the next fiscal year, beginning in April. But faced with an arduous task of trimming a swollen fiscal deficit that has put India's investment-grade credit rating in peril, Mr Singh can ill-afford to boost government spending to prop up growth ahead of a national election due by May 2014.
Since late last year, the government has been introducing a slew of reforms to support the slowing economy, including cutting fuel subsidies, hiking rail passenger fares and opening the retail sector to foreign investors. Still, investments have shown little sign of increasing.
In its own bid to revive the flagging economy, the Reserve Bank of India cut the key repo rate for the first time in nine months, by 25 basis points to 7.75 per cent in January, but warned there was limited room for further easing.
With inputs from Reuters and PTI