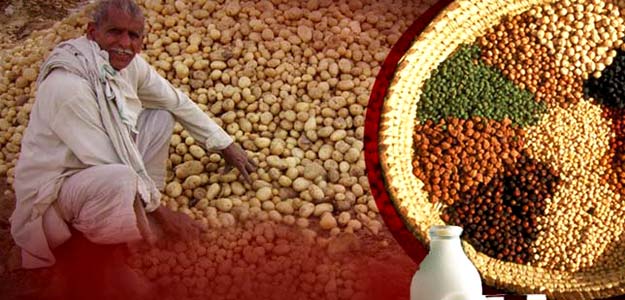 India's headline inflation fell below 5 per cent in April, putting it back in the Reserve Bank's comfort zone for the first time in more than three years and fuelling market hopes for more monetary easing to revive the economy's pedestrian growth rate.
April's reading of 4.89 per cent was the lowest since November 2009 and well below the 5.50 per cent estimated by analysts in a Reuters poll. The wholesale price index, India's main inflation measure, rose an annual 5.96 per cent in March.
The number sparked gains in bond markets, which had already rallied since last week on expectations that easing inflation would lead the RBI to cut interest rates further.
"It is a frenzy. The market is pricing in a rate cut," said Ashish Vaidya, head of treasury at UBS in Mumbai.
Inflation was mainly cooled by a moderation in food and fuel costs along with ebbing demand-driven price pressures.
Food inflation dropped to 6.08 per cent in April from 8.73 per cent a month ago. Fuel prices rose 8.84 per cent on the year compared with an annual rise of 10.18 per cent in March.
Non-food manufacturing inflation, which the central bank monitors to gauge demand-driven price pressures, slowed to 2.77 per cent in April from 3.5 per cent a month ago.
"With food prices expected to remain stable, manufacturing prices weak due to slow growth and commodity prices stable, inflation is expected to be on a broad downtrend for the next six months and this, we believe, opens up room for more rate cuts," said Rahul Bajoria, Regional Economist at Barclays Capital in Singapore.
"We think there is a possibility of as much as 75 basis points more rate cuts in the next six months, including 25 basis points in the next policy in June."
The RBI flagged a high current account deficit earlier this month as the biggest risk "by far" to Asia's third-largest economy, even as it cut interest rates by a quarter point for the third time since January.
However, many believe slowing headline and retail inflation along with an improvement in trade deficit should allow the bank to deliver another rate cut by mid-2013.
Government data showed on Monday that annual retail inflation slowed by a full percentage point to a 14-month low of 9.39 per cent in April, the second consecutive drop.
Copyright: Thomson Reuters 2013