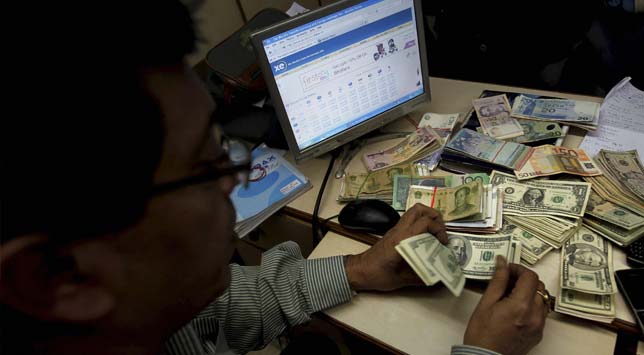 Mumbai
: The Indian Rupee (INR) hit a two-week low of 56.12 against the dollar on Tuesday as risk assets remained under pressure due to concerns that the eurozone crisis may be spreading to Spain and Italy. D
ollar demand from oil firms and other importers too affected the rupee.
The rupee opened marginally higher at 55.90 and then went on to fall breaching the key 56-mark. It, however, ended above the 56-level at 55.95 to the dollar, just 5 paise lower than Monday's close.
Traders say the rupee is vulnerable to fall to a record low of 56.52 to the dollar hit on May 31 should the global risk environment deteriorate, setting up the prospect the Reserve Bank of India could intervene in spot markets. At 9:52, the rupee was at 56.06, 15 paise or 0.28 per cent below the previous close of 55.90.
The INR fell nearly one per cent to 55.90 against the dollar on Monday after Fitch Ratings downgraded India's outlook to negative. RBI's decision to keeps its key interest rates – Repo rate and CRR unchanged in its credit policy too affected the rupee. It had opened higher on after elections in Greece eased fears of global financial turmoil.
Ratings agency Fitch on Monday downgraded India's growth outlook to negative, expressing concerns that there are "heightened risks that India's medium- to long-term growth potential will gradually deteriorate if further structural reforms are not hastened, including measures to enhance the effectiveness of the government and create a more positive operational environment for business and private investments".
This downgrade is among the many warning flags that analysts, experts and top brokerages have raised about the economy in the recent past.
Asian shares slipped on Tuesday as a post-Greek election relief rally quickly ran out of steam, with rising Spanish and Italian bond yields signalling that European leaders still have much to do to contain the euro zone debt crisis.
The euro steadied but remained just shy of $1.26, a good distance off the high of $1.2748 scaled in early Asian trading on Monday, when markets were cheering a narrow victory for parties that support Greece's international bailout deal.
MSCI's broadest index of Asia Pacific shares outside Japan slipped 0.2 percent, while Tokyo's Nikkei share average lost 0.3 percent. Both indexes had climbed more than 1.5 percent on Monday.
While Sunday's election result removed concerns that Greece could imminently be forced out of the euro zone, it brought no relief to broader worries that the two-and-a-half-year-old debt crisis is spreading to some of the bloc's larger economies like Spain and Italy.
European equity markets gave up early gains to end down or flat on Monday and U.S. stocks were subdued.
With inputs from Thomson Reuters