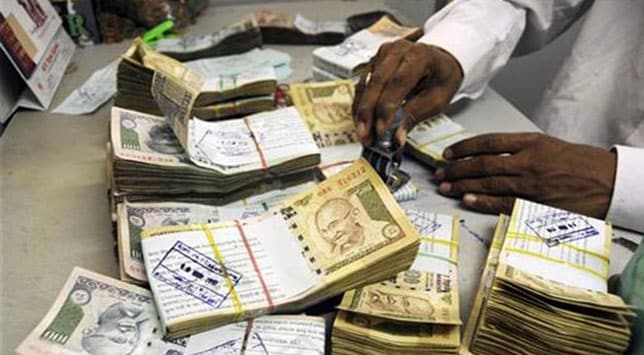 New Delhi
: The Indian rupee breached the key psychological 56-level against the US dollar to hit a one week low of 56.07 on Tuesday. However, it recovered to close at 55.80 per dollar, 0.11 per cent lower than Tuesday's close.
The currency fell as part of larger global risk sell-off after details of the Spanish bank bailout renew worries about the region's debt crisis. Reports of official preparations for a Greek exit also keep investors nervous. Asian markets too fell on renewed concerns over the worsening debt crisis in Europe. Euro, which hit its highest since May 23 of $1.26694 on Monday, too fell against the dollar to 1.25. European shares too were flat on Tuesday.
Markets worried the weekend deal could further aggravate Spain's rising public debts, while attention is turning to problems in Italy and the June 17 election in Greece that could determine its fate within the common currency bloc.
The rupee had opened marginally lower at 55.83 to the dollar. However, at 10:50 a.m, the rupee touched 56.04 to the dollar, over 0.5 per cent lower than Monday's close. It then went on to trade between 55.80 and 56.08 levels.
Indian benchmark indices NSE Nifty and BSE Sensex too opened lower Tuesday. But, hopes of a rate cut after dismal industrial output data for April drove stocks higher Tuesday.
The Nifty index closed above the 5,100 mark for the first time since May 07, 2012.
Both the rupee and stock markets fell on Monday after S&P warned that India may be the first BRIC country to lose its investment-grade rating. The rupee closed 0.58 per cent or 32 paise lower at 55.74 to the dollar, off the day's low of 55.82 after opening higher on Monday. The credit rating agency cited slowing GDP growth and political roadblocks to economic policymaking as some of the factors that could lead to such an action.
The rupee has recovered since hitting a string of record lows last month, with the latest hit on 31 May when it dropped to 56.52 to the dollar, marking what so far has been a near-term bottom for the local currency.
Widespread expectations the Reserve Bank of India will cut interest rates on 18 June are helping spark some hope for the faltering domestic economy, though the rupee will likely remain beholden to global risk factors in the near-term.
With inputs from Thomson Reuters