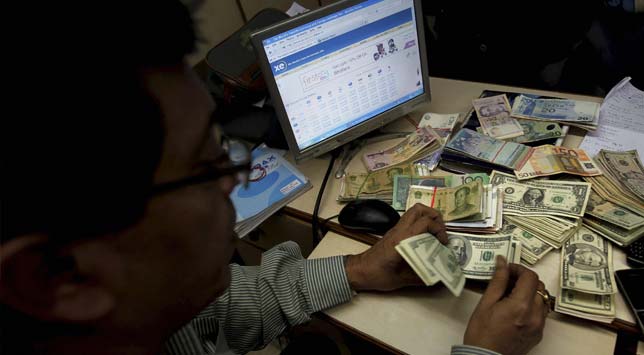 Singapore
: The Indian Rupee quickly retracted its initial gains after opening higher on Wednesday against the dollar
tracking a weak euro as investors positioned for a
European Central Bank
policy meeting on Thursday.
At 9:50, the rupee was down 0.22 per cent or 12 paise to 54.48 against the dollar after hitting a day's low of 54.62. It opened marginally higher at 54.35 per dollar, up 1 paise from Tuesday's close of 54.36. The currency rose consecutively for four days to hit a six-week high against the dollar on Tuesday.
The rupee has climbed over 4 per cent from its all-time low of 57.33 per dollar hit on June 23.
The unit, however, is still down over 10.5 per cent from its 2012 high, reached in early February.
It has strengthened on the back of clarity on taxation rule – GAAR, dollar sales by investors along with a positive outlook for Europe after the leaders agreed on a deal for tighter fiscal union in the longer term.
Also Read: Why Rupee may be back at 50/$ by March
In domestic circles too, market sentiment has improved as investors seem hopeful of meaningful policy reforms at home after Prime Minister Manmohan Singh, a former Reserve Bank of India (RBI) governor, took charge of the finance ministry. According to rating agency Crisil, there is a 66 per cent chance that the rupee will appreciate to around 50 per dollar by March-end 2013. Mohan Shenoy, Treasurer, Kotak Mahindra Bank too said that the rupee
is likely to trade in a range of 54.5-56 a dollar.
However, ratings agency Fitch warned that
the rupee is not likely to appreciate in the short term until global risk aversion subsides; but fall further if global risk aversion worsens or the domestic fiscal position deteriorates. It also said that if the depreciation persists, it might affect the credit ratings or outlook of some companies. (Read More)
Also Read: Rupee fall: How smaller Indian companies sweat
The RBI has intervened repeatedly after the currency resumed declines to record lows against the dollar, mirroring declines in May. It went on to hit its lowest level in June.
The rupee had earlier failed to gain traction despite measures announced by the central bank on India to bolster the currency, including raising the investment limits on government bonds for foreign investors. It had also asked oil companies to get 50 per cent of their dollar needs from state-owned banks.
Also Read: What keeps rupee under pressure against dollar
Concerns over slowing growth, rising inflation too affected investor sentiment and the equity and currency markets. While GDP slowed to 5.3 per cent in the fourth quarter of FY12, inflation has been persistently over comfortable levels. Credit rating agencies Fitch and S&P too warned about a paralysis in policy making affecting the country.
The domestic worries, compiled with global risk aversion on account of the Euro crisis had been weighing on the rupee, which had fallen close to 7 per cent this year, making it the worst performing currency.
With inputs from Thomson Reuters 2012