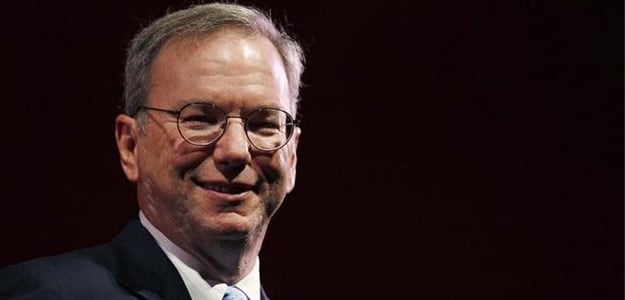 San Francisco
:
Google Inc executive chairman Eric Schmidt is selling roughly 42 per cent of his stake in the Internet search company, a move that could potentially net the former chief executive a $2.51 billion windfall.
Mr Schmidt, 57, will sell 3.2 million shares of Class A common stock through a stock trading plan, Google said in a filing to the US Securities and Exchange Commission on Friday.
The plan, which Google said would give Mr Schmidt "individual asset diversification and liquidity," allows Mr Schmidt to spread trades out over a period of one year to reduce the market impact.
Shares of Google were down $4.11 at $781.26 in after-hours trading on Friday.
A Google spokeswoman would not comment on why he is selling the shares at this time.
Wedbush Securities analyst James Dix said Mr Schmidt's stock sales did not worry him or signal a loss of confidence in the company by him.
"I'd be more worried if the current CEO or CFO sold a lot of their stake," said Mr Dix.
Mr Schmidt, who served as Google's chief executive until 2011, currently owns roughly 7.6 million shares of Class A and Class B common stock. The shares represent 2.3 per cent of Google's outstanding stock and roughly 8.2 per cent of the voting power of Google's stock.
The fact that Mr Schmidt will still own a significant amount of shares after the sales means he'll have a good deal of "skin in the Google game," said Needham & Co analyst Kerry Rice. But he said it could hint at Mr Schmidt playing a less central role within the company going forward.
"My speculation is that Eric's relationship with Google is evolving," said Mr Rice, adding, "I would assume that as he decides he wants to diversify away from Google - both his career and financially - he's got ideas of what he would like to do with some of his funds."
Eric Schmidt, who helped turn Google into the world's No.1 search engine during his decade as CEO, handed the reins to Google co-founder Larry Page in April 2011.
As executive chairman, Mr Schmidt has been particularly involved in government relations, taking a leading role in the company's discussions with antitrust regulators in the United States and the European Union. The US Federal Trade Commission ended its investigation into Google last month without any action. Google has offered to change some of its business practices to appease European competition regulators.
"As Google moves to maybe more tactical battles, as opposed to the strategic battles it's been waging with the government, once those are concluded, maybe his role can be lessened," said Mr Rice.
Mr Schmidt has also made headlines apart from Google. In January, he travelled to North Korea with former New Mexico governor Bill Richardson for a "personal" trip. The trip was criticized by the US state department as ill-timed - coming weeks after North Korea conducted a rocket launch in violation of UN Security Council sanctions.
Shares of Google are trading at all-time highs, finishing Friday's regular session at a record closing price of $785.37. At that price, Mr Schmidt's share sales would be worth $2.51 billion.
Google said that Mr Schmidt entered into the stock trading plan in November.
Mr Schmidt was ranked 138 on the Forbes list of global billionaires with a net worth of $6.9 billion in March 2012.
Given his changed role at the company and the amount of his wealth tied up in Google's stock, it was not unreasonable for him to diversify his holdings, said Wedbush Securities analyst James Dix.
"As good as Google stock is, it isn't as good as cash if you actually want to buy something," he said.
Copyright @ Thomson Reuters 2013