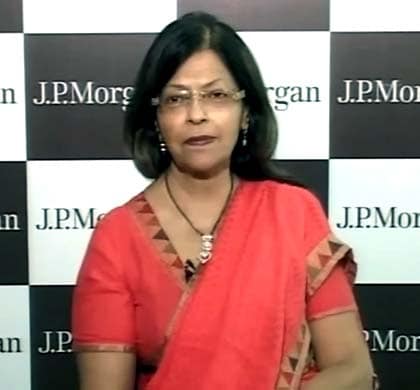 New York
:
In an exclusive interview with NDTV Profit's Ira Dugal, Kalpana Morparia, CEO of JPMorgan India, spoke about what is needed to fix the economy.
Below is the complete interview. Watch the accompanying video here.
It has been a long time since we have spoken to you. The basic question of how we see the economy right now…. you know the mood is dismal, we are not seeing any kind of support or action from policy makers. The RBI, if you go by Monday's policy review, seems to be throwing up its hands as well. How do you see this entire story playing out?

I think we are doing the negative sentiment, probably the euphoria that was there some time ago, was unwarranted. I strongly believe that the current pessimism is completely unwarranted as well.
Why do you say that? I mean even if you look at, say, the data, that itself gives you enough reasons to be pessimistic and if you look at it coming out of the capital in particular, there would be enough reasons to be pessimistic right now.

If you look at the consumption story in India, it continues to remain strong. We may look at a headline number where in one month, you may see car sales coming down and you say that the consumption story is over! But you dig a little deeper in and you look at what is happening to cement certain parts, building materials; month-on-month auto sales have shown a different picture. So I think the consumption story continues to remain very strong in India and that alone enough should have given us a cause for optimism. The negative sentiment is driven a lot by the lack of a big pick up in the private investment cycle and that is definitely an area for concern. However, I think even for a couple of projects, we get off the ground and get off the competition, we can see the sentiment improving very quickly and if India indeed comes back to the kind of investment cycle that we have seen in the past, we will all look back at the times and ask why we were so worried.
What has hit this investment?

If you see a dip in the investment to GDP ratio, it shows that it is largely coming from the private investments slowing down and our analysts have recently put out a report where project announcements are down 40 per cent and it's really this whole sentiment around the challenges that are being faced in terms of getting connectivity for fuel linkages, environmental challenges and that's the kind of thing that is impacting the whole sentiment on investment. I know that a lot of it is being discussed right now at the level of the Prime Minister's Office to see how we can speed up some of these projects and if we see action on that, you will see a very big swing back into the investment cycle.
But some of these are tough issues to tackle right? I mean land acquisition is one crucial issue. Fuel linkages, in the absence of adequate gas output, coal output, have been sluggish. All of these are not issues that we can tackle in the short term or are you saying that at least what you can tackle in the short term, let's do that and over the period of time, tackle the medium term issues, but at least you prevent sentiments from getting hurt?

Absolutely, so if we can tackle some of these issues that in the short time we can handle, we have to remember how much more difficult the environment was in the mid-90s. The world looked very similar, at least large parts of the world looked similar to what it looks like right now. We had a very high interest rate environment; we had virtually no liquidity in the system as India had barely opened up to investment. And you saw the resilience of the Indian corporate sector coming out of that!
Is it very clear that we are nowhere close to those days?

We are nowhere near 1990-91; the facts speak for themselves. Even if you look at another challenging period in India, which was 96-97-98; the South East Asia crisis and inflation in that time, we are significantly better off now than we were at that time. And even at that time, when corporate leverage was so much higher, we did not have the financial architecture that we do have today, the strength of the equity capital markets that we have today and you know we crossed that huge hurdle at that time. I'm feeling sad that the investment cycle has slowed down; I am feeling sad that FDI has come down.
I'm glad you mentioned that. Let me pick up from the three important points that you mentioned; one is the negativism that is coming in from overseas whether it is the outlook of the rating agencies, the outlook revisions, instead of losing the investment grade status, which would be a considerable hit or is it just the talk, the headlines in the foreign newspapers that certainly we seem to have lost that "India shining" kind of an image. We are nowhere close to that. We firstly need to work to revive that some amount of faith in India and the Indian economy.

Yes. As I said, maybe shining was overdone. I know when a number of senior colleagues come to India after reading all the negative headlines. I also get them to meet the local rating agencies and then they go back and say "oh things are not as bad there as we are reading here". So, I think we need to dig deeper rather than just concentrate on the flashy headline on Fitch saying negative outlook. If you actually read the entire article, there are a number of positives that we need to focus on.
The government has pointed that out as well. The problem or the other side of the debate has been that the interest rates scenario… now you know corporates are going to town arguing that interest rates are way too high and not supportive of an investment environment. So, if you look at the RBI's rationale yesterday (on Monday), they are also justifying and saying that it's not high interest rates, which have hit this environment and it is not the interest rates that have turned it around. Which side of the debate would you rely on ma'am?

I wasn't expecting a rate cut and I don't think that a headline rate cut made too much of a difference. I was actually looking for a CRR cut. I think a CRR cut would have done very well; it would release liquidity into the system; around Rs 5000 crore to the bottom-line of the Indian banking system. Even if one-third goes into taxes, the balance two-thirds would have got translated either to a low cost of funding for the corporate or the banks would have used this opportunity. So, I'm actual a big advocate of looking at cuts in CRR.
A lot of other seasoned bankers have been talking about that liquidity problem; they have also been looking at it as a money supply growth. The fact that your money supply growth is tight; right now deposit system is looking really tight, and that is sort of putting a pressure on the banks not letting them cut rates. I mean even in that structure, it is much easier to ease liquidity and maybe even right now be as focused on how much they are lending into the banking system, but there was a time when they used to absorb for the banking system. Do we need to go back to those days?

es, that's why I think we should definitely look at cutting a cash reserve ratio (CRR), it is indeed very high. India has one of the highest cash liquidity ratios. I'm sure that the rest of the banking system will feel just as good if we got a reduction in CRR.
What do you make of the inflation picture? I mean at some level, we have got to keep that in focus. It is not just about the corporate sector, it's about the broader economy and at some level that is a consistent problem. We haven't been able to tackle the headline inflation. On one hand, why hold up the rest of the economy for something you can't hold up for monetary policy, yet as a central bank you can't really avoid that…

Yes, but we need to address the structure in its use, which is driving a whole lot of these inflationary pressures and as you know a lot of that has to do with the supply side constraints. So, once you get this kind of a positive sentiment going, private investment will pick up. Oil hopefully will stay below the 100-mark. I don't think a 0.25 per cent (25 basis points) cut will make a big impact in terms of the inflation numbers.
Do you think the rupee weakness is a negative for India or will eventually be positive?

Overall, it is negative for India. If you ask me what is the single biggest worry of foreign investors today in India, it is really the currency. We can live with some choppiness in terms of the policy flip-flop uncertainty. I would say a weakening rupee is actually a negative for India but we believe that the current account deficit should actually come down, the low prices of oil and the moderation that you have seen gold imports, it should come down. And if we see a swing in the sentiment and if we can attract more FDI… At one time if you remember, FDI flows into India accounted to almost 50 per cent of the deficit, today they are down to 20 per cent.
Why investors are so nervous about the currency, is it the volatility aspect or the direction aspect?

I think both. If you came to India 6-7 months ago and say you came in at 48-50, even if you were underling the growth of the industry and invested on the basis of an analysis in the underlying growth of a company, you have just seen your investment depreciating just because of the rupee. Hence, that's a big concern.
Let's get a quick thought from you on how you see the global environment impacting the rupee?

Globally, this is a pretty gloom-doom scenario. We are much more bullish about the US. We think if they can be anywhere in between 1.8-2 per cent, that's really the strong story there. We are very worried about Europe as everyone else is. I feel that if India can address two or three issues, we can at least try to partially insulate ourselves from what's happening in the rest of the world.
And that would be more driven by the government action rather than the central bank action. Are we letting the private sector off the hook? What happened to the great India story, we used to always pride ourselves about managing in difficult times? All we are hearing is the corporates complaining.

No. Talk to some of the people in the consumption industry and you will not find them complaining. They will tell you that the input prices have gone up but you know even with some pressure on their margins, we are seeing great top line growth coming in.