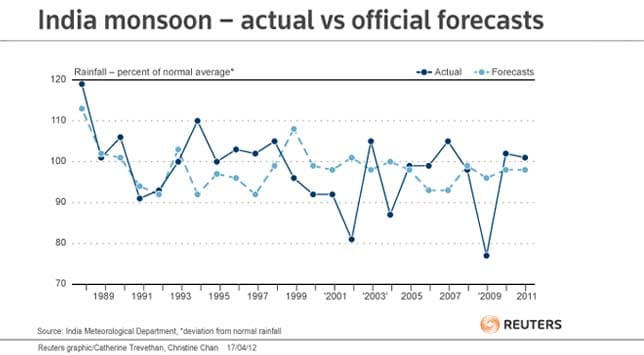 New Delhi: India's crucial monsoon rains are slightly delayed but not yet a worry for farming, the Indian Meteorological Department or IMD said, after almost all parts of the country received lower than average rainfall in the first three weeks of June.



Between 1994 and 2009, IMD forecast has been incorrect 12 times, according to a report by Kotak Securities. The deviation has been plus or minus 5 per cent from forecast. This means the rainfall was either more or less at least 5 per cent of the forecast measured as a percentage of the long-term average.



In 2002, IMD predicted rains at 108 per cent of the long-term average. The actual rainfall was 81 per cent. The difference was a staggering 20 per cent. In 2009, it was predicted to be 96 per cent, it turned out to be 77 per cent of the long-term average, a difference of 19 per cent.



Similarly, when IMD predicted less rains, the year saw the country receiving much more rain. In 2007, IMD predicted 95 per cent rainfall over long-term average. The actual was 106 per cent.



Businesses are concerned and hope that it would pick up going forward. State Bank of India chairman Pratip Chaudhuri said on Thursday that he hoped for a normal monsoon.



"This lack of ability to predict the weather has meant that the weather insurance market has not picked up, leaving farmers completely at the mercy of elements," the Kotak report said.