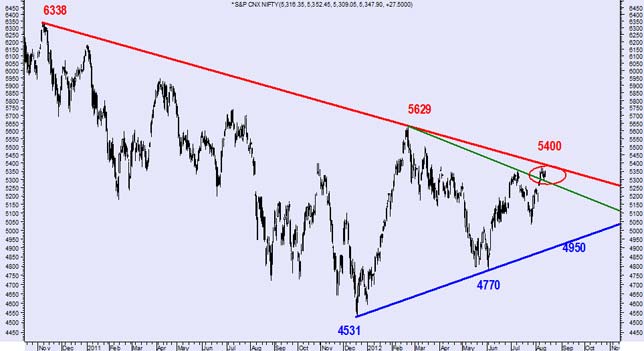 New Delhi: Indian markets closed at a 5-month high on hopes that the Reserve Bank would cut rates as July inflation dipped to a 32-month low. The Sensex gained 95 points or 0.54 per cent to 17,728 while the broader Nifty index advanced 32 points to 5,380.

The Nifty had last closed near these levels on March 15, 2012.

At 6.87 per cent, July inflation dipped below 7 per cent for the first time in six month. Analysts expected the headline inflation to stay above the 7 per cent mark.

"Fuel and food prices have come down... This gives more headroom to the RBI," Saugata Bhattacharya, sr. VP (business & economic research) at Axis Bank said.

The central bank has held on to key rates despite a slowdown in growth because of the stickiness in inflation. But with a sharp decline in inflation, there are hopes that the RBI may soften its stance on interest rates.

Markets failed to close at the day's high because of skepticism that the rise in manufacturing prices, which adds to the core inflation, will prevent the RBI from announcing a rate reduction.
Rate sensitive stocks saw strong buying interest and drove the rally. Banking stocks were among the top gainers. Auto stocks also closed higher though realty stocks ended lower today. Private lender ICICI Bank was the biggest driver on the Sensex, contributing 27 index points.

On the Nifty, infra lender IDFC advanced 2.5 per cent, while private lenders like Axis and ICICI Bank rose over 2 per cent. Tata Motors was among the top Nifty gainers, rising nearly 3 per cent.

32 of the 50 stocks closed higher on the Nifty. Drug maker Ranbaxy was the top Nifty gainer, rising 3.4 per cent. Tata Steel was among the top gainers, rising 2.7 per cent. The company missed profit estimates but margins were better than expectations.

Sun Pharma, India's biggest drug maker in terms of market cap was the top loser, down 2.2 per cent. Mortgage major HDFC saw profit booking and closed 1.9 per cent lower. Aluminum maker Hindalco declined 1 per cent ahead of reporting earnings.

Among other stocks, debt laden carrier extended gains and advanced another 6.5 per cent today. Wind turbine maker fell 4 per cent after the company posted losses in the June quarter.

The market breadth was positive with over 56 per cent stocks rising on the BSE 500 index.

Indian markets were supported by strength in European stocks, which gained on the back of better than expected growth data in Germany and France.