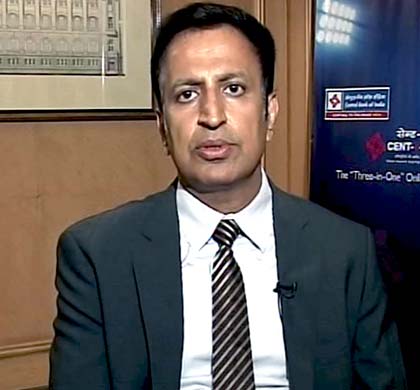 New Delhi
:
Dinesh Thakkar, chairman and managing director at Angel Broking says that more than liquidity, inflation is matter of concern for the markets and hence, the downside for the markets is likely to be limited despite concerns over General Anti-Avoidance Rule (GAAR).
"GAAR will have its impact but we still don't expect the Nifty to go below 5,000. In fact, markets may hit all-time highs in FY-13." he said.
Below is the interview. Watch the accompanying video here.
Give us your projections for the Nifty from here on; can we go back to previous highs this year itself?


See, from this level I feel that may be (in) three to four months, markets can consolidate in the range of 5000-5400, post the second quarter. Markets will start its upward journey and by the end of the financial year, I won't be surprised to see the markets at an all-time high because people will start discounting earnings of fiscal year 2014. These earnings will be much rosier than what we are seeing today. Today, things are a bit pessimist after the budget, but looking at the way we control inflation, looking at the global issues the way they are addressed, it appears that second quarter will be good for countries like India.
So do you think downside is limited for our markets from here on?


The downside seems to be limited because, like (the) past two months, liquidity was very high, it will come to a normal kind of a scenario now, where we will see a limited kind of an investment phase. So, in terms of valuation, excesses are behind us and negative news from the budget has already been absorbed. So, investors can now expect a better reward since risk is limited.
What do you make of the ongoing GAAR issue and its implications for fund flows into India? Will institutional investor sentiment turn particularly bearish?


To some extent, yes, because we have seen that almost 25 per cent of FII money which comes to India comes through the P-note route, which is tax free for now. But if you look at 25 per cent of total investment, it is not a big amount and looking at valuation, I think this can be compensated by some other avenues where we will see decent liquidity in the market.

If you look at the scenario last year, foreign investment was negligible then too market has done a decent job in terms of really not going down to a great extent. So now looking at real estate valuation and economic cycle turning for positive, I am not too worried about that front or liquidity front because your fundamentals are in place. We will see liquidity coming from many other investor classes; it can be apart from the participatory notes. So, liquidity is not a bigger concern for markets than inflation. Macro-economic factors which are turning positive, will be definitely a big positive for markets and investors.
We are looking at expiry week, what is your sense given rising volatility we have seen over past few days?


If you lookout for a short term i think it is very difficult to predict the trend on a week to week basis but let me hazard my guess. See, Budget had a few negative things in terms of higher tax collection which may impact like consumers and which can impact inflation. (The) expectation that we have that interest rate cycle will turn positive from April may be deferred by two or three months. In that sense I think negative news are getting absorbed in this price and if I had to take a guess I think at the level of say 5,100 Nifty, all this negative news will be almost absorbed if we hit this kind of a level in this week. I will not be surprised to see a rebound from that level. Net, I think investor should look that the market does not appear to go down below 5,000 level and based on that it would be anytime that the market will turn positive.
So are you saying that we might actually see analysts upgrading corporate earnings in FY-13 after the spate of downgrades last year?


Yes. We will see analysts taking a positive view on earnings.
How has the sentiment been from retail investors? Have you seen some returning of retail investors to the markets?


I think retail investors are gradually coming back. We have to look into this perspective that in the past 3-4 years, the market has not created any wealth for investors. In that sense, the retail investor who is coming back to this market has confined his investment, especially when he sees that market is not performing and market is not giving positive returns, getting good returns from debt instruments.
Do you think given now that small savings rate are also pretty attractive, bank deposit rates not coming down, will debt markets again fare better than equity markets this year?


First, it is difficult to say how this market will pan out in next six months. It would be very difficult to say that equity will outperform debt instruments but if we take next latter half of this year, I'm sure we will see a very positive inflation number and interest rate cycle going down that time.

It appears that the market is going to give positive returns but as we know that the market is much ahead of business cycles, we can guess that it can outperform even in a period of six months. However, one wants to be very sure when he would get better returns than debt instruments. I would say it will be in a later half of this financial year.

If we look at scenario for, like, next three to four years, it appears that - looking at inflation numbers and a moderate growth rate – India's main problem was inflation and if that is in control and interest rates start coming down, then this cycle will last for three or four years.

This means that if you look at valuation, which is very reasonable at this point in time, markets are available for 13 times to forward earnings. Looking at economic growth, which we will achieve in next later half, which will be around 7-7.2 per cent, I think investors would do well in next two to four years. They will be able to outperform this return from debt instrument and if you look at the tech part techs returns are far greater than debt instruments.