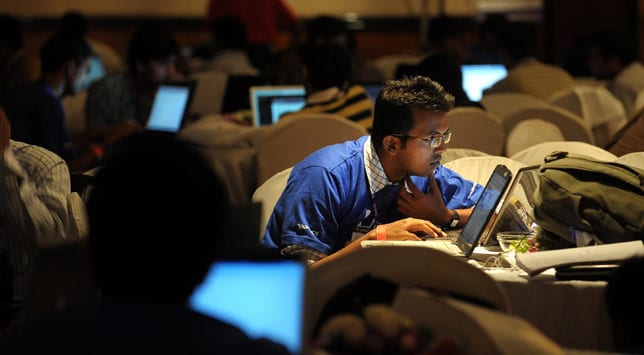 New Delhi
:
Infosys Q1 net disappoints; stocks tank
TCS Q1 net rises to Rs 3,280 crore, meets expectations
India's May IIP rises 2.4%, RBI seen to keep rates unchanged
Sensex down 257 points as Infosys falls most in 3 months
Ministerial panel on telecom meets, spectrum mortgage may be allowed
Diesel price hike likely after presidential polls
India GDP growth forecast cut to 6.5% this year: Asian Development Bank
Peugeot cuts 8,000 jobs to end losses, shuts plant
Foreign investment: As India, China stumble, Southeast is Asia's safe haven
Sept. 11 most memorable TV moment in past 50 years: Study
1) Infosys Q1 net disappoints; stocks tank
IT major Infosys announced its first quarter results for FY 13 on Thursday. However, markets were far from happy with the results, which saw a net profit of Rs 2,290 crore in the June quarter against the street expectation of Rs 2,483 crore. Moreover, it lowered its dollar revenue growth forecast for 2012-13 to 5 per cent, much lower than 8-10 per cent it had predicted at the end of the March quarter. The sharp revision in outlook, which comes amid worries that clients will reduce spending on outsourcing services, disappointed investors. (Read More)
(See Full Coverage of Infosys)
In a reversal of trend, Infosys Ltd. hired fewer employees in first quarter (June-April) of 2012-13 fiscal than in the fourth quarter (January-March) of the last fiscal due to negative growth in business and lower revenue forecast. Results are going from bad to worse, said brokers, while experts expressed disappointment. Meanwhile, SD Shibulal, MD & CEO of Infosys blamed Order cancellation, currency fluctuation for the weak results.
Also Read: No quarterly profit guidance - Why Infosys shareholders should worry
2) TCS Q1 net rises to Rs 3,280 crore, meets expectations
Tata Consultancy Services, India's top IT outsourcer, on Thursday reported Rs 3,281 crore in net profits against expectations of Rs 3,275 crore for the quarter ended June 2012. Sales jumped to Rs 14,868.7 crore against Street expectations of Rs 14,865 crore. The company will also pay a dividend of Rs 3 per share. (Read More)
Reacting on the earnings, Prakash Diwan, independent analyst, told NDTV Profit that TCS numbers have proved that the Industry is not facing a slowdown and it is an Infosys-specific issue. TCS expects currency volatility to remain a challenge in the short term. (Read More)
Also Read: Face-off - How TCS and Infosys compare on Q1 earnings
3) India's May IIP rises 2.4%, RBI seen to keep rates unchanged
The government on Thursday released data for India's index of industrial output (IIP), a key measure of industrial output. IIP in May grew at 2.4 per cent from the same period in the past fiscal, beating expectations of 1.8 per cent, and higher than the negative (-) 0.9 per cent in April, suggesting only a modest growth in supply parameters. Experts said that they don't see RBI cutting rates. (Read More)
Here is what the numbers say and what they mean.
Also Read: Good news is that bad news is not continuing, says Montek on IIP
4) Sensex down 257 points as Infosys falls most in 3 months
The BSE Sensex and the broader Nifty index dropped nearly 1.5 per cent Thursday as India's second largest IT outsourcer Infosys disappointed investors for the third straight quarter. The Sensex declined 257 points or 1.5 per cent, while the broader Nifty index shed 71 points to close at 5,235. Infosys shares plunged over 8 per cent to close at Rs 2,264. The stock, which has nearly 9 per cent weightage on the Sensex, was the biggest drag on markets. (Read More)
Also Read: 10 reasons why Infosys shares tanked 10%
5) Ministerial panel on telecom meets, spectrum mortgage may be allowed
After many hiccups, the empowered group of ministers on telecom finally met today headed by P Chidambaram to decide on crucial issues such as pricing of spectrum, a one-time fee, roll-out obligations, terms of payment and the timeline for selecting an auctioneer for the 2G spectrum auction that the Supreme Court ordered early this year while cancelling 122 licences allotted by then Telecom Minister A. Raja in 2008. (Read More)
6) Diesel price hike likely after presidential polls
India is likely to raise diesel prices after the presidential polls on July 19, an oil ministry official said on Thursday, as the government attempts to cut the amount of money it pays out to keep prices lower. "This has been the thinking for quite some time," that a price rise could come after presidential polls, the official said, requesting anonymity. (Read More)
7) India GDP growth forecast cut to 6.5% this year: Asian Development Bank
The Asian Development Bank (ADB) cut its growth forecasts for developing Asia on Thursday, saying financial and economic problems in Europe and the United States had cut demand for exports, although Southeast Asia remained a bright spot. (Read More)
Also Read: Govt's subsidized agricultural credit being diverted: Subbarao
8) Peugeot cuts 8,000 jobs to end losses, shuts plant
French automaker Peugeot Citroen announced 8,000 job cuts and the closure of an assembly plant as it struggles with mounting losses, in a move that could hasten a wave of restructuring in Western Europe. (Read More)
9) Foreign investment: As India, China stumble, Southeast is Asia's safe haven
Little more than a dozen years after the region's crippling financial crisis, Southeast Asia is looking more a safe haven than a risky bet, with foreign investors souring on China and India and pouring money into markets proving resilient to the global gloom. (Read More)
10) Sept. 11 most memorable TV moment in past 50 years: Study
The Sept. 11, 2001 terrorist attack is by far the most memorable moment shared by television viewers during the past 50 years, a study released on Wednesday concluded. The only thing that came close was President John F. Kennedy's assassination and its aftermath in 1963, but that was only for the people aged 55 and over who experienced those events as they happened instead of replayed as an historical artifact. (Read More)