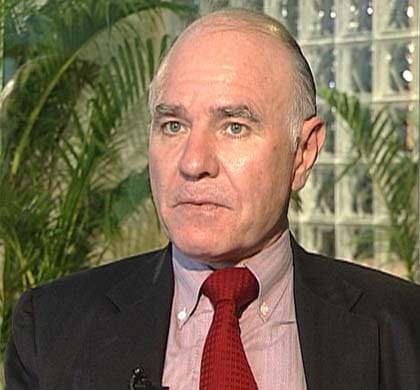 New Delhi: India's equity markets lost ground on Wednesday. The BSE Sensex index closed 298 points or 1.83 per cent lower at 16,030, while the broader index NSE Nifty ended 84.55 points lower at 4,858.



Moreover, the rupee sank to an all-time low, falling to an intraday record low of 54.52/$, down more than 1 per cent in the trade led by weakness in the euro. The Reserve Bank of India's supply of dollars to support the rupee proved to be inadequate.


On our show Tips for Tomorrow, Ramanathan K, CIO - Single Manager Investments, ING IM India and Sharmila Joshi, Head-Equity, Fairwealth Securities, discuss the market performance of the day.



MARKET OUTLOOK


In Ramanathan K's view, it is uncertain to predict the future outlook. He feels that the concerns over the Eurozone crisis are key triggers for our markets.


In Sharmila Joshi's view, markets may correct further. "Market fundamentals remain grim; concerns over Europe are predominant," she said.



RUPEE WOES


According to Ramanathan, the global 'risk off' trade is resulting in the weakness of the rupee.


"Risk aversion is leading to a decline in the rupee. Weak macros are already discounted," said Joshi.



INDIA DE-RATED?


Both Ramanathan and Joshi said that the Indian equity markets are de-rated. "India needs policy actions to spur growth, boost sentiment," they added.



LONG TERM VALUE?


"Current valuations are attractive. De-rating is possible from current levels," said Ramanathan.


"Markets will look attractive after falling by 2-3 per cent," said Joshi on the contrary.



WHAT TO BUY?




Ramanathan finds long term value in financials, metals.