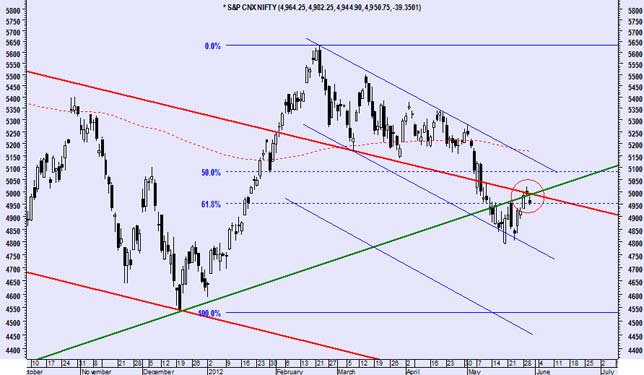 New Delhi: Selling pressure gained momentum on the Street after data indicated that the Indian economy grew at a slower than expected pace in the March quarter. Fourth quarter GDP grew at 5.3 per cent against expectations of 6.1 per cent growth.

Selloff in global stocks and continued pressure on the rupee, which hit a new low today, also led the selling.

Here are 10 buzzing stocks in trade today.

1) Kingfisher Airlines: Shares in the cash-strapped domestic carrier fell more than 4% to a record low, a day after saying net loss more than trebled in the January-March quarter because of higher fuel prices and a weaker rupee. Kingfisher lost Rs 1,150 crore in the fiscal fourth quarter, compared to a loss of Rs 360 crore a year ago.

2) SpiceJet: Shares in the domestic carrier slumped 10% after the company posted losses for the 5th straight quarter. The company reported a loss of Rs.249.2 crore against Rs.58.6 crore year-on-year.

3) Hindalco: Shares in the aluminum maker traded with 4% gains after a ministerial panel reportedly recommended conditional approval to start production from the Mahan coal mines in Madhya Pradesh.

4) Reliance Power: A Group of Ministers has given the green signal for Reliance Power's Chhatrasal coal block, sources said. The Anil Ambani - promoted company was allotted Chhatrasal mine for its 4,000-MW ultra-mega power project at Sasan.

5) Suzlon: The wind energy major traded with over 4% cut. The stock will be deleted from the MSCI index.

6) Tata Motors: The stock extended losses for the third day. JLR margins have disappointed in the March quarter. Many brokerages have cut their target price on the stock.
7) DLF: Shares in the realty major traded lower on the back of weak March quarter earnings. PAT fell 39% at Rs 211.7 crore against Rs 345 crore year-on-year. EBITDA margins grew at 33.8% against 49% quarter-on-quarter.

8) Jaiprakash Associates: Shares traded in the green EBITDA margins grew at 25.1% against 21.3% in the March quarter. However, net profit declined 7% at Rs. 283.8 crore against Rs. 303.6 crore.

9) Dhanlaxmi Bank: Shares traded 5% lower after the lender posted a loss of Rs 86.51 crore in the March quarter against a profit of Rs 11.15 crore.

10) Aban Offshore: Brokerage firm Macquarie has downgraded the stock to underperform saying managing high debt repayments and interest cost will be very tough for the company.