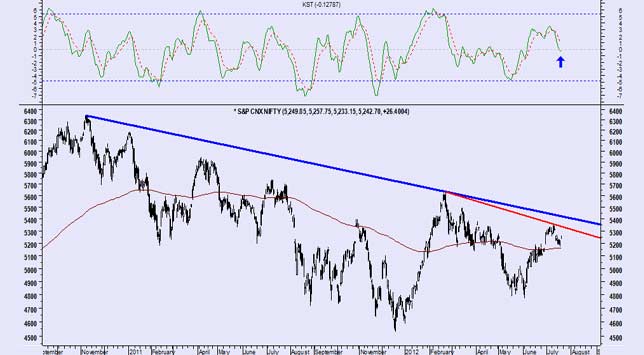 New Delhi: Indian markets are likely to open flat to negative tracking weak global stocks. However, analysts remain optimistic in their outlook in the short term on hopes that the government will speed up pending clearances, which have been the biggest hurdle in implementing crucial infrastructure projects.

Earnings will continue to drive individual stocks. Reliance Industries will be closely tracked, though it is likely to announce its first quarter results post market hours.

Here are the stocks to track today.

1) Maruti Suzuki: Operations at the Manesar plant remain suspended after the recent unrest.

2) SAIL: The Cabinet Committee on Economic Affairs (CCEA) approved 10.82% disinvestment in Steel Authority of India yesterday. The divestment may help the exchequer raise about Rs 4,000 crore. However, no timeline has been set for the stake sale, sources said, and that market conditions would be the deciding factor. The government holds 85.82% in the country's largest steel producing company. The government has set a target of raising Rs 30,000 crore through divestment of stake in public sector undertakings in 2012-13.

3) Reliance Industries: India's biggest private conglomerate will today post its earnings for the first quarter. The company is likely report the third straight quarter of margin decline amid weak refining margins and decline in gas output.
4) Crompton Greaves: The Company is likely to report 31% annual jump in net profit for the March to June quarter. The margin guidance of 8-9% will be closely watched.

5) Asian Paints: India's largest paint company is like to report a muted quarter. While net profit is likely to rise 20%, the company might report margin contraction in the June quarter.

6) Ultratech Cement: The Company is likely to report 6% annual rise in quarterly profit. A fall in global coal prices is likely to be offset by depreciation in the rupee. Earnings will be hit by the hike in rail freight, which is likely to hit operating costs by Rs 4-9 per bag. Ultratech Cement has high exposure (40-50% of volumes) to rail transport.

7) Sun Pharma: Israeli drug maker Taro Pharma has rejected Sun Pharma's offer price for the outstanding shares. Sun Pharma, which holds about 67% stake in Taro, had made an open offer of $24.50 a share last year for the remaining stake, but Taro's minority shareholders rejected it saying it was inadequate considering the improvement in the company's performance. Sun Pharma has refused to sweeten its offer.

8) BHEL, L&T: The government is likely to impose a 5% import duty on power generation equipment. The Cabinet has approved a 21% duty on imported power equipment. The duty structure will include a 5% import duty, 12% countervailing duty or CVD and 4% special additional duty. The move is expected to create a level playing field for domestic power equipment producers like BHEL and L&T. The move will affect Chinese power-generation equipment firms such as Shandong Electric Power, Shanghai Electric Group etc., and their Indian customers-power companies such as Reliance Power, Lanco Infratech and Adani Power.

9) Mastek: The Company is likely to beat street expectations in the June quarter. Q1 results will be announced on July 27.

10) Piramal Glass: The Company has reportedly sold its land in Sri Lanka for Rs 40 crore.



Disclaimer: Some of the information is based on the buzz in the stock market and on secondary information. Readers should use discretion before using the information.