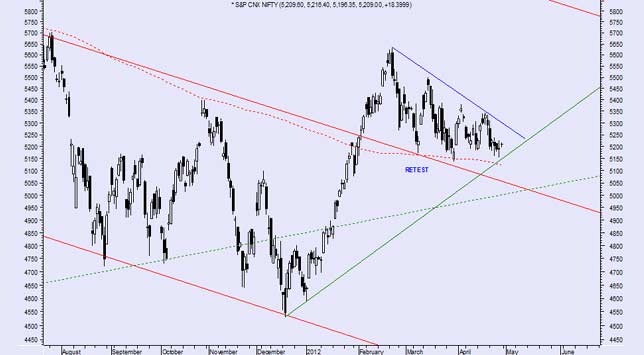 Mumbai: Asian shares edged up on Monday morning as shares of resources companies in Australia rose on rising commodity prices. Markets in China and Japan are closed for a public holiday. The MSCI Asia Pacific index rose 0.5 per cent on Monday but is expected to post a marginal monthly decline for April 2012. The Reserve Bank of Australia is expected to cut key interest rates.



FIIs turn net sellers in April 2012



After pouring hefty funds into the Indian equity market in the first three months of the year, overseas investors turned bearish in April and pulled out Rs 777 crore amid S&P lowering India's credit outlook to negative from stable. This was also the first instance of monthly net outflows by FIIs since November 2011.




PAN and Aadhaar database to merge



In order to weed out the problem of fake PAN cards and to ensure accurate biometric data, the government has initiated a mammoth project to bring together both the Aadhaar and the PAN databases. The Nandan Nilekani-led Unique Identification Authority of India (UIDAI) issues the Aadhaar number, which is now being synchronized with the Permanent Account Number database maintained by the I-T department.



New consent mechanism soon: Sebi



Market regulator Securities and Exchange Board of India (Sebi) is set to put in place a new and detailed mechanism for its 'consent' procedure—an out-of-court-like settlement through which it settles cases of suspected irregularities by listed companies and various market entities. Sebi decided to revise the existing consent procedure, after it found lack of uniformity and necessary details in the prevailing system, which is in place since 2007, a senior official said.



M&M plans to sell XUV500 in Italy, Chile and Australia




After going slow on international launches of its sports utility vehicle to meet the domestic demand, auto major Mahindra & Mahindra is gearing up to introduce XUV500 in Italy, Australia and Chile soon. Company officials said that necessary adaptations to meet norms in these markets such as emission and left-hand drive in case of Italy have been completed.




Results preview




Titan Industries



Titan is expected to report a 64 per cent jump in the net profit at Rs 137.8 crore for the quarter ended March 2012. Net sales are expected to rise 25 per cent at Rs 2,220 crore over March 2011 quarter. The company is expected to report operating profit margins at 8 per cent against 6 per cent in the year ago period. The jewellery business is expected to witness growth of up to 30 per cent over March 2011 quarter.



Godrej Consumer



Godrej Consumer Q4 net profit is expected to grow 18 per cent to Rs 177.5 crore in March 2012 quarter. Net sales are expected to rise 29 per cent to Rs 1,295 crore over March 2011 quarter. The company's operating profit margin is expected to rise to 20.8 per cent against 18.4 per cent. Growth is largely likely to be driven by the insecticide business in India and the consolidation of the Darling Group in Africa.



Dabur



Dabur is expected to report a 10 per cent growth in the net profit at Rs 163 crore for the March 2012 quarter. Net sales expected to grow 20 per cent to Rs 1,326 crore over March 2011 quarter. The company operating profit margins are expected to be under pressure at 17 per cent against 19 per cent in the year ago period. This is due to high inpt costs and increase in branding and advertisement costs.