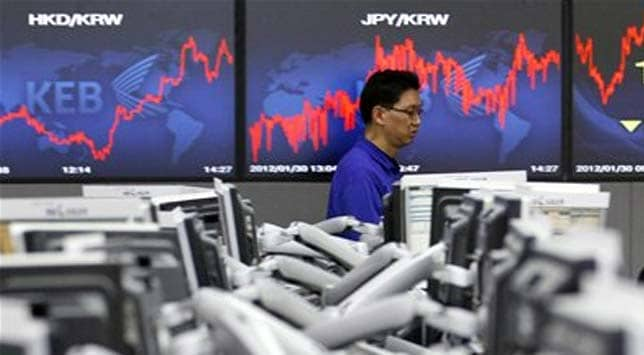 New York
: Finance minister
Pranab Mukherjee
is a seasoned politician. But it seems, he could not put up a brave face when it comes to reforms front. Political compulsions of the UPA coalition made him tread a very cautious path in Budget 2012. NDTV's
Dr. Prannoy Roy
and Business Standard chairman
TN Ninan
talk to the FM about the tax rejig, compulsions of a coalition, the burgeoning fiscal deficit and much more on the government's intentions and targets in the next fiscal.
NDTV: Welcome to this very special moment with the man of the action, actually there are 2 man of the matches...one you and one Sachin Tendulkar and this is Ninan's 19th nervous breakdown with us. So I said there are 2 man of the matches because Sachin Tendulkar has just got his 100th hundred, you've probably been too busy to find out but do you have anything you'd like to say to him.
Pranab Mukherjee: I congratulate him and one common thing is there that both of us received Padma Vibhushan in the same year and we took it from the President one after another.
NDTV: Really, one after another.
Pranab Mukherjee: So I congratulate him and I take this opportunity through your viewers to express all my best wishes to him, we're proud of him....
NDTV: Wonderful, sir now today's Budget, the general feeling is that (audio glitch) it because of the reality of the situation and everybody sympathises that you have a fractured mandate, you don't have a majority, commentators can talk in a theoretical world, the reality is you don't have a majority in Parliament, is this one of the most difficult political times for you?
Pranab Mukherjee: This is a difficult time both politically and economically, let me first explain to you that what were my primary concerns. The primary concerns were how to bring back economy to the path of higher growth because unfortunately I would say when I assumed the responsibility of the Finance Ministry after a quarter century that was one of the most difficult year because first major international financial crisis brought down in 2008, therefore in that context I had to present the interim budget and full budget naturally the growth came down, fiscal deficit increased and next 2 years I took to consolidate, first to bring it back to higher growth trajectory and fiscal deficit wise.

your NDTV: That was as difficult economically?
Pranab Mukherjee: In that context of major economic difficulty and fortunately with the support of all sections-entrepreneurs and investors, farmers, workers-and good monsoon also helped me and we could have 8.4 per cent growth in 2 consecutive years.
NDTV: Sir, but my question was on politics of the situation...?
Pranab Mukherjee: I am coming to that, the second question is that therefore my concern was to come back to the path of fiscal consolidation, to come back to the path of higher growth trajectory and at the same time 2 years experience of persisting...doggedly persisting near double digit inflation, how to moderate the inflation, these 3 major economic considerations were before the Finance Minister while preparing the formulation of the Budget and the political constraints were that to take certain hard decisions, whether it could be possible for me to get the approval of the political parties as we're having a fractured mandate. Therefore I had to take certain measures which could be done through the legislative. I have appealed to all concerned that you implement those legislations, help us to implement those legislations because it has received the considerations of the Parliamentary Standing Committee.
NDTV: That time you had the Left, now you have the Trinamool?
Pranab Mukherjee: No, you know the alliance partner or the alliance supporter, net result is the same that I shall have to carry conviction with them.
NDTV: Which is easier to carry though, Left or Mamata? No seriously. I understand the difficulties, sometimes you look back at those days and say wish they would come back?
Pranab Mukherjee: It's very difficult to make an assessment but anyway the question is the net result is same because when you have the fractured mandate and a limited mandate that what to carry people with others however, difficult and strenuous it may be because there's no option. In a country of India's size, you cannot go for every year in general elections.
NDTV: You can't do whatever you want, you have to take into account.
T N Ninan: Sir, given those 3 objectives that you outlined it seems to me looking at your numbers that you've actually left the job still to be finished because you've shown reduction in the petroleum subsidy bill for the next year compared to this year and a sharp reduction at a time when oil prices have gone up, the implicit assumption or conclusion that one can draw that you're going to be raising petroleum product prices some time, is that a correct conclusion ?
Pranab Mukherjee: No, what ...
TN Ninan : Because there's no other explanation.
Pranab Mukherjee: No, no when I said you shall have to make the subsidies to 2 per cent of the GDP and in the next 3 years it will have to be brought down to 1.75 per cent of the GDP, message is quite clear. Now it is to be done through the executive actions, there are 2 ways you could do it, you could do it through legislative actions, you could do it through executive actions. Therefore you'll have to do this otherwise a situation will come when the macro-economic fundamentals will be seriously distorted and it will be beyond repair.
NDTV: No I think what Ninan is saying that Rs 68,000 crore is the subsidy on petroleum this year, next year you've said Rs 43,000 crore, so Rs 25, 000 crore less subsidy on petroleum. Does that mean there will be a diesel prices or petrol prices hike in the next few months ?
Pranab Mukherjee: Prime Minister has already stated that these are the areas where executive actions are called for, for instance petrol is already deregulated. Diesel, kerosene, LPG are not fully deregulated, petrol has been deregulated in last June, decision has been taken that it has to be implemented, that's why what I want that I have indicated in my Budget speech that these are the objectives you shall have to reach, these are the targets we shall have to reach.
NDTV: So prices will go up? Prices will go up?
T N Ninan: That is the intention that prices will go up.
NDTV: Unavoidable.
Pranab Mukherjee: Yeah, it seems because $90 was the assumption when I presented the budget last year, average prices would be $115 today it has gone up to $120 or $123.
NDTV: You keep a daily track, you must be keeping a daily track.
Pranab Mukherjee: I am keeping a daily track, 2 things I do that Brent Crude which you use it is moving up or moving down.
TN Ninan: Sir, the second follow up to that issue of petroleum prices is that your raising of excise and service tax to give a cost push to inflation then if you raise fuel prices that will you give you a further cost push and inflation's already at 7 per cent . So do you expect that your inflation target for next year which is lower than 7 per cent will materialise?

Pranab Mukherjee: 6.5 per cent ...I'm assuming, it'll be around 6.4 per cent to 6.5 per cent for the year.
TN Ninan: But there is significant latent inflation still waiting to come out..?
Pranab Mukherjee: You shall have to keep in mind if you look at the last 22 months inflationary change, substantially it was due to the supply constraints on some of the major agricultural products, therefore in not one, series of measures that I've taken in my budget proposals this year. In my budget proposals last year to remove those supply constraints and it has started giving results, pulse is one example, 60000 pulse villages they've given me a higher yield of 2 million tonnes but the food impact is not felt because the demand is also increasing. Essentially some of the agricultural products fruits, vegetables, egg, meat, milk these are substantially contributing to the food inflation which has both primary and manufactured articles taken together is having 24 per cent contribution in the overall basket of the inflation. So cost push secondly, excise duty what we've done it is not a new tax please remember it because this 14 per cent excise duty was in the pre-crisis period up to 2008-09. When we injected the stimulus package along with that even in my interim budget, subsequently I continued in my regular budget, we reduced it from 14 per cent to 8 per cent then it was raised from 8 per cent to 10 per cent and now I've raised it from 10 per cent to 12 percent but I've not gone to 14per cent so therefore this was taken into account. Secondly, the service tax, my desire is to bring service tax and excise duty at par to 12per cent because ultimately when I'm having discussions with the state finance ministers and with their empowered state finance ministers committee, ultimate objective is to have the 12 per cent rate at the state level and 12 per cent rate at the central level so that convergence and alignment takes place.
TN Ninan: So it won't go back to 14 per cent? It will never go back to 14 per cent?
Pranab Mukherjee: I've no intention of going back to 14 per cent.
TN Ninan: So this is a final indirect tax increase that the government will have ?
Pranab Mukherjee: So far as the current thinking is concerned.
NDTV: I just do want to go back because our viewers are very interested in petrol prices, you said that something can be done by executive action, are you I mean to be very honest because it will happen in the next few days and its unavoidable, to get down to Rs 43,000 crore subsidy. It is probably unavoidable to increase diesel prices.
Pranab Mukherjee: I'm not just exactly making any announcements right now but the point which I'm trying to drive at that certain aspects which are distorting the macro-economic fundamentals are to be addressed. Now, at what point of time, in what manner, how we can take others with us these are the nitty-gritties which are to be worked out.
NDTV: ...and it has to be done and how you will do it?

Pranab Mukherjee:.....and unless we can keep people on board, it will be extremely difficult to implement it. Theoretically one position is that it should be done but in a multi-party democratic system and where the fractured mandate is there and message is that you have to carry people with you even the desirable things that you cannot do unless you carry people with you.
NDTV: Quite right sir, understood.
TN Ninan: Sir, does the external situation worry you, we have I think the highest current account deficit than we've had ever probably. You in your budget have encouraged more external borrowings, you serve it as working capital, short-term borrowings have shot up in the last one year, capital flows are not that encouraging so the overall context is now flat so there is an external sector risk to the economy which I don't find a reflection in neither the budget nor in the economic survey yesterday which actually downplayed the problem.
Pranab Mukherjee: In fact to some extent we shall have to keep in mind that I have addressed this issue in the case of import of gold last year it was around $40 billion next to petroleum which is absolutely unacceptable and this is going from our...because it is legalized import. At the same time, I had to keep in mind that duty level should be such that it should not encourage people to smuggle so that will cause problem. Therefore we had to strike a balance but the message is quite clear. Secondly in certain sectors, I've put a cap for instance in the Civil Aviation sector I think I've put a cap of $1 billion for 1 year keeping in mind in view of that, thirdly what we're doing, why I've done it, rationality behind expanding the external commercial borrowing as I've not been able to address the corporate tax structures in DTC this year, I've done so far as the private personal income tax is concerned. Original DTC recommendations I've implemented, recommendations of the standing committee references that we shall have to examine it but original bill which I placed that part I've introduced it, Corporate Tax I've not done it. So to improve the business sentiments and investment climate I wanted to provide them access to the low cost loan and borrowing even through the External Commercial Borrowings that's why in certain critical sectors which I've identified like power, fertilizer, irrigation, dam etc I have allowed. Viability Gap Fund is also another instrument through which I'm trying to help the corporate sector and to improve the investment climate. Therefore it is true to some extent that I'm taking some risk but the trade-off is that I'm hoping that there will be an improvement in the investment climate.

NDTV: Sir, one thing which I don't know, obviously most of the major issues come to your notice but there's a lot of fine print which was not in your speech, not in the Memorandum of Explanation which is we've so much reaction from India and around the world, it's on the countermeasures in this budget in the fine print of the Vodafone loss that the Centre faced and everybody's wondering how can a country like India do such a thing by bringing in a law that goes back to 1962 retrospective, hundreds of companies phoned us up saying they were very worried, they took genuine decisions based on the law at the time so its caused uncertainty, its caused lack of trust. If I'm working according to the law today, can it be changed 10 years from now, 1962 is 50 years ago and there's another one that has gone back to 1976, now were these brought to your notice?
Pranab Mukherjee: I'm just telling you that let us look at the whole thing in proper perspective, what has happened? When the tax department said yes as per our law, we've the right to impose taxes on you, because they created a structure through which investments to the tax havens or zero tax or low tax countries where they had to pay no tax there and no tax here but the intention of the legislature is if you pay tax in one country, you're not to pay tax in the other country. Intention of the legislature was never that you're not to pay tax at all then it'd have been quite clear.


NDTV: I understand that but.....
Pranab Mukherjee: Let me explain .... and exactly this line of argument was approved by the Bombay High Court, of course the Supreme Court, the highest court has reversed it but Supreme Court has also told the Centre that legislature should make its intention quite clear that what should be the tax and whether what would be the quantum, that intention should be clear, we find some ambiguity in the norm. They did not say that you do it prospectively or retrospectively, question is why it has been done retrospectively, retrospectively '61-'62 is coming because of the Income Tax Act which started from '61, the interpretation is...I'm just giving you the example, interpretation is as Bombay High Court also stated that you make your intentions quite clear and retrospective clarification is that from day 1 this was the intention of the legislature, now the question is whether you've done in past, I'm giving you in 2008, we've done in I think in 9 cases, 2008 in 8 cases, 2009 in 5 cases, 2010 - 4 cases, 2011 - 11 cases and invariably these have come out of the judgement of the courts, either of the High Courts or the Supreme Court, therefore retrospective legislations of the Income Tax, it may not be very desirable but it is not unusual. The last point is about the sentiment of the prospective investors, that's why that nobody can expect that a situation will be there where they'll have to pay no tax to anyone, that is never the intention neither this is in China nor in any other country, not even in Australia or any other country.Therefore we're expressing our intentions quite clear that this is the law of the land, this is the intention of the legislation. FDI inflow or foreign investment is concerned, foreign investment does not come nearly from the view point of taxation there are other aspects also because size of the economy because of the chance of profitability, scope of getting higher return from the investment all these factors are also there.
NDTV: Sir, what you're saying is also valid in theory but in practice, it is giving this country...it could give this country a very bad name, it looks as though that the Centre lost a case to the Supreme Court, was very upset behaved like a bad loser, changed the laws, major changes in the law under the guise of removal of doubt. Now there'll be hundreds of cases reopened 50 years old how does anybody know that the tax regime which is your pet thing is going to be stable, is there any chance of you reconsidering and make it prospective.
Pranab Mukherjee: These are the clarificatory explanations otherwise there would've been, you're talking of people are talking that what would be my fate that will have to be addressed these issues but it could be equally that those who have paid taxes if you don't make it retrospective you'll have to return, that aspects people are forgetting that if you do not make it.....


NDTV: Surely nothing should be retrospective 50 years...can you make it prospective, it looks much more reasonable?
Pranab Mukherjee: That's why I'm giving you that it is not unusual 8, 9, 10 and 11 every year the interpretation comes from the court and that's why the whole objective of DTC is what that we should make the laws simple so that the scope of interpretation in different ways is limited.
TN Ninan: Sir, I want to come back to the Monetary Policy, the Reserve Bank Governor has made it quite clear that until inflation comes down and the overall situation is under control, he is not going to drop interest rates and your market borrowing actually goes up next year. Do you think you've created the environment for interest rates to fall because without that you would not get a revival of investment and consumption?
Pranab Mukherjee: To some extent, the high rate of interest has acted as the dampening spirit on the investment there's no doubt in it but at the same time we shall have to keep in mind that when there's inflationary pressure, monetary authorities cannot ease and please remember again I'm going back from 2008 as several times by 25 basis points crucial interest rates has been raised in the last 1 year. Similarly during the financial crisis of 2008-9 through series of reduction by 25 basis points it was brought down to 3.5per cent , that is also other side of the story. Fortunately the fiscal policy and monetary policy has gone close in hands to manage the crisis in 2008 and also the current crisis therefore the RBI Governor has now taken 2 steps, in 2 stages he has reduced the CRR last time, yesterday by 75 basis points only to provide that the banks should have the larger elbow room otherwise they would've gone for parking in the SLR. SLR statutorily should be 24 per cent but effectively now it is varying around 28 per cent - 29per cent therefore this tendency of parking it in SLR would be reduced because more liquidity would be available through CRR and when the April policy announcement will be made then it will be known to us by this time we'll also notice the trend. As I expressed in my budget speech I'm hoping it'd be around 6-6.5per cent and there will be monthly fluctuation.
TN Ninan: So you don't expect a significant drop in interest in the next financial year ?
Pranab Mukherjee: No, no in April there'll be a review.
TN Ninan: There will be a review but this macro-economic...
Pranab Mukherjee: No not this financial year.


TN Ninan: Macro-economic situation being such that there cannot be much of a reduction...?

Pranab Mukherjee: There would be, there would be but what level, what point of time that of course in consultations with the RBI we'll have to decide it.


NDTV: Coming back to the original point of the politics in this situation, it's a very difficult situation for you but you're a master of these situations, you are the master everybody says that no doubt about it but it is a tough time now what would you say to Dinesh Trivedi, he's done his best, he did his best budget, he would've consulted you what would you say to him?
Pranab Mukherjee: You know so far the Rail Budget is concerned, I had experiences in the '80s, '80s scenario was totally different because we were all very high and mighty.



NDTV: He was still around......?




TN Ninan: No we were not, you were sitting in this ministry.
Pranab Mukherjee: We were all high and mighty, Railway Budget as I remember Railway Commissioner, the Finance Commissioner who is an Ex-Officio member of the Rail Board used to come to me and say 'Sir these are our proposals and this much money we want and we used to sanction and it does not go even to the cabinet, Finance Minister approves it and there after the Prime Minister is kept informed that these are the things. So far the present development is concerned I would not like to make any comment because there's also a cardinal principle that technically in a parliamentary form of government Prime Minister has the authority to appoint the ministers but in coalition government this constitutional responsibility of the Prime Minister is substantially diluted, that is the ground reality. Coalition partners and their leaders, they determine...during the formation of the coalition it is decided which party will get which portfolio but after that who will be the person to occupy that it is left to the coalition partner that is the ground reality.



NDTV: But he is your colleague you've worked with him are you proud of him, do you think he did a good budget, what would you do in his position?
Pranab Mukherjee: No, the budget has been approved by the Finance Minister thats why I welcomed it. I welcomed the budget because it is approved by the Finance Minister...



TN Ninan: You didn't know that there would be a problem with the West Bengal Chief Minister...?
Pranab Mukherjee: Constitutionally it is to be approved by the Finance Minister, you know now the details do not come to the Finance Minister that is the point that I was trying to arrive at earlier it used to be but for quite some time...
NDTV: But you wouldn't know the details of the ticket increase...?
Pranab Mukherjee: No no no details do not come, Railways income, Likely Income, Improvements, broad general terms are being used and there are....but we were advising the Railway Board, the Railway Ministry that there would be some adjustment every year in writing. Also I used to say that you're to mop up your additional resources. For example this year, the Rail plan is, the Annual Plan is Rs 60,100 crore of that Rs 24,000 crore coming from the GBS, budgetary support, now Rs 36,000 crore originally when it was decided during the 11th plan that the contribution of GBS would be much less than what we've actually done during the 11th plan period because IEBR, Internal and Extra Budgetary Resources generation by the Railways has been substantially less over the years, it is not 1 year over the years.
NDTV: So is it necessary to increase the prices?
Pranab Mukherjee: Therefore it was thought that they should mop up the additional resources and make the resources mobilized.

NDTV: So it was the correct decision financially, but Ninan is saying not politically.
Pranab Mukherjee: Therefore what they've done but so far the appointment of the Railway Minister is concerned as the Railway portfolio has been given to the coalition partner TMC, it depends on the leader of TMC.
TN Ninan: But you will not roll back the railway budget, will you?
Pranab Mukherjee: Budget is now, technically it is the property of the House, it is the property of the House and all of you are fully aware of that all financial proposals are to be either approved or rejected or amended by the House as such. Therefore it is now before the House and whatever proposals the Railway Minister will like to bring in whatever form that will have to be approved by the House as such.
NDTV: So you are not ruling out a rollback in the railway ticket prices, not ruling it out?
Pranab Mukherjee: You know there is a bit of complication and it's a complicated issue and a simplistic solution in this way or that way is not available. Prime Minister is aware of it, he has received the communication from the Chairperson of the TMC and we had telephonic conversations also, we're trying to resolve in what way it can be resolved but I cannot say that this will be done or that will be done, I am not saying anything on this because in what form it'll take shape, in what shape it'll come unless the solution is visible it is difficult.
NDTV: You shouldn't say like that in times like this but will it be a sad day if Dinesh Trivedi has to resign, sad for you?
Pranab Mukherjee: You know after all everyone who comes to serve with us is welcome and we've worked with him.
NDTV: That's a very clever answer?
TN Ninan: You've outlined a medium term plan for further fiscal correction but next year will be the pre-election budget, the last budget before the elections, do you believe that fiscal correction will be possible next year because there'll be so many demands on you to spend more money here, put more money there, give more benefits, how can you do fiscal correction?
Pranab Mukherjee: First of all, the traditional answer would be that we'll think of passing the bill when we reach there .....




TN Ninan: But now that you have outlined a medium term plan?
Pranab Mukherjee: I'm talking of 365 days away, right now we're 365 days away. There may be major developments, if not major there would be developments during the year, if we can take certain corrective steps in this year which are absolutely essential as Prime Minister has stated.
TN Ninan: What kind of steps?
Pranab Mukherjee: Certain measures we are to take I've elaborated in my budget speech. I'm not repeating it but certain steps we'll have to take and ultimately we shall have to keep the target which I've outlined in my budget speech if we do not want to distort the macro-economic fundamentals, as a country collectively it is our responsibility . Because if today we're not able to implement and do the right thing at the right moment, yes we'll be held partly responsible but none can escape the responsibility because the mandate is fractured and the message is clear that all of you should be onboard to do the correct thing at the correct point of time.
NDTV: Sir, you move a lot around, you meet a lot of people, the one phrase that is being used a lot for this government and you must be aware of it that this government is suffering from 'Policy Paralysis', you must be aware. Are there steps that're going to change to remove that image, that label of Policy Paralysis in the next few months?
Pranab Mukherjee: Of course, yeah, we will and we are taking..
NDTV: Even if it means you have to do it because you feel it's for the country.
Pranab Mukherjee: The fact of the matter is, is the language of Prime Minister, what he has stated I'm told, I've not heard it but I'm told that yes there may be an occasion where we shall have to bite the bullet. First of all I would not like to..
NDTV: Or bite the ballot....
Pranab Mukherjee: There is no need of biting the ballot right now for that we'll have to wait till 2014.
NDTV: But are you ready to bite the ballot for your principles.
Pranab Mukherjee: We will, you'll see we will because even in the .... I'm coming back to, digressing to politics which I have no intention to do but even if you analyse the current election, it is not a verdict against Congress because Punjab we did not have, UP we're losing from '91 onwards,even in '91 Lok Sabha elections we did not get even 15 Lok Sabha seats please remember that. So therefore if we did not do a miracle in UP, yes in the context of Lok Sabha it was a federal parliament selection. There is a difference between federal parliament selections and Assembly elections particularly in the context when federal parliament there is a fractured mandate in the State Assembly most of the times you will notice that there is a mandate in favour of a single party whether it is BSP or SP, whether it is TMC or Left but mandate is, even in Bihar though that is coalition but Nitish has got clear mandate therefore these are the messages in the state elections so I'm ready to even bite the ballot as and when necessary, we're not shy of it but what I do feel is that the concept of Policy Paralysis was over-publicised. During this period the initiatives that we've taken starting from the GoM's decision, monitoring almost like the corporate body of crucial issues which I have announced some of them during the budget in the Group of Ministers, it is clearly indicative.

NDTV: God bless you sir and congratulations and thank you sir and may you and Sachin Tendulkar go on to score many more centuries..?

Pranab Mukherjee: Once again my congratulations to you.