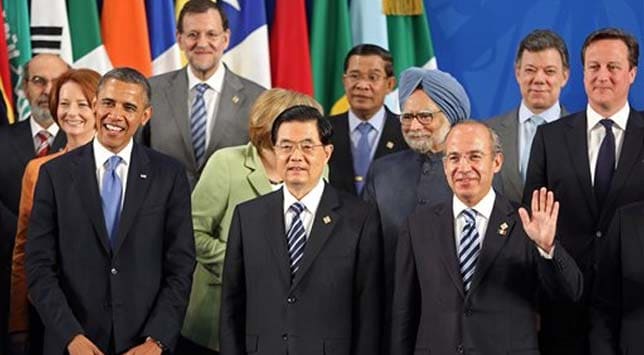 New Delhi
: Leaders of Group of 20 nations or G20 resolved to promote growth and jobs on account of a vulnerable global economy. The G20 leaders said that they are united in their resolve to promote growth and jobs, adding that they will act together to strengthen recovery and address financial market tensions.
The G20 nations also endorsed Indian stand that investment in infrastructure was critical for sustained growth, global economic recovery, poverty reduction and job creation.
Also Read: Infrastructure funding key to growth: G20 endorses India's stand
Indian Prime Minister Manmohan Singh has been pushing for long-term access to funds for infrastructure for developing countries. India has said it needs at least $1 trillion in the next five years in infrastructure funding. He also has maintained that fiscal prudence and austerity in debt-laden countries must be matched by measured fiscal expansion by surplus nations.
This was endorsed by the leaders, that included US President Barack Obama, German President Angela Merkel, Chinese Prime Minister Wen Jiabao and Russian President Vladimir Putin, in a document that is formally called the G20 leaders' declaration.
"Investment in infrastructure is critical for sustained economic growth, poverty reduction and job creation," the declaration said, adding the recommendations made by multilateral development banks in this regard must be implemented.
Also Read: India may not inject $10 bn into IMF bailout fund immediately
The declaration also had several other observations that were in tune with what Indian interlocutors have been pushing for at successive G20 Summits and other forums. These include the joint positions in no to protectionism, food security, need to arrest fluctuations in commodity prices and fighting corruption.
EUROZONE CRISIS
Meanwhile, the Euro zone nations have agreed to take measures to safeguard stability. (Read: G20 backs Europe's overhaul to fight crisis)
"Eurozone leaders have assured us that they are firmly committed to protecting the integrity of the Euro Area. They recognize the need to move beyond the present monetary union towards unified banking supervision and adoption of common and enforceable fiscal rules," Manmohan Singh said.
Also Read: Slow progress in IMF's quota reforms: Prime Minister Manmohan Singh
However, he further indicated that it will take time and that more specific indications will be given in the European Summit on 28th or 29th June.
PROTECTIONISM
Another important concern voiced at the summit was about the rising instances of protectionism around the world.
However, the G20 leaders have extended by one year their vow not to put up new trade barriers on Tuesday in a last-minute deal that exposed deep rifts over protectionism. The agreement to refrain from new protectionist measures until the end of 2014 as part of world leaders' efforts to foster global growth was included in the final G20 communique. (Read More)
Ahead of the summit,
Japan
and the
European Union
had sent strong warnings that free trade was under threat as some countries respond to slowing growth by trying to protect their domestic industries.

Fearful that trade protectionism would slow global growth, G20 leaders at the height of the financial crisis in November 2008 first pledged to refrain from erecting any new trade barriers, often used to shield domestic businesses from world competition at times of economic stress.
Despite that effort, a

World Bank

report released on Sunday found that G20 nations have accounted for the vast majority of the more than 1,000 new protectionist measures that have been introduced between November 2008 and March 2012.
The G20 leaders also commended Saudi Arabia's readiness to ensure adequate oil supply and China's commitment to increase transparency of its exchange rate policy
With inputs from IANS, Thomson Reuters