4. iPhone X features: For the 10th anniversary model, Apple developed what it called an A11 Bionic chip and uses its FaceID to unlock, authenticate and pay via the Apple Pay mobile payments system.

5. The iPhone X edge-to-edge 5.8-inch (14.7-centimeter) "super retina" OLED display that has improved resolution, and uses facial recognition to unlock the device.

6. The iPhone X takes away the 'home' button. The iPhone X has wireless charging, an infrared camera and hardware for facial recognition, which replaces the fingerprint sensor for unlocking the phone.

7. iPhone X vs iPhone 7: The screen on the iPhone X is about the size of the current iPhone 7 plus, though the phone is smaller. It features richer colours thanks to a new screen technology called OLED that other vendors are also rolling out. Last year, Apple's revenue declined when many consumers rejected the iPhone 7 as being too similar to the iPhone 6.

8. The iPhone X was one of three new iPhone models - along with iPhone 8 ($699) and iPhone 8 Plus ($799) - unveiled at the first event at Apple's new "spaceship" campus.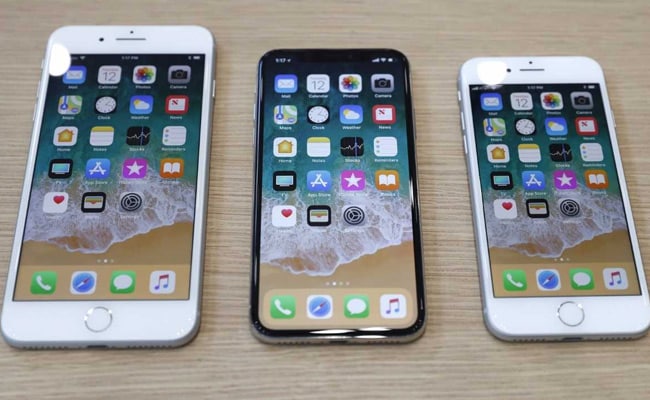 (iPhone 8 Plus, iPhone X and iPhone 8 models)

9. Apple shares are up 52 per cent in past one year. Apple shares on average have gained around 33 per cent in the year following each of its previous iPhone launch events. Since Apple first announced the iPhone product line in January 2007, its stock has gained more than 1,200 per cent and delivered a total return, including reinvested dividends, of more than 1,375 per cent.

10. Apple also unveiled an updated version of its smartwatch.