AWS: Amazon Web Services is the most demanded skill in 2017 with companies like Accenture, IBM, Wipro and Amazon Development Centre looking to hire AWS specialists. AWS refers to a suite of cloud computing services that make up an on-demand computing platform. AWS tech engineers earn about 13.8 lakh per year on an average.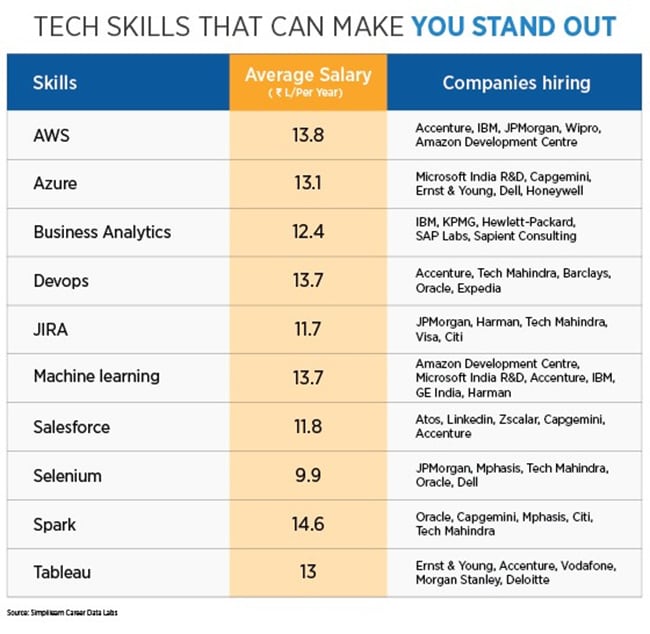 DevOps: Accenture, Tech Mahindra, Barclays and Expedia are looking for engineers versed in DevOps which is used for automating software procedures. DevOps engineers earn an average salary of 13.7 lakh per year.

Machine Learning: Amazon Development Centre, Microsoft India R&D, Accenture, IBM, GE India and Harman are some of the companies looking for Machine learning engineers. This tech vertical refers to a type of artificial intelligence that provides computers with the ability to learn without being explicitly programmed. Software engineers skilled in machine learning earn an average salary of 13.7 lakh per year.

Azure: Microsoft India R&D, Capgemeni, Ernst & Young, Dell and Honeywell are looking to manage their Azure cloud computing applications and services which run on Microsoft-operated data centres. Workers with knowledge of Azure earn about 13.1 lakh per annum on an average.

Tableau: Ernst & Young, Accenture, Vodafone, Morgan & Stanley are some of the companies hiring specialists of this in-demand business intelligence software which helps companies to visualize large sets of data. Average salaries of Tableau engineers are about 13 lakh per year.

Business Analytics: IBM, KPMG, Hewlett-Packard, SAP Labs are some of the tech majors looking for professionals with skills, technologies and practices to investigate past business performance to gain insight and drive business planning. Business analysts earn 12.4 lakh per annum on average.

Salesforce: Atos, LinkedIn, Zscaler, Capgemeni and Accenture are looking Salesforce's cloud computing software is best known for its customer relations management applications. Average salaries of engineers with expertise in Salesforce are 11.8 lakh per annum.

Jira: JP Morgan, Harman, Tech Mahindra, Visa and Citi are looking for professionals who can use Jira for tracking bugs and project management functions. Average salary of Jira specialists is 11.7 lakh per year.

Selenium: JPMorgan, Mphasis, Tech Mahindra, Oracle and Dell are some of the major tech companies which require people with knowledge of Selenium. This software is a portable testing framework for web applications. Engineers with Selenium know-how have average salaries 9.9 lakhs per annum.